SaaS sales is changing.
It used to be that buyers would come your way with very little to no understanding of your product or brand.
But that's not necessarily true today.
In many cases, modern SaaS buyers are super tech savvy and have done some level of research about your product before your sales team actually interacts with them. The problem is that your average AE doesn't necessarily know all the technical nitty gritty details about your software.
That's where presales comes in. Creating an effective presales strategy can offer the support your sales team needs to meet quota.   
Having said that, it can be tricky to understand what exactly the differences are between sales and presales.
But don't worry! That's what we, your friends at Walnut, are here for.
Join us as we break down the major differences between these two essential teams.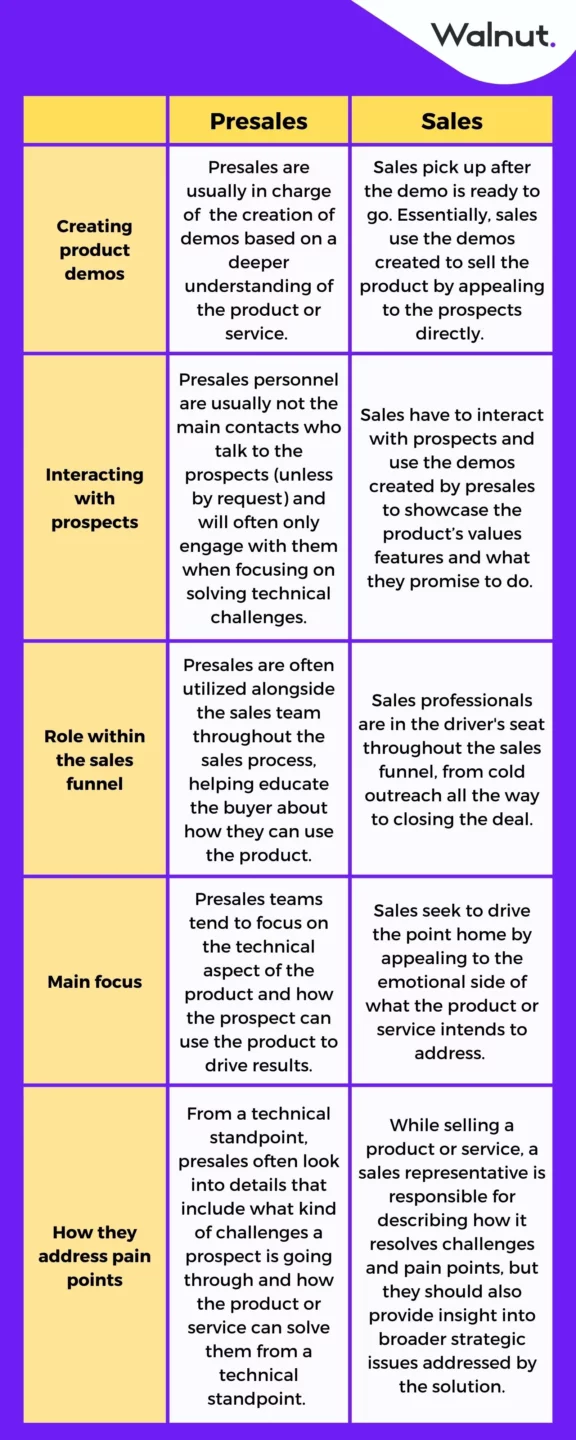 What is presales?
Hold your horses, friend!
We know you're just as excited as we are to jump into the details, but let's first go over some key details.
So, what is presales? Well, it's all of the work and activities that go into a deal before it's closed. Presales typically has a strong technical understanding of the product and how it will fit into prospects' sales tech stacks.
The presales team will also have much more knowledge about implementation and can better assist with technical questions than the average AE.
One of the major benefits of presales is the value they can bring to SaaS companies that are targeting a super knowledgeable customer base.
What is sales?
The presales team is kind of like sales' partners in crime.
While you can think of presales as being like the technical wizards of the GTM team, sales is the relationship builder. They are responsible for gaining a prospect's trust and developing strong relationships with them.
Sales pros are also the ones that will negotiate and close deals with customers to bring in those dolla dolla bills for the company.
Presales vs. sales responsibilities
Now that we know a bit more about each team, let's break down the key differences when it comes to their responsibilities.
Just remember that while each team has their own expertise and tasks, ideally, both should stay in close communication with each other to make sure everyone is on the same page.
Creating product demos
Usually the presales team is responsible for building the product demos. This is because they know the ins and outs of the product better than anyone else.
Once the demos have been created, the sales team usually takes it from there.
Interactions with buyers
When it comes to actually interacting with prospects, sales is the main contact.
The sales team will use the product demos created by presales to show how the product will bring value and address customers' pain points.
Typically, presales will only get involved in this part of the process if the prospect has specific technical questions or challenges.
Role in the sales funnel
In most cases, presales works throughout the sales funnel to help educate prospects about the product.
They usually work in tandem with sales, who also takes an active role in every step across the entire sales cycle.
The key difference is the type of tasks that they are responsible for. For presales, it's creating and hosting product demos, answering product-related questions, and offering technical support to drive strong results.
Meanwhile, for sales, it's about appealing to prospects' emotional side to develop relationships, generate leads, negotiate contracts, and ultimately close sales.
Presales' role in each stage of the sales process
While the exact steps involved in the presales process will vary by the business, there are 5 critical steps that need to be completed before a prospect signs on the dotted line.
1. Discovery calls
While sales is responsible for actually picking up the phone, presales also plays an important role in discovery.
They make sure that sales has all the information and materials they need to demonstrate a strong value proposition as well as show how the product will address prospects' unique pain points.
This is essential as it allows the sales team to build out the personas they want to target and better understand how to personalize their pitches to appeal to prospects' needs and goals.
2. Qualifying leads
Presales doesn't just make the demos. They also have a major hand in lead qualification.
Using user analytics and other sales tech, presales will analyze data to zero in on the prospects that have the highest likelihood of converting.
This frees up sales to focus on only the leads with the highest value and intent.
3. Researching the competition
On top qualifying leads, presales also helps research the competitors.
They are responsible for doing a deep dive into the competitive landscape and understanding how the product stacks up against the competition.
This knowledge will be kept in mind and used later on as the presales team makes the demo.
4. Creating product demos
The product demo is by far the most important part of the sales process.
(Trust us, we're not just saying that.)
This is where presales uses their technical know-how to show the prospect why the solution is exactly what they need to solve their specific issues and reach their targets.
It's also where presales will use their market knowledge to convey why the product leaves the competition in the dust.
5. Drafting proposals
Presales' involvement doesn't end once the prospect sees the demo.
They work alongside sales to create a tailor-made solution for the prospect. They'll also help to double check every proposal before it is passed along to the customer to make sure it'll meet their needs.
It's critical that sales and presales work together on this step so that they can deliver a proposal that fits the buyer's requirements to a "T".
6. Post-sale support
Once the customer signs on the dotted line, it's about successfully getting them onboarded.
That's where presales comes in. They help handle all the requests from clients to ensure everything that was agreed upon can be implemented during customer onboarding.
Presales also knows the customer's needs like the back of their hand, so they can help ensure that they remain satisfied, which can have a huge impact on retention rates.
Differences between the sales process and the presales process
While both sales and presales play an essential role, the main differences between the sales process and the presales process are the specific responsibilities each has and what their primary goal is.
For presales, it's about using their tech knowledge and skills to support the sales team throughout the funnel. As for their targets, it's about not only showing from the technical side how a product can make the prospect's life better and solve their challenges, but also about driving key results.
On the other hand, sales needs to appeal to the buyer's emotion to convince them to pull the trigger. In addition, it's also up to sales to convey upselling and cross-selling opportunities and ways the prospect can use the product to improve their strategy.
Best practices when defining presales and sales processes
You have a clear understanding of what both presales and sales are responsible for in the sales cycle.
But before you start defining what your sales and presales processes are going to look like, stop reading and back away from your laptop.
You need to make sure that your process allows for collaboration between both teams so they can each meet their targets.
It's also important to define clear rules of engagement to avoid any confusion between the different team members.
That's why it's essential to make sure both teams work to establish effective communication as well as create a culture of mutual respect and teamwork to ensure that you maintain alignment throughout the organization.
How presales can take your SaaS sales to the next level
There's no "I" in "team", but there's "sales" in "presales".
Coincidence? We think not!
Presales is just as critical as sales when it comes to closing deals. With buyers becoming more and more informed before they meet with the sales team, it's much harder to meet their needs without support from presales.
By taking the technical burden away, sales can focus their efforts on pitching their brand in the best way, helping generate revenue, and driving repeat business.
That's why it's essential to make sure that the presales team has the tools they need to support sales.
Using a demo platform (like Walnut), presales can create killer interactive product demos that can be used by the sales team throughout the entire sales funnel.
Think of it this way. Arming presales with the resources they need only stands to benefit your sales team in the long run.
Ready to take your presales to the next level? All you have to do is click the "Get started" button.