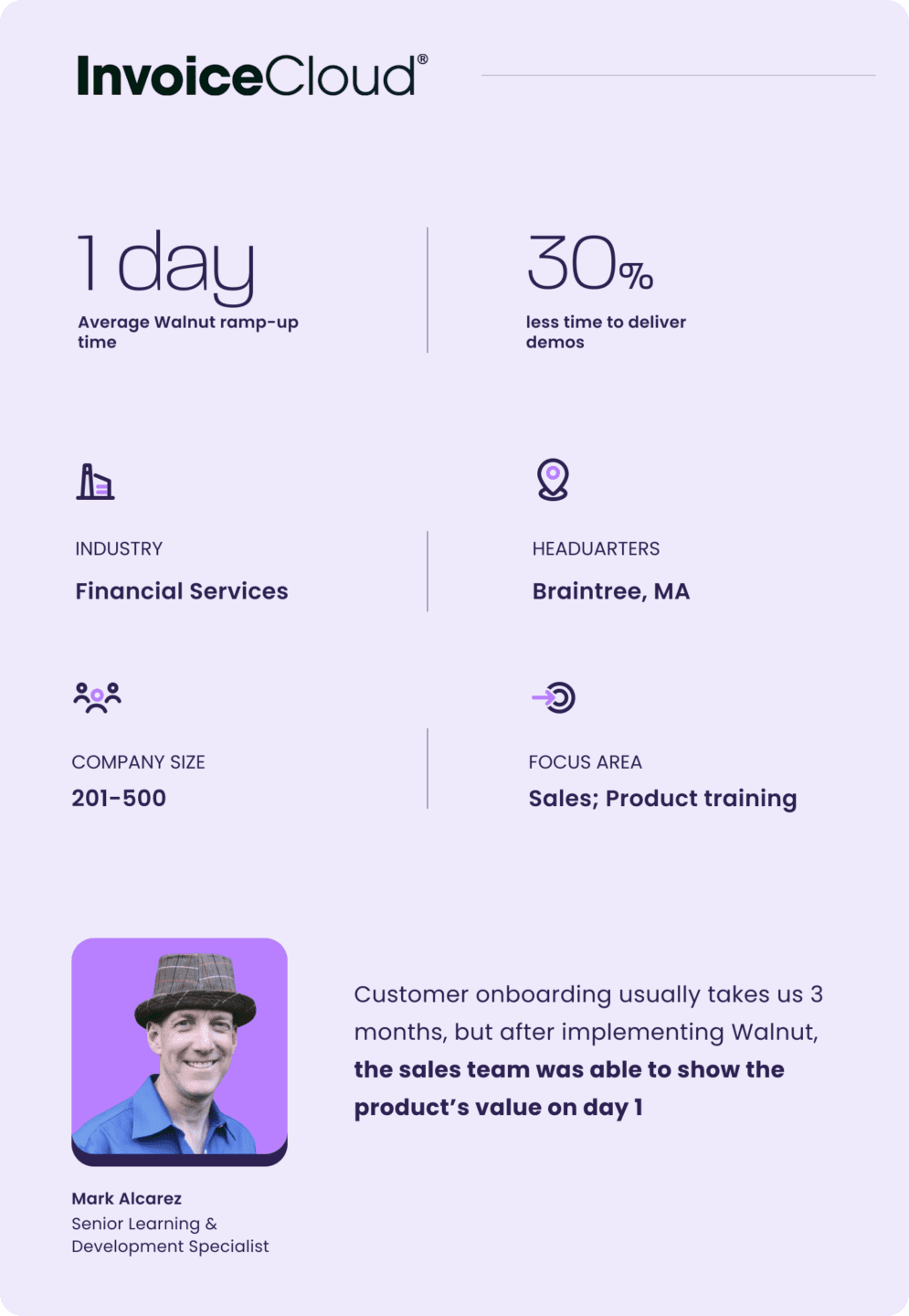 "Walnut is so much more than just a sales demo platform for us."
– Invoice Cloud‍
BEFORE WALNUT:
'No one knew how to use our previous demo platform'
In an attempt to showcase their product's value earlier in the sales process, Invoice Cloud started using a product demo platform. The problem was, they were never able to fully adopt and integrate it because the platform was too complex and buggy.  
"We figured out that no matter how much time we spent training sales reps and SEs, no one really knew how to use our previous demo platform properly." ‍
AFTER WALNUT:
'The sales team was able to show value on day 1'
Compared to their previous solution, Invoice Cloud was able to create personalized and interactive product demos in 30% less time with Walnut. This meant the sales team was finally able to fully incorporate interactive sales demos into their go-to-market strategy, which helped them improve their sales process. 
"Customer onboarding usually takes us 3 months, but after implementing Walnut, the sales team was able to show the product's value on day 1."
BUT WAIT, THERE'S MORE:
'So much more than just a sales demo platform for us'
Because Walnut was so much easier to use, other teams adopted the platform to totally revamp their product education strategy and internal onboarding. In almost no time, they replaced their old school PDFs and decks with short, to-the-point Walnuts that demonstrate the product and processes.
"I can take anyone, even someone that doesn't know a single thing about our industry, and they can learn how to use Walnut in one afternoon. And that makes it so much more than just a sales demo platform for us."
HERE'S THE FULL STORY:
It was time for a change 
Mark Alcarez, a Senior Learning and Development Specialist at Invoice Cloud, kept hearing the same thing over and over about their previous demo platform: sales reps and SEs just weren't getting the results they wanted with it. 
Invoice Cloud's product has a lot of different elements, which can make it a bit more complex to showcase. It also gets updated frequently, so their demos constantly need to be changed. 
The potential was there. But their previous demo platform's UX made it too complicated for the team, especially for the less technically inclined, to maintain their demos. 
That's when Mark knew he needed to step in. He set out to find a solution that made it easy for everyone, regardless of their technical know-how, to create personalized demos that quickly conveyed the value Invoice Cloud brings.
Then he discovered Walnut and everything changed.
'Walnut is like Apple. What you see is what you get—in a good way'
When Invoice Cloud switched to Walnut, Mark noticed right away that the platform was a huge time saver; things that used to take four steps to do, now took just one step with Walnut. 
Likewise, Walnut was much more reliable and way more straightforward to use. This meant that after one day, new team members could go ahead and make demos on their own, which was a complete 180 from their previous experience. 
"Anything you expect to happen when using Walnut just happens. If you want to click on an element to edit it, all you need to do is just click on it and type. It's like Apple. It's a what you see is what you get type of software—in a good way. And it just works." 
Revolutionizing product education
Mark quickly realized that Walnut not only offers a way to simplify product demonstrations, but also streamline complicated processes. So after he saw the sales team's success, a light bulb went off. 
What if other teams at Invoice Cloud could use Walnut? 
Mark had the idea to ditch their old school training methods and implement Walnut to create better learning experiences that align the entire team.  
So, he got to work. 
Creating a structured product training system
Mark leveraged Walnut to revamp how they train the go-to-market team on their own product and internal workflows, and simplified their onboarding processes.  
With Walnut, Mark and the Invoice Cloud team created interactive tutorials that walked users through product updates and internal processes step-by-step. 
How they did it:
They made custom demos for each product update and process training.
They built a clear structure in their LMS system and embedded Walnuts in the system so everyone could access and track demo activity.
By looking at demo performance, the team learned which demo or training to create next and where they could improve.
According to Mark, there was an additional quality about Walnut that enabled Invoice Cloud to transform their product training system. Instead of using long, generic presentations, they were able to break key narratives down into smaller flows that better explained how their product works. 
"People just want to focus on one thing. They want to know what they need to do in 5-7 steps, no more. People have different capabilities when it comes to their ability to digest stuff, so it's just better to break processes down into smaller parts."
That's what makes Walnut more than just a demo creation platform for Invoice Cloud. It's a tool that helped teams revamp the way training was being done, and shape it to fit how people actually consume content. 
So, how does Mark see Walnut adding value in the future? 
'It feels like we just scratched the surface'

What started as a search for a solution that would quickly demonstrate the value of Invoice Cloud's product, turned into a complete transformation of their product training. 
In almost no time, Walnut not only gave the sales team a way to create interactive demos, but also allowed the entire Invoice Cloud team to upgrade their product education strategy.
But that's just the beginning.      
For Mark, Walnut's ability to demonstrate products and processes with minimum editing effort means anyone throughout the entire organization could find ways to use it. 
"It feels like we just scratched the surface. Eventually, the plan is to incorporate Walnut into even more of people's learning experiences and that's just exciting."