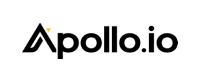 ompany name:
Apollo.io
Why are you joining #WeAreProspects?
At Apollo, our vision is to ensure sellers can confidently move business forward with intelligence and automation. We're excited to join #WeAreProspects because we believe that B2B sales doesn't have to be complicated and we are passionate about joining forces with others who are streamlining the sales process.
What is there for businesses?
‍With Apollo, every seller can move business forward with ease. We provide access to the world's largest, most accurate, and most in-depth B2B database, along with tools to automate your entire workflow in one single platform. When you use Apollo, you'll be able to find buyers, connect with contacts, and move deals forward.
Special #WeAreProspects Offer:
‍Step 1: Sign up for free here and add a card on file.
‍Step 2: Complete this Google Form here — your dedicated partner promo code is WALNUT22.
‍Step 3: Our team will reach out to you once your discount has been applied and your account is upgraded.
Recommended Read:
‍We recommend you check out the Apollo.io blog here for tips on prospecting, sales engagement, and exciting product news.