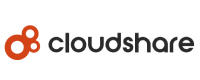 Company name: CloudShare.
Why are joining #WeAreProspects?
It's time B2B sales aligned with your prospects' expectations. That means no more boring, irrelevant demos that leave your customers feeling uncertain about whether your product is right for them. CloudShare lets you quickly spin up rich, interactive demos that let your prospects experience exactly what it's like to use your real product, so they can see how it can meet their specific needs as a customer. Oh, and did we mention that it's really, really ridiculously easy to use? All you (and your prospects) need is a web browser and an internet connection. We'll do the rest.
What is there for your business?
CloudShare helps your business save on time and costs, shorten your sales cycle, and close more deals. In just a few clicks, you can create tailored, interactive demos that let your prospects take your real product for a test drive. They can play with your software, break it, and reset everything to give them a deeper understanding of your product. With CloudShare's hands-on interactive demos and POCs, customers reach their Aha! moment faster – which means your sales reps hit their targets faster too.
Special #WeAreProspects offer:
Receive special discounts when signing up for an annual contract. Code #UpYourGameCS.
Plus:
Free Onboarding
No support fees
A dedicated solutions architect
Recommended reads: