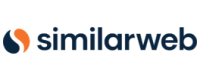 Company name: Similarweb Sales Intelligence
‍Why are we joining #WeAreProspects?
No matter how good your sales skills are, getting through to today's buyer is incredibly hard – and only getting harder. And it can be really frustrating trying to find prospects that are most relevant for you – ones that are right for your business and are ready to buy. Winning deals takes far more than a good product at the right price. Today's customers want to work with trusted advisors over traditional salespeople in exchange for their business and loyalty.
‍What is there for businesses?
Similarweb Sales Intelligence equips sales teams with digital insights, such as traffic trends, engagement metrics, and technologies used, to help you find your ideal customers. You get full visibility into every part of your prospects' digital strategy and performance, revealing your prospects' pain points and opportunities – so you can truly sell consultatively and craft pitches that win.
‍Special #WeAreProspects offer:
Get a free trial of Similarweb Sales Intelligence