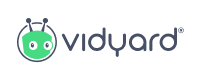 Company name: Vidyard
Why are you joining #WeAreProspects? You're a human being. Your outreach should be human, too. At Vidyard, we help go-to-market teams make their communications more humanized and authentic—all using video. We're joining #WeAreProspects to drive more personal interaction in this digital-first business world.
What is there for businesses? Vidyard's online video platform is built for business. We combine video messaging, hosting, and analytics into one solution to create more connections, drive more engagement, and close more deals. It's easy to use, it integrates seamlessly with the tools teams already use…and prospects absolutely love it!
Special #WeAreProspects offer: Get three FREE months of Vidyard Pro! Use code WALNUT3MONTHS
Watch this quick video to find out how to use your code.
Recommended read: Vidyard's 2022 Video in Business Benchmark Report