Walnut PRODUCT REPORT
The rise of full-funnel demos.
We tracked the patterns of buyers from over 400 software companies to understand the evolving needs of today's customers and what it means for the future of SaaS sales.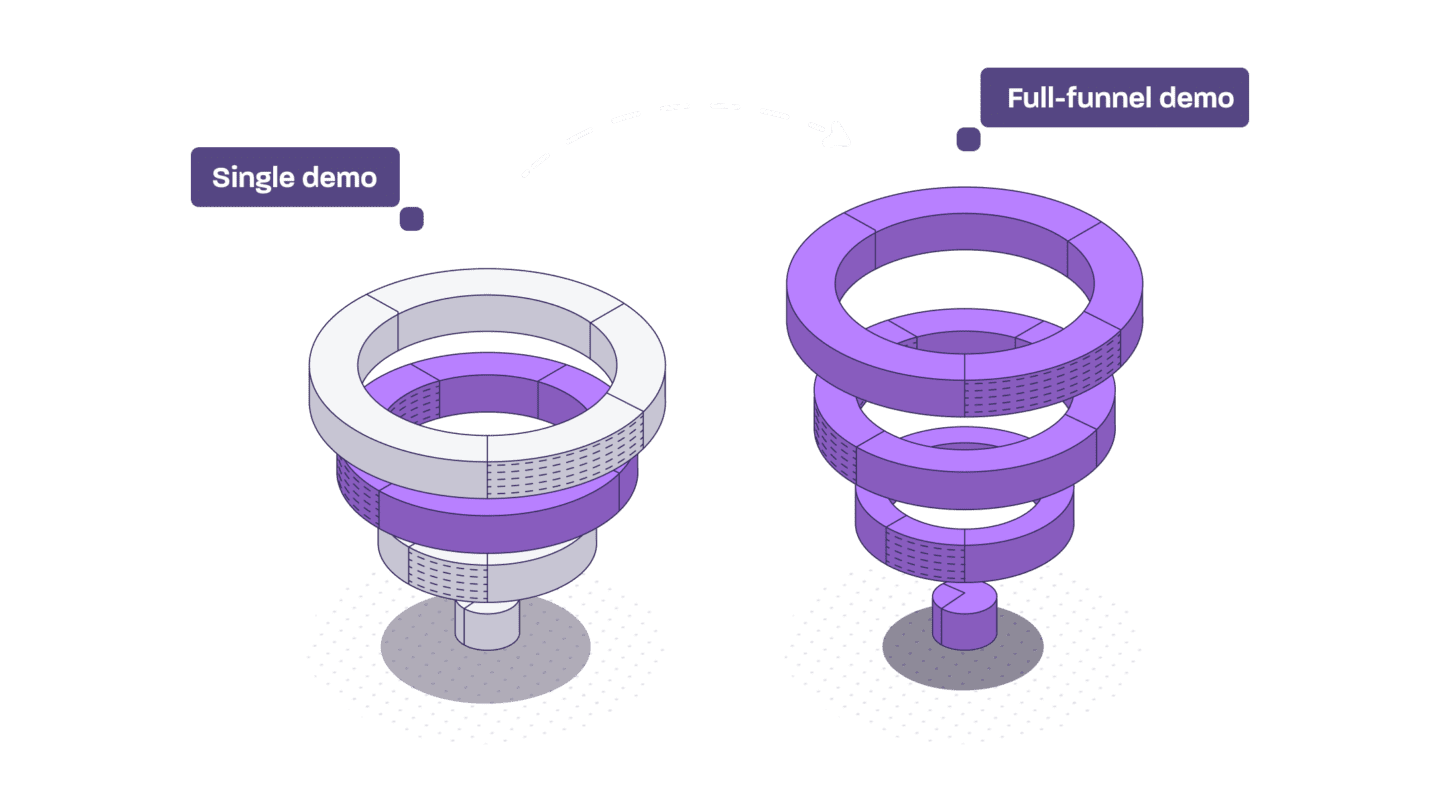 1. Buyers want to view demos with and without sales reps.
Finding: Prospects view each interactive demo an average of 3 times without the rep being present.
While customers have already been using product reviews, case studies, and data regarding your company to self-educate, Walnut research found that this extends throughout the demo experience as well. They want to learn about your product on their own.
This is not to say that buyers no longer need to have demo calls with sales reps. It's about finding ways to let the demo do the work and sell the product, even when reps aren't on the calls.

2. Buyers want to show demos to more people on their team.
Finding: More than 3 prospects view each interactive demo.
Multithreading is not just about being in contact with multiple stakeholders. It's about finding a way for every stakeholder to see the product whenever they want.
Buyers appreciated interactive demos, which often alleviated the need to find a single time that works for a large group of busy people to view a live demo because they can be shared via email and viewed on their own.

3. Buyers want shorter demos.
Finding: The average time prospects spend on demos is just 6.5 minutes.
Despite the 30-minute calls most sales reps book with prospects to walk them through their product, buyers spend less than a quarter of that time actually viewing the demo. And when it comes to off-call demos, the viewing time gets even shorter.
That's because the way people want to consume product content has changed dramatically. This is especially true of the younger generation, who are used to content that is short and in an easy-to-digest format.

4. Prospects want the demo throughout the sales process.
Finding: Buyers view an average of 3.4 demos per deal — throughout the funnel.
While sellers are still mostly presenting demos live, buyers are engaging with Walnut demos at every stage of the sales funnel.
Because of the ease of creating interactive demos with Walnut, sellers have started utilizing them throughout the sales funnel to meet their buyers' needs. However, this has not come at the expense of live demos, but in addition
to it.

5. Buyers want a personalized experience.
Finding: Companies use an average of 39 interactive demo templates.
The larger the company, the more demo templates they use. We found that companies with 1,000+ employees use an average of 104 demo templates, 52 for companies with 200-1,000 employees, 32 for companies with 51-200 employees, and 17 for companies with under 50 people.
Companies are creating multiple demo templates that are customized to show specific product flows or use cases, and are catering to different personas, industries, parts of the sales cycle, and more. Because buyer needs are changing, companies are no longer relying on one generic demo, but are making more of an effort to customize the buying journey to increase their chances of closing deals.

Takeaway
How can revenue teams give buyers what they want?
Buyers' needs are clearly changing and it's up to sellers to meet them. Sellers can do this by utilizing the full-funnel demo experience.
The full-funnel demo experience lets buyers experience the product in short, relevant snippets throughout the entire sales funnel.

This way buyers can continue to expand their knowledge of the product and its value throughout the sales process, while sales reps learn what their buyers really need and want. It also allows go-to-market teams to create a consistent buying journey for their customers by making sure the entire funnel is using the same assets and focusing on the same value.

This increases the chances of the deal's success with buyers being more confident about what they are buying and reps being able to tailor the experience and the business case to each customer.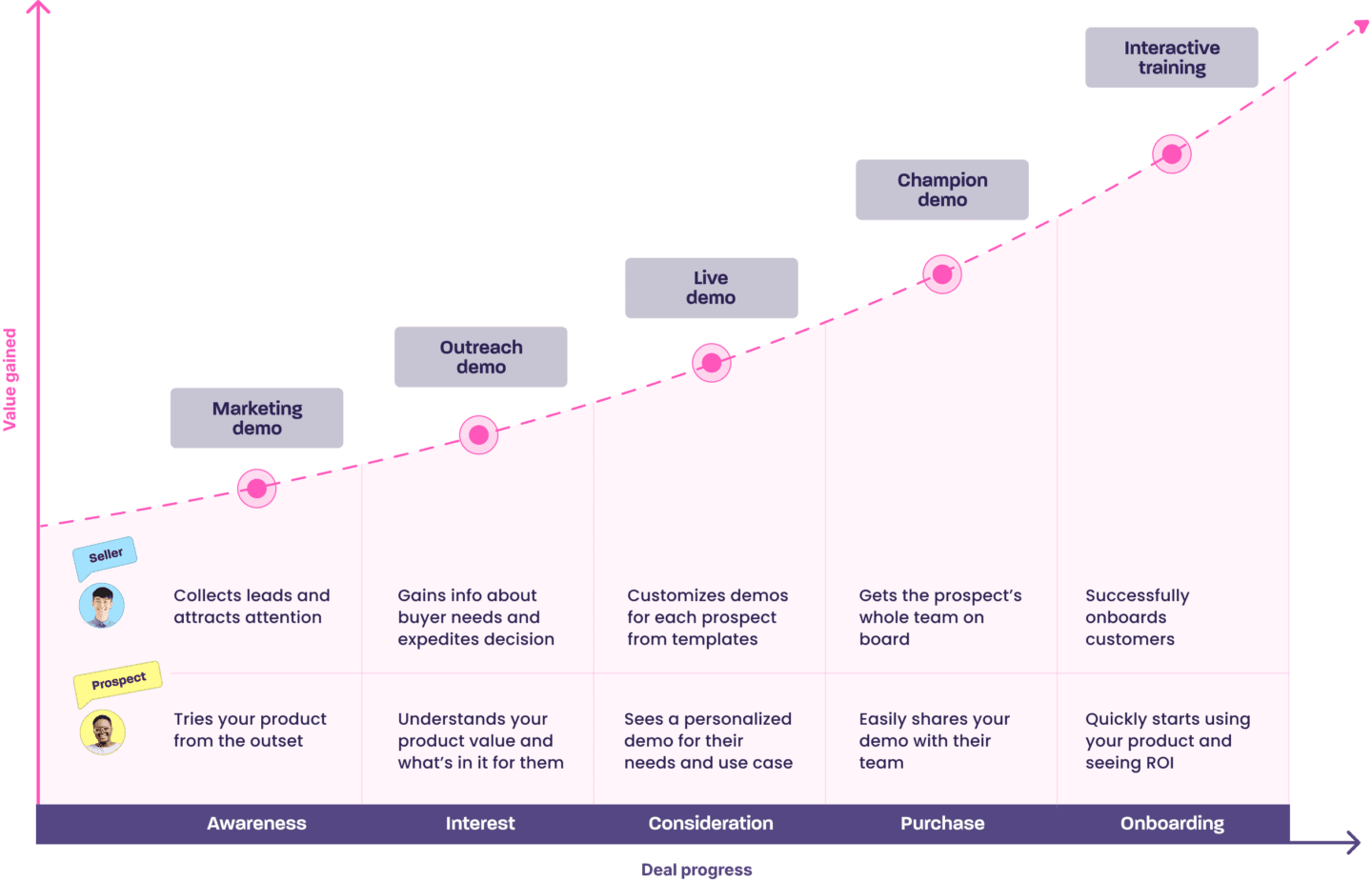 Here's a step-by-step summary of the best ways to implement interactive demos in your organization in order to drive revenue and boost sales efficiency.
Step 1: Identify the business opportunity.
Start by analyzing the main business opportunities you have and connecting them to your demoing strategy. To do that, we recommend mapping the buyers' and sellers' paths to success and focusing on what currently prevents them from achieving it. 
Step 2: Plan your ideal buyer journey.
Think about how you'd like to incorporate your product into every part of the customer's buying journey. Determine when it's relevant to share a demo to achieve your goals and what value of the product to show when.
Step 3: Break your product into smaller "Lego" pieces.
Break down your product into short snippets that show specific values.
You can then mix and match them to tell longer product stories that are relevant for different use cases and personas or keep them separate to be used by anyone on the team for different purposes.
Step 4: Build demo templates. 
Go to your product, capture the screens of the flow you planned, and edit any image, text, color, and graph to make it feel like the real thing. 
If you chose a guided path, now's the time to add some guides.
Step 5: Roll out your interactive demos to your team.
Create an internal announcement to get everyone excited about interactive demos and make sure they know what to do. You can even do training on how to use your interactive demo software using interactive demos.
Step 6: Show off your amazing product.
Once the demo templates are organized in the demo library and your sales team can quickly generate dedicated demo links for themselves or, ideally, for each customer, you're ready to have your prospects see them.
Step 7: Track individual deals.
Use the demo analytics to see how prospects are interacting with your demo to understand their intent, their interests, and what areas you can explore in future communication.
Step 8: Analyze and optimize your sales process.
Track your overall sales process and find ways to optimize and improve it. These insights can help you understand how to get the most out of interactive demos in the experience you're creating for your prospects.
Step 9: Drive adoption across your entire organization.
Now it's time to think about how you can make the experience better for your team and increase adoption across your organization by integrating it with your CRM, creating a brand hub, and keeping your content organized.
Ready to revolutionize the way you sell?