A very wise nut once said: "Buying SaaS sucks."
Ok, it was us. But everyone who has bought software recently will agree.
That's because within the B2B SaaS sales industry, there is a huge gap between buyer expectations and the reality of the current buying experience.
Many of the shortcomings are related to the fact that buyers can't always see the product when they want to. In many cases, they'll only see screenshots on a website and have to sit through discovery calls before they see a clunky and generic demo.
On top of this, the buying experience is siloed, with reps wanting better ways to focus on the value for buyers. Because at the end of the day, reps understand that happy buyers mean more sales.
And as B2C online buying has become faster, more convenient, and tailored in the post-COVID era, it has only magnified the issues with B2B buying.
With the awareness of the glaring contrasts between B2C and B2B buying experiences increasing, buyer expectations are evolving quickly.
To try and understand these changes, we dove into our own data from over 400 software companies that we chose from our customer base.
In this report, we'll discuss the current problem with SaaS sales, emerging buyer trends, and what these mean for the future of SaaS sales.
TL;DR
Both buyers and sellers feel frustrated by the current state of SaaS sales.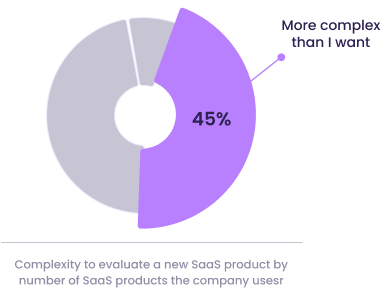 Walnut conducted large surveys of SaaS buyers and sellers and found they share one thing in common: they are frustrated by the current state of SaaS sales.
45% of the respondents from Walnut's buyers' survey admitted their last SaaS buying experience was more complex than they wanted, while 75% of the respondents to Walnut's sellers' survey said they want the sales process to be shorter.
2. B2B buyer needs are changing.
Based on Walnut data, we found that buyers want to view demos on their own, throughout the sales funnel, and don't want to spend too much time doing it.
On average, our customers' prospects viewed demos 3 times without the rep being present. Buyers also viewed an average of 3.4 demos per sales cycle. And their average time spent viewing each demo? Just 6.5 minutes.
The implications of this are that, like Gartner found, most B2B buyers want a chance to try the product with a rep-less experience. They also want the demo to be easy-to-understand and quick.
3. Buyers and sellers want to incorporate demos throughout the funnel.
The old-school sales funnel is frustrating and long for both buyers and sellers, which may be why buyers are requesting more demos throughout the sales funnel.
By utilizing demos throughout the sales funnel, buyers can quickly understand the value of a product, and sales reps can provide a simpler and more holistic buying experience that moves quicker.
One long, live demo doesn't cut it for today's buyers. They want to interact with a demo tailored for their specific needs, at each stage of the buying process.
Background: What's wrong with SaaS sales?
The average B2B sales cycle lasts between 2-3 months, requires multiple touchpoints between buyers and sellers, and often frustrates both sides multiple times throughout the process.
And the fact of the matter is that it's unnecessarily complicated.
According to a Walnut survey, 45% of B2B SaaS buyers said their last buying experience was more complex than they wanted.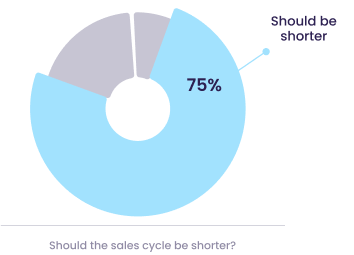 But it's not just the buyers who are struggling with current sales cycles. Sellers also want a simpler sales process as they have high quotas and are struggling more and more to meet them. They need to be doing more as well as need more time to push deals through, especially considering the incredible length of the average sales cycle.
That's likely why another recent Walnut survey, this time of SaaS sellers, found that 75% of sellers want the sales process to be shorter.
When investigating the matter further, we discovered that a huge part of the issue lies in the fact that buyers want to understand the product well, but sales teams aren't unable to communicate their product's value effectively throughout the sales cycle.
Walnut's survey of SaaS buyers found that "product fit", "product demonstration", and "product ease of use" were 3 of the top 4 buyer considerations when seeking to buy the software. Buyers want to understand how the product works and if it'll meet their needs before committing to buying it, but are struggling to do so.
Which is likely directly related to the huge issue of sales reps being unable to hit their quotas and close deals.
In Walnut's recent sellers survey, we found that only 46% of sellers felt they would hit their quotas in 2023, but that better product collaterals, like product demos, decks, and one-pagers would be the number one way to help them.
Because sellers are not effectively giving prospects what they want, they are unable to close their deals and hit their goals.
Armed with this knowledge, we dove into Walnut product data to understand how buyers were using interactive demos to address their evolving needs.
Findings: How are SaaS buyer needs changing?
In the past, the buying process has essentially been a one-size-fits-all experience, with the on-call live demo being seen as the only way to showcase value.
However, the reality is that modern buyers want to be in the driver's seat. Similarly to the B2C buying journey, buyers want to simplify the way they buy—with the sales rep's assistance.
Here are the 5 huge changes that are transforming the way SaaS is bought and sold based on data generated by Walnut's product.
1. Buyers want to view demos without sales reps.
For modern buyers, it's critical to be able to self-educate and view a demo on their own as part of the decision-making process.
According to Walnut's buyers' survey, 62% of buyers are careful to do their homework and are extremely mindful about their purchasing decisions.
But while customers have already been surfing the internet for product reviews, case studies, and data regarding the impact of your company, Walnut research found that this extends throughout the demo experience as well.
INSIGHT:
Prospects view interactive demos 3 times without a sales rep being present.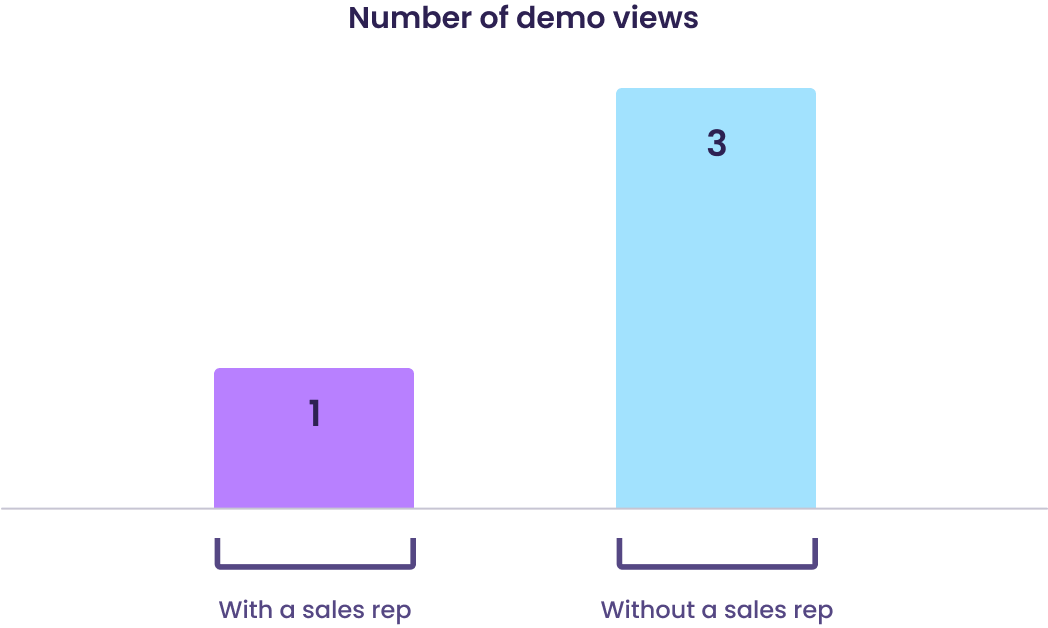 This major shift from the traditional seller-led demo process to self-service has already become apparent in the larger B2B sales landscape as well. The moment buyers realize they have a need, they want to be able to have the information they need to make a decision at their fingertips.
Based on TrustRadius research, 70% of buyers said they were most likely to purchase tech if demos or free trials were readily accessible.
So, as part of the research buyers do before making a purchasing decision, we know that they want to try things on their own. That means to succeed in today's market, sellers need to let prospects try the product, share it with their teams, and learn how to use it on their own.
This is not to say that buyers no longer need to have demo calls with sales reps. But rather, it's about finding ways to let the demo do the work and sell the product, even when reps aren't on the calls with buyers.
2. Buyers want more people to see the demo.
On an industry-wide basis, the number of decision-makers involved in deals has increased significantly.
Based on data from Gong, closed deals have an average of at least 3 people from the buyer's side in meetings throughout the sales cycle. Additionally, Gartner found that on average, there are 6-10 decision-makers involved in deals for complex SaaS solutions.
All of this speaks to how essential it is to be in contact with multiple people within a company to close deals in the current market.
But it's not enough to just be in contact with multiple stakeholders. It's about finding a way for every stakeholder to be able to see the product whenever they want to. This includes the multiple stakeholders that are being targeted in the company and who are involved in the decision-making process.
So, to successfully close deals, it's about getting the product in front of all the necessary stakeholders. Essentially, it's about letting the demo do the work for you when you're not there.
INSIGHT:
More than 3 different buying stakeholders view each interactive demo.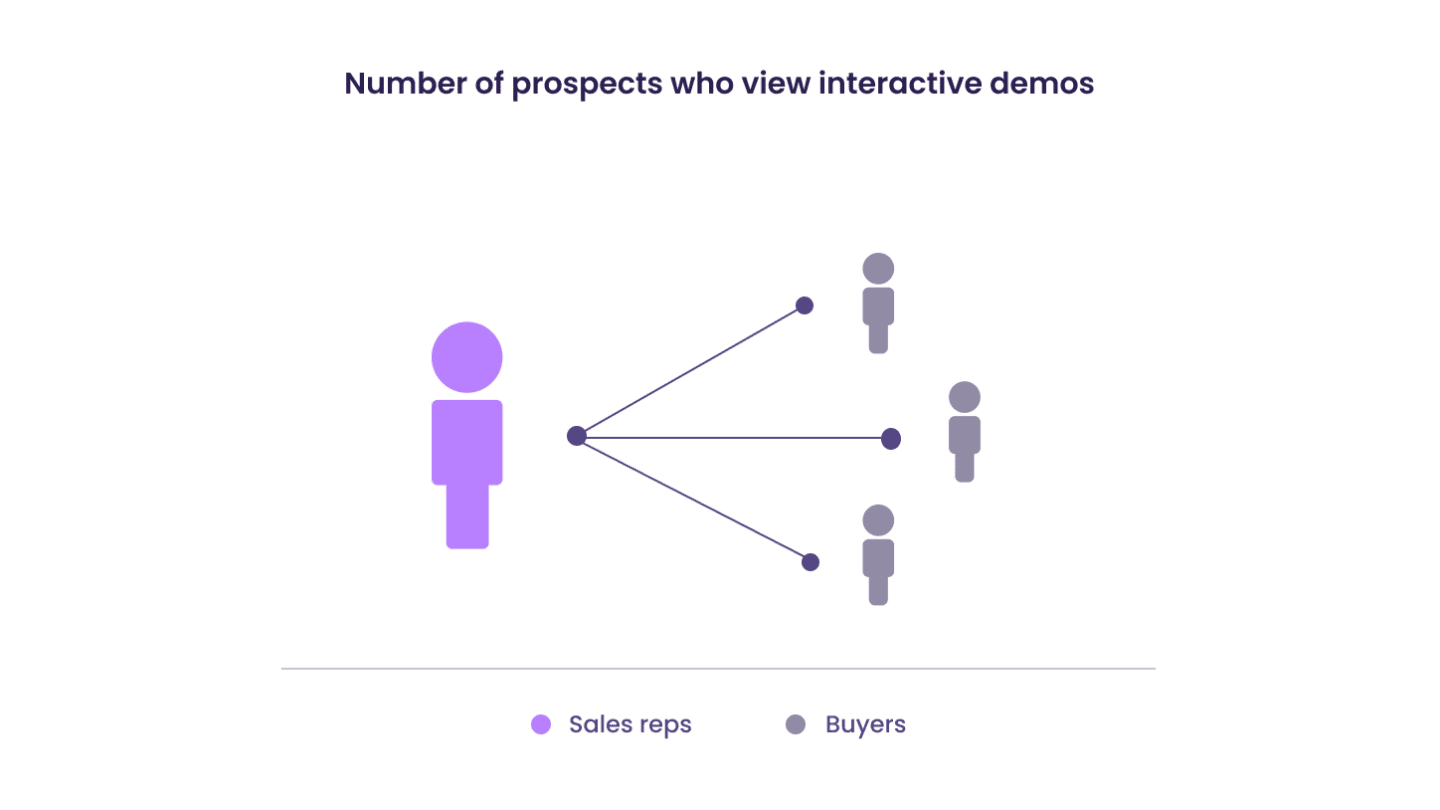 We found that buyers appreciated interactive demos, which often alleviated the issue of finding a single time that works for a large group of busy people to view a live demo.
In fact, Walnut's customer, CT4, realized that they couldn't win deals anymore without being able to send demos to every stakeholder involved.
This is because in some cases, CT4's team targets large organizations with as many as 10 different stakeholders that need to see a demo. And like many sales teams in 2023, they don't have the resources to schedule demo calls with every single decision-maker involved in a given deal.
"We knew we needed to shift our strategy to not only save the prospects' time and use the tech strategist resource more efficiently, but also expand our reach. This meant that we needed a solution that would allow us to send demos to every stakeholder that needs to see it, instead of scheduling calls with every single one of them." — Matt Jones, Channel Sales Manager APAC at CT4
3. Buyers want shorter demos.
Buyers want to try a product on their own time and they do not want to sit through any feature dumping.
On top of this, it's no secret that buyers' attention spans are getting shorter and shorter.
According to a study from Microsoft, the average attention span is 8 seconds.
Unsurprisingly then, Walnut's data found that buyers are spending less time viewing demos.
INSIGHT:
The average time prospects spend on demos is just 6.5 minutes. Regardless of the length of the demo, people spend roughly the same amount of time viewing the demos.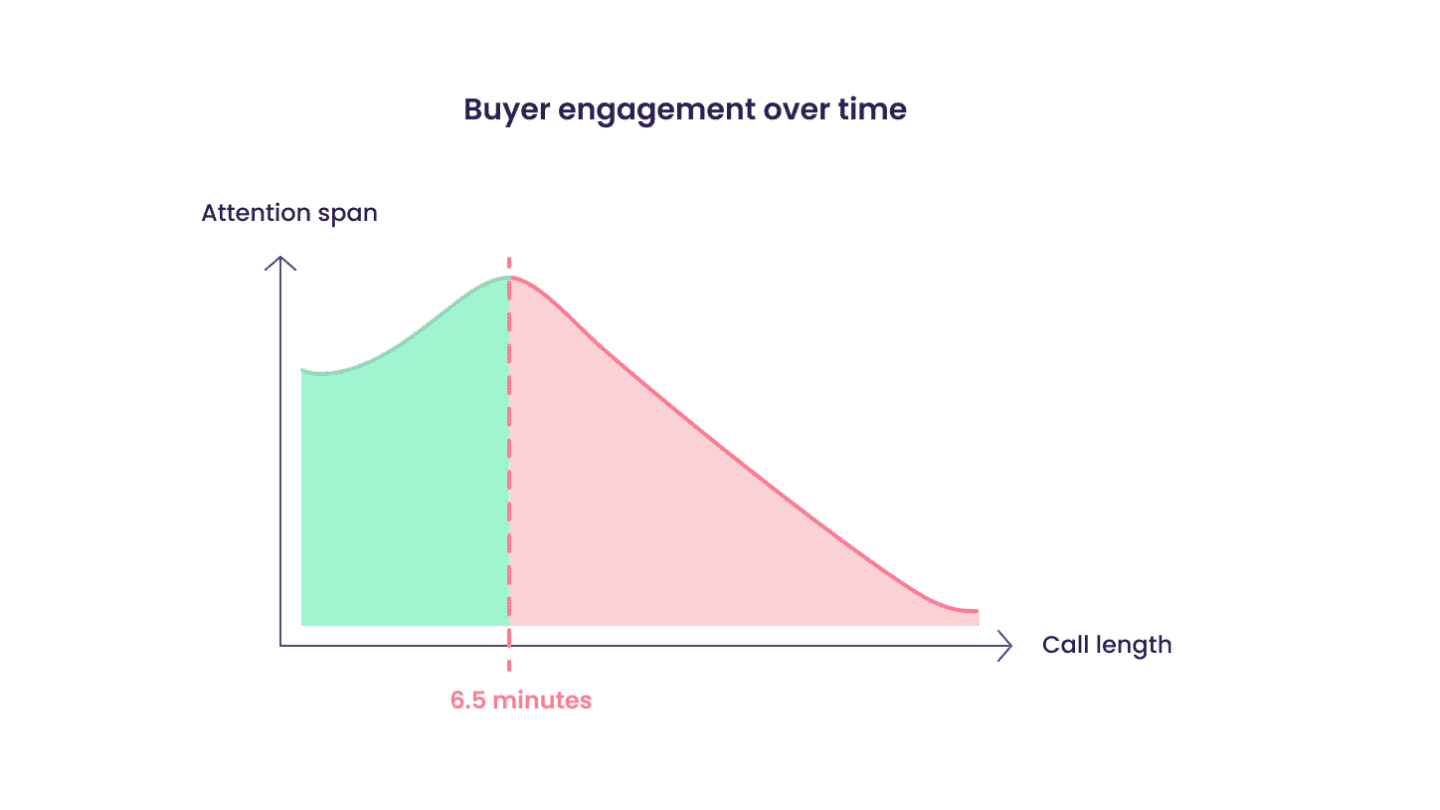 The average time spent on live demos is 2x more compared to off-call demos that are embedded on the website or are being sent to customers as a follow-up.
Despite the 30-minute calls most sales reps book with prospects to walk them through their product, buyers spend less than a quarter of that time actually viewing the demo. And when it comes to off-call demos, the viewing time gets even shorter.
That's because the way people want to consume product content has changed dramatically. This is especially true of the younger generation, who are used to content that is short and in an easy-to-digest format.
4. Buyers want to see more demos throughout the funnel.
Prospects often have to go through multiple rounds of discovery calls to then be able to see the product during the live demo.
But this is frustrating for today's prospects. Modern buyers want to be able to see the product at any point throughout the sales cycle, at their own pace. People are no longer willing to wait for the live call, and they also expect to engage and be educated on the product more than one time.
INSIGHT:
Buyers view an average of 3.4 demos per deal — throughout the sales funnel.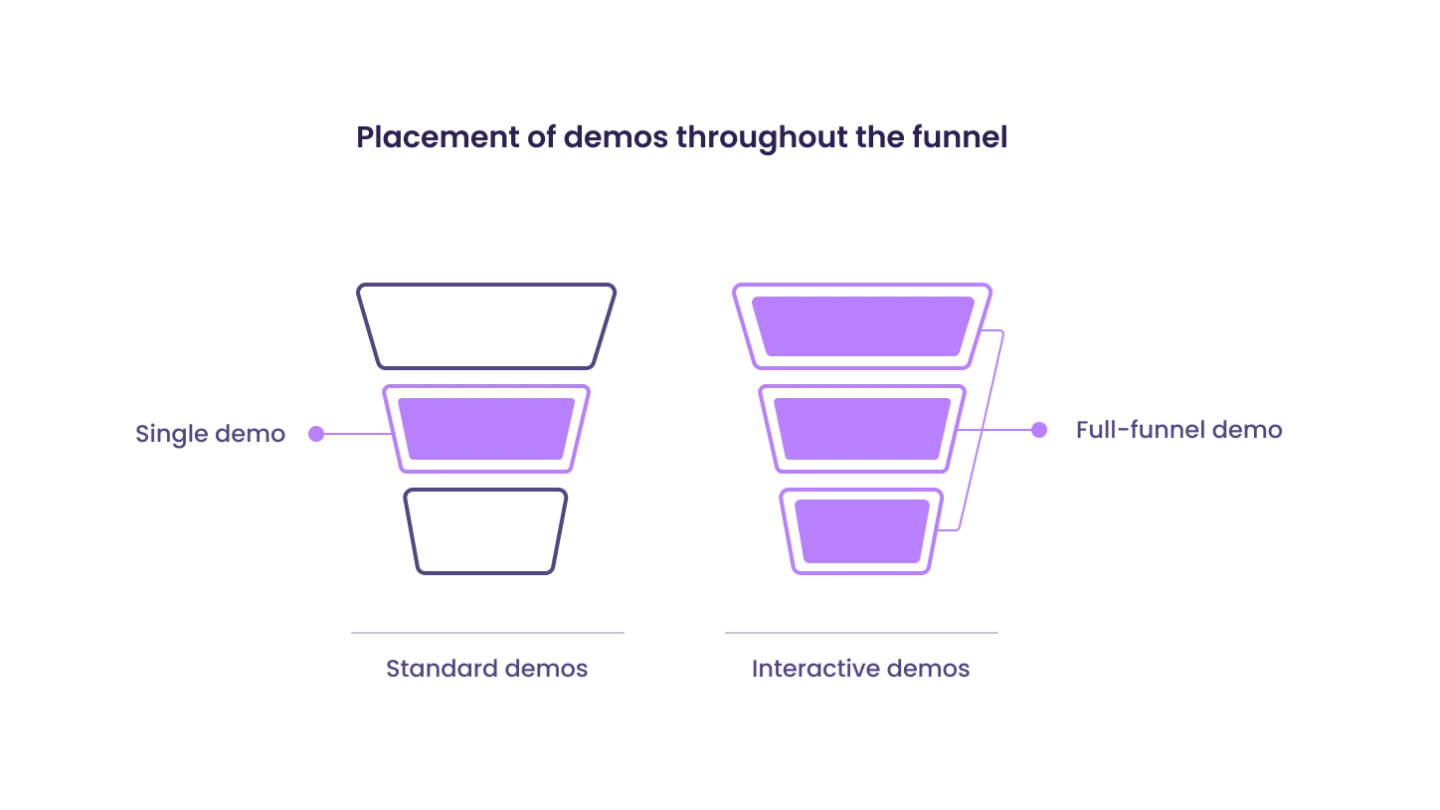 While sellers are still mostly presenting the demo live, buyers are engaging with Walnut demos at every stage of the sales funnel.
Because of the ease of creating interactive demos with Walnut, sellers have started utilizing them throughout the sales funnel to meet their buyers' needs. This has not come at the expense of live demos but in addition to it.
After the live demo use case, the next most common uses for Walnut demos were: Personalized product teasers, landing at 20%, followed by champion enablement (15%), feature announcements (11%), and website embeds (10%).
5. Buyers want a personalized experience.
Buyers have grown more and more frustrated with the B2B buying journey's traditionally generic nature.
Personalization (or lack thereof) can also play a significant role in the product demo's success or failure.
According to Walnut's buyers' survey, the top demo-related reasons that will lead to a buyer deciding not to purchase or recommend a new software solution are that the demo wasn't relevant to the buyer's problem (65%) and a lack of personalization (54%).
Based on Walnut research, sellers are taking this into consideration and building up their demo libraries to be able to offer more tailored buying experiences.
INSIGHT:
Companies use an average of 39 interactive demo templates.
It should be noted that the larger the company, the more demo templates they use. We found that companies with 1,000+ employees use an average of 104 demo templates. This number lands at 52 for companies with 201-1,000 employees, and 32 for companies with 51-200 employees. For companies with under 50 people, this figure lands at 17 demos.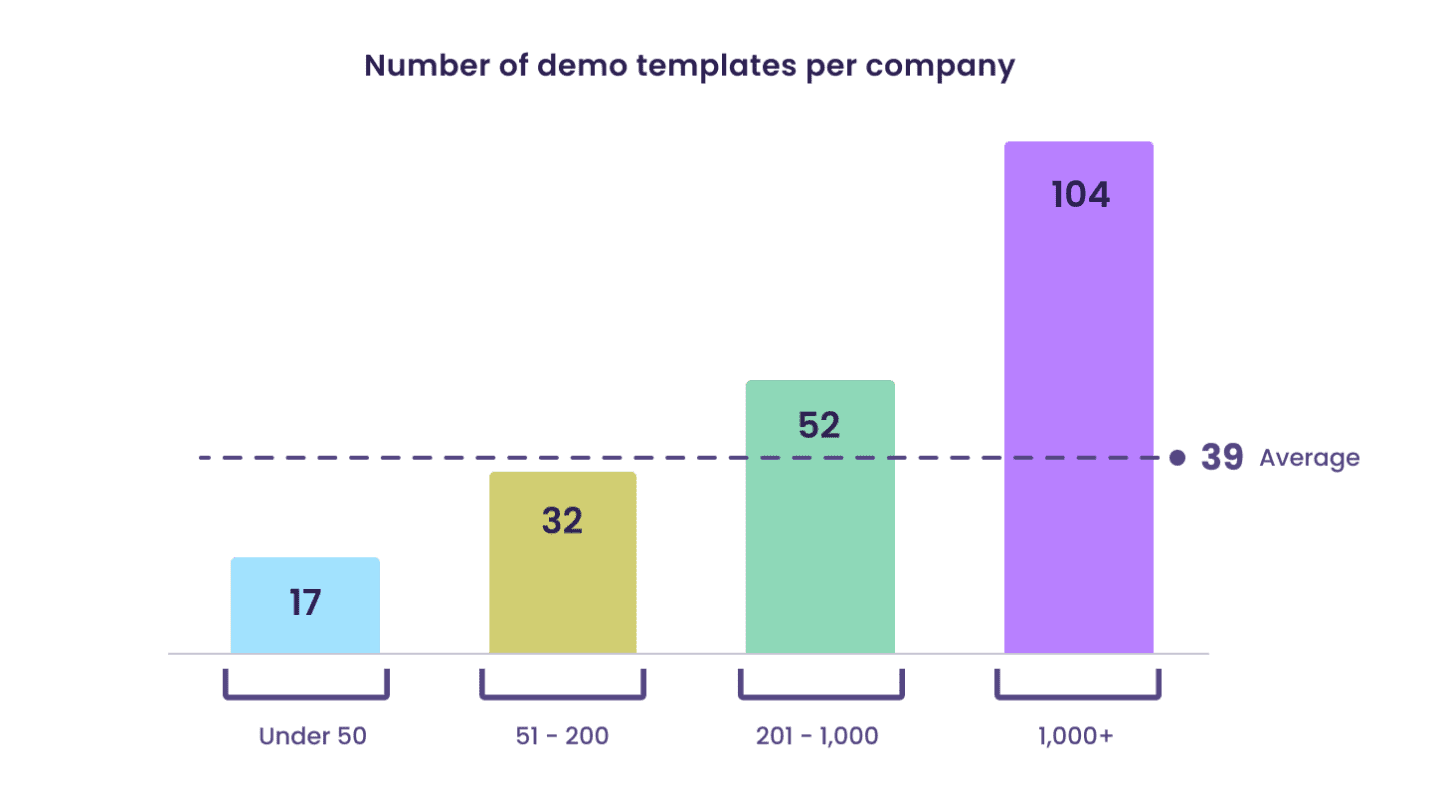 Companies are creating multiple demo templates that are customized to show specific product flows or use cases, and are catering to different personas, industries, parts of the sales cycle, and more. As buyer needs are changing, companies are no longer relying on one generic demo, but are making more of an effort to customize the buying journey to increase their chances of closing deals.
Because buyers expect demos to be personalized with not only their name, company logo, and other brand elements, but also based on the specific verticals and use cases that are most relevant for them.
Takeaway: How can revenue teams give buyers what they want?
Based on these trends, buyers' needs are changing and it's up to sellers to meet them.
By utilizing short, shareable, and personalized interactive demos throughout the sales funnel, revenue teams can improve the buying experience for their buyers and ultimately sell more.
What is the full-funnel demo experience?
The full-funnel demo experience lets buyers experience the product in short, relevant snippets throughout the entire sales funnel.
This can include an embedded interactive demo of the product on the website, pre-demo teaser, a live demo call, shareable post-call follow-up demo, short demo snippets of specific features they want to see as they move further down the funnel, post-sale onboarding demos, and more.
The seller can use these demos and their analytics to better understand the buyers' needs and quickly provide them with the relevant information for them.
The goal of the full-funnel demo experience is for buyers to expand their knowledge of the product and its value throughout the sales process, while sales reps learn what their buyers really need and want. It also allows go-to-market teams to create a consistent buying journey for their customers by making sure the entire funnel is using the same assets and focusing on the same value.
This increases the chances of the deal's success. On top of this, it ensures buyers are more confident about what they are buying and that reps can tailor the experience and the business case to each customer.
What does the full-funnel demo experience look like?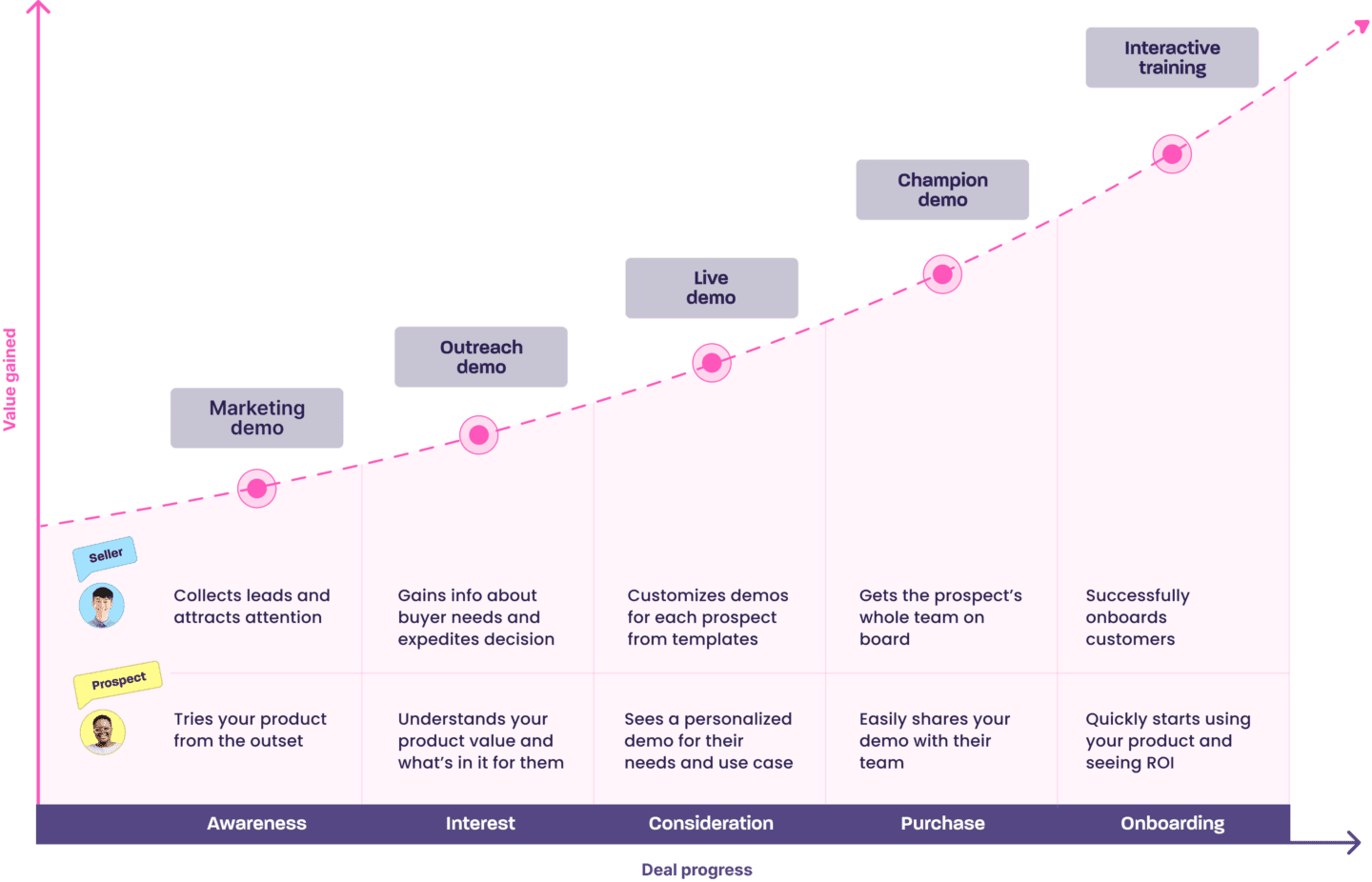 Next steps: What's the best way to implement interactive demos across your sales funnel?
In order to determine the most effective ways to incorporate interactive demos throughout the sales funnel, we dove into our product data and interviewed many of our customers to see what's working best.
Here's a step-by-step summary of the best ways to implement interactive demos in your organization to drive revenue and boost sales efficiency.
Build your strategy
Step 1: Identify your business opportunities and align your demoing strategy to them.
It's crucial to approach the implementation of your interactive demos by strategically ensuring it is aligned with your goals.
Start by analyzing the main business opportunities you have and connecting them to your demoing strategy. To do that, we recommend mapping the buyers' and sellers' paths to success and focusing on what currently prevents them from achieving it.
From the buyers' side, find out what they currently need from you and what prevents them from buying and adopting your solution. For example, they may feel like your sales process forces them to wait too long before seeing the product or that they don't quite get how your product works.
Then, do the same thing with your team. Your team's issues may include struggling to explain the value of your product's many use cases clearly or they feel unable to show specific personas only the features that are relevant to them.
To enrich your knowledge, we recommend mapping your current buyer journey and sales process to understand where your buyers or teammates aren't succeeding, where deals are at risk, or areas where you can boost engagement even more.
You can also map each stage, then define the KPI, the audience, and the conversion rate.
Pro tip: Track your product analytics, your call recordings platform, your website, and speak to your team about struggles they are having with showing your product's value before you decide on the types of demos you'll create. Then speak to customers to complete your understanding of the current experience.
Step 2: Plan your ideal buyer journey.
Now's the time to dream big. Here you need to imagine how you'd like your prospects to experience your buying journey.
Think about how you'd like to incorporate your product into every part of the customer's buying journey. Determine when it's relevant to share a demo to achieve your goals and what value of the product to show when.
Pro tip: Create a demo for each stage of the process including an embedded demo on the website, mini-teaser for the call, live demo, and follow-up demo.
Step 3: Break your product into smaller "Lego" pieces.
The most effective way to build interactive demos is by breaking down your product into short snippets that show specific values.
You can then mix and match them to tell longer product stories that are relevant for different use cases and personas, or keep them separate to be used by anyone on the team for different purposes.
This mix and match strategy is what most Walnut customers do, breaking complex product experiences into smaller snippets without giving up on demoing multiple business cases with one build-out.
Create your demos
Step 4: Build demo templates.
Once you mapped all the assets, you'll need to build your full-funnel demo experience and create some templates that can be reused by the team.
Start by mapping the demo's narrative: Who's the audience? What context and existing knowledge do they have? What's the main flow that they'd benefit from seeing?
Next, decide where this demo is going to be displayed. You'll want to build your demos differently if they're going to be embedded on your website or if your sales team will be presenting them live.
Then, plan how you'd like viewers to experience the demo. Is it a free-flowing demo that allows viewers to click wherever they want or a guided structured path that tells a specific story? Consider the experience based on your main call to action and viewer context. For example, if your rep presents the demo live, we recommend avoiding written text guides.
Finally, go to your product, capture the screens of the flow you planned, and let the fun begin. Edit any image, text, color, and graph to make it feel like the real thing.
If you chose a guided path, now's the time to add some guides. We recommend having guides with a maximum of 7-10 steps each. If your flow requires more, you can split them into a few guides and just let viewers navigate through them.
You should also add variables in the areas of your demo that you want your reps to personalize for each prospect. This way, whoever will use this template to generate a demo can customize it in a snap.
Pro tip: Create a list of all the demo templates you'll need to create and a timeline of when each will be ready. Prioritize this list based on which areas of your sales funnel and which use cases need it the most.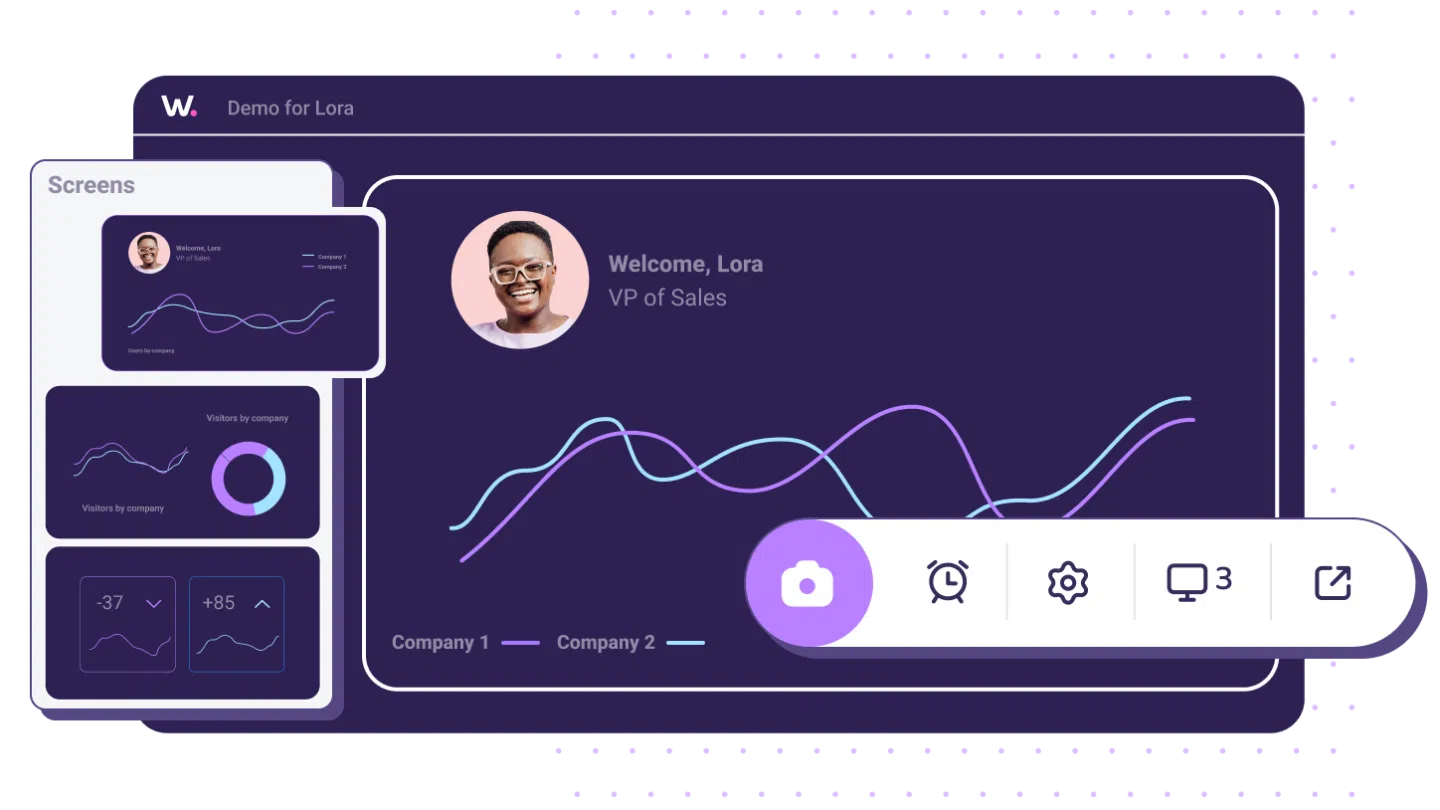 Step 5: Roll out your interactive demos to your team.
Once the demo templates are ready, it's time to get the sales team on board.
Create an internal announcement to get everyone excited about interactive demos and make sure they know what to do. You can even do training on how to use your interactive demo software using interactive demos.
Guide them on how to create demos from demo templates and best practices to include at this stage.
For example, when creating a new demo from your template, your sales team can customize it with a personal note or a welcome message that collects viewers' emails. They can also allow prospects to leave comments on the demo, so they could use the demo to expand their discovery process even when they're not there.

Pro tip: Before rolling this out to your team, make sure your demo library is organized, so the team can easily locate the relevant content for them. Tag your demos based on the step in the funnel, use case, persona, industry, or whatever else makes sense for your business.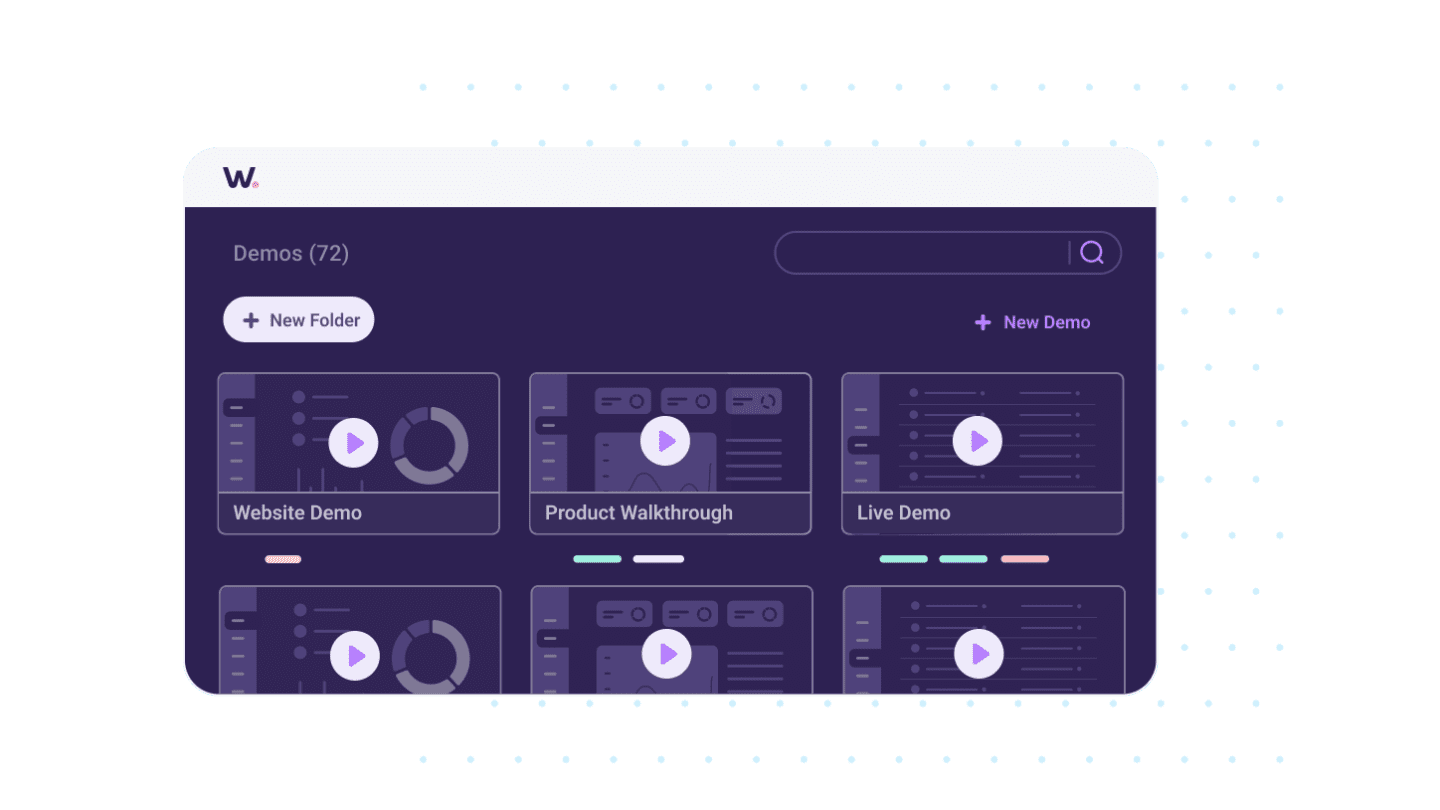 Deliver your demos
Step 6: Show off your amazing product.
Once the demo templates are organized in the demo library and your sales team can quickly generate dedicated demo links for themselves or, ideally, for each customer, you're ready to have your prospects see them.
This is where the magic really happens, when your ideal journey meets your customer's reality.
Based on the strategy you created, you can share your interactive demos wherever in the funnel you see fit — on your website or landing pages, over email or any other communication tool you have, live on calls, or even in your product education systems.
Pro tip: Utilize the Slack integration to receive a message when your prospects engage with your demo. Otherwise, you can rely on getting emails whenever your product demo is viewed. This way you can reach out to them when you know your product is top of mind.
Analyze, optimize, and manage
Step 7: Track individual deals.
Once you start getting eyeballs on your demos, your sales team can roll up their sleeves and dive deep to see what worked and whose attention they managed to grab.
Use the demo analytics to see how prospects are interacting with your demo to understand their intent, their interests, and what areas you can explore in future communication.
You can also track who from your prospects' company engaged with the demo to multithread your communication and assess the deal's success. Determine which members of their team are the most invested in your demos by the time spent or the number of clicks.
Pro tip: Before presenting your live demo, analyze your data to see what features your prospects saw in your embedded demo or in your outreach demo. Based on this data, focus your efforts on the areas that are the most relevant for them.
Step 8: Analyze and optimize your sales process.
Don't just analyze your individual deals. You should also track your overall sales process and find ways to optimize and improve it.
These insights can help you understand how to get the most out of interactive demos in the experience you're creating for your prospects.
Example: Our own product marketing team A/B tested their educational content in emails, and found that people were 20% more likely to click on interactive demos compared to written release note articles, videos, and other CTAs.
Likewise, we found that people who viewed the embedded demo on our website were 57% more likely to become SQLs.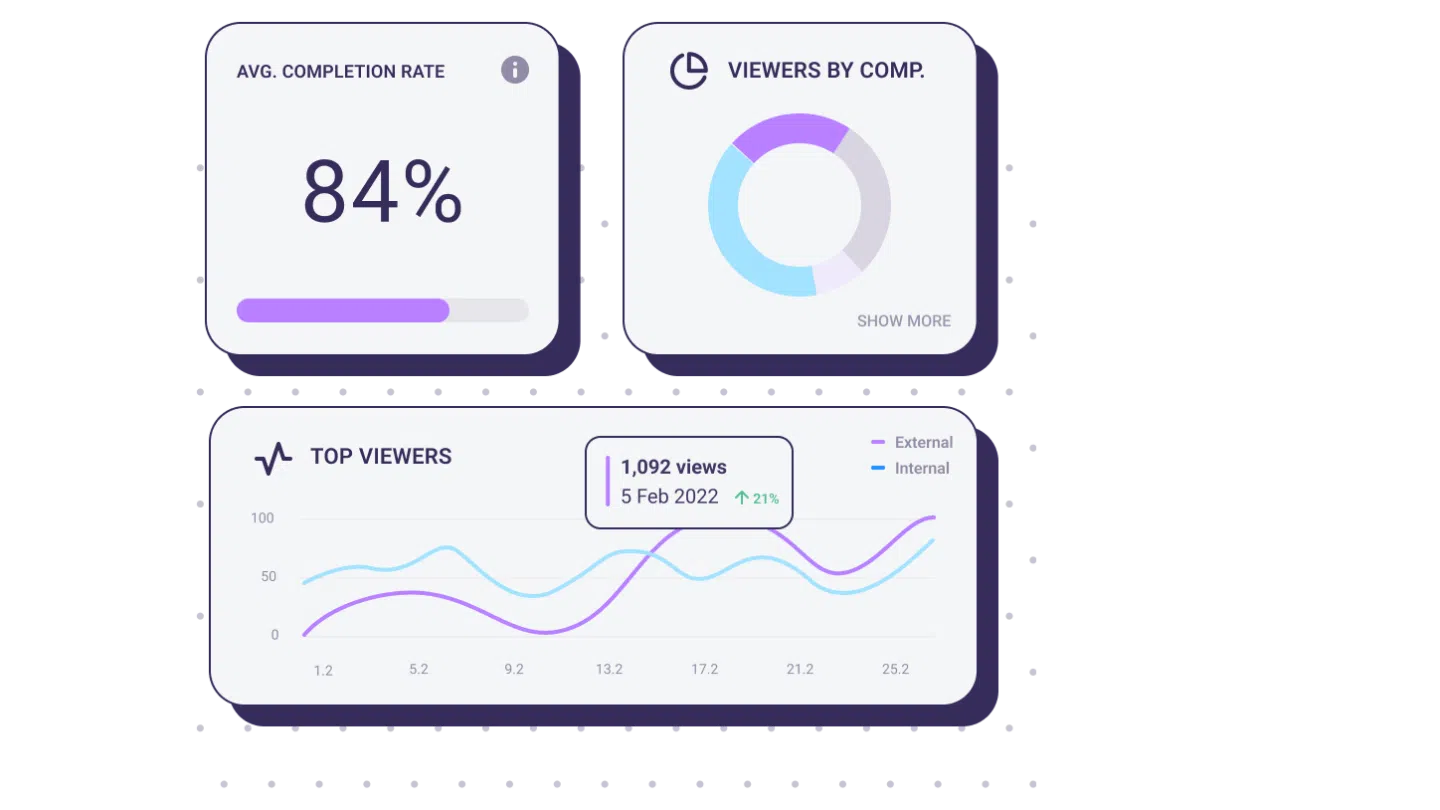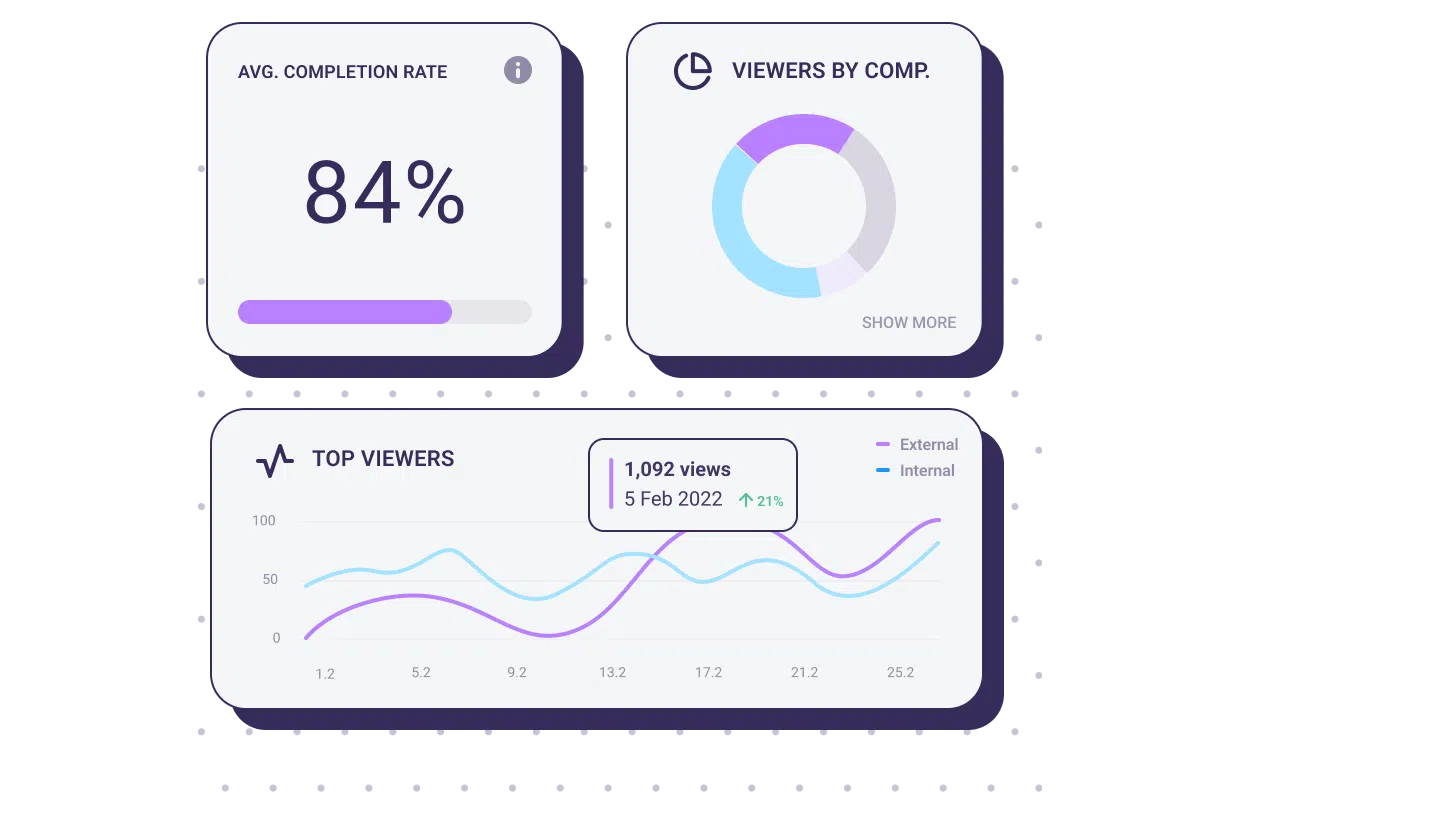 Step 9: Drive adoption across your entire organization.
Now it's time to think about how you can make the experience better for your team and increase adoption across your organization.
Here are a few tips:
Connect it to your stack. Integrate your interactive demo software with your core stack, like your favorite CRMs, for better tracking and to reuse your existing forms. You can also integrate it with Slack and Gmail for a better notification and demo emailing experience.
Create your brand hub. Set your brand colors, font size, logo, and more in one place for a consistent experience across demos and to save time on setting each template from scratch.
Organize and manage content. Create user groups to share demos in bulk, organize your demos into folders, and add tags to easily locate the content you have.
Ready to revolutionize the way you sell with Walnut? Get started with interactive product demo software >