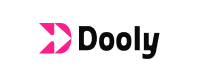 Company name: Dooly
Why are we doing it?
Because we believe that salespeople should spend their time helping the customer, above all else.
What is there for your business?
Dooly's connected workspace makes it effortless for revenue teams to share information with the people and systems that need to know. It creates a seamless experience for sales teams, which makes the buyer's experience as smooth as possible.
Special #WeAreProspects offer:
‍Get a free 14-day Dooly Premier trial- Simply mention you came from the #WeAreProspects campaign.
Recommended read:
‍How to Create Sales Enablement Content That Speaks To Your Audience.