Where does the time go, lovely blog reader?
Earth seems to be spinning even faster on its axis and we can't believe another year has passed. We have so much to update you on.
Right before jumping into 2023, we wanted to take a moment to look back at the many new, exciting, powerful (have we said enough adjectives yet?) capabilities that were added over the last year.
From Walnut for teams to Beyond Demos, this year at Walnut was focused on helping users edit faster, collaborate better, work smoother, and communicate with buyers like never before.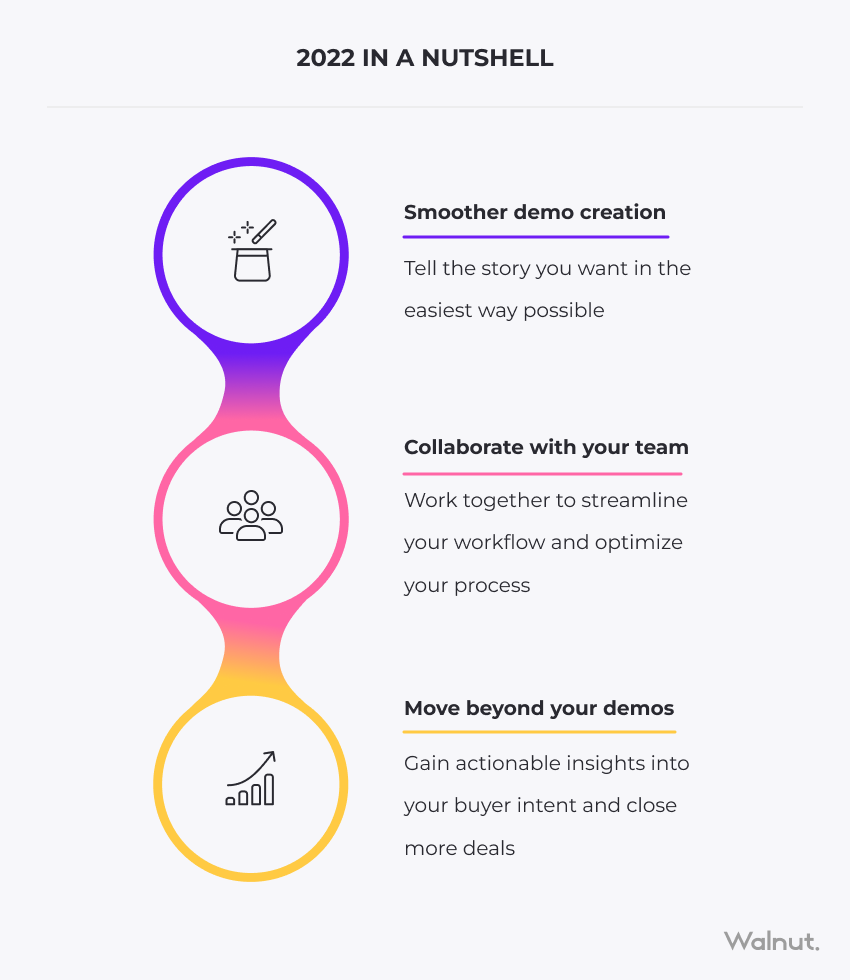 Simplifying captures and edits
Creating the perfect product demo is an art. But that doesn't mean only skilled artists should be able to make them beautiful.
We've focused on making an easier demo creation process so there will be even more perfect interactive demos in the world. Because we believe in beauty.
Capturing
We added tools to save you loads of time, like continuous capturing and timed capture, and allowed you to import screens from one demo to another with all the edits you already made. Plus, we now auto-name your screens and support more screen resolutions.
Editing
You can now duplicate and delete screen elements, replace images, and grab your buyers' attention with hotspot guiding options. For better control over your demos, we also added the ability to lock demos from changes, and keep track of all your edits, added links, or changed text.
Telling and delivering better stories
We made it a priority for you to tell better stories. Because boring product demos suck and sucking is not something we believe in.
‍Add notes‍
Before presenting your demo, write notes to map out your talking points for each screen. This'll help you make sure you don't miss out on any crucial details and key points during the demo.
You're able to see the notes but your prospects can't.
Play demos from anywhere
Open any demo you want from the Walnut extension dropdown. No need to enter Walnut and scroll through your library.
On-demo communication‍
Empower your buyers by allowing them to leave comments directly on demos.
Whoever is viewing your demo can easily spark a conversation, voice questions or concerns, or express their excitement about specific features and flows. Sales teams can better respond to prospect needs, nail down the aspects prospects love, and communicate clearly with their buyers.
Notification updates
Get notified in real time when a prospect views your demo. When your product is on the top of your prospect's mind you'll know and can give them a call to provide them with any assistance or guidance.
Control who accesses your demo
Our access control capabilities let you add extra urgency with your prospects by setting an expiration time and setting access permissions to make sure your demos don't fall into the hands of competitors. It can also be useful if the feature or user flow might change soon.
Collect demo viewer emails‍
Add a demo gate around your demos to track which members of your prospect's team are experiencing your demos, how many times they looked through it, and for how long.
Walnut is better together
There's no "I" in Walnut for teams.
That's why we launched this suite of features to help your sales team work together more efficiently and learn from one another. We aimed to provide a way to smoothly scale your sales team's sales experience personalization so that both buyers and sellers could enjoy a better sales process.
‍Demo library
Organize your library of demos and walkthroughs that speak to each market segment, each stage in the sales funnel, and even each prospect. This way, sellers can easily scale their personalized selling. Including marking favorites, adding folders, including tags, search and filters, and tracking all changes and edits made over your demos.
Automatically personalize stories for each prospect with a few clicks and without needing to edit the actual storyline.
Team analytics
Track your external and internal demo usage, see usage trends, and know which demos are most popular by your team.
Improved onboarding and security
Use Walnut's onboarding process to easily add new members of your team so they can get up and running faster than ever before. Plus, the SSO integrations add extra security and make it easier for your team to log in.
Going beyond your demos
Step aside bed & bath. Because we went BEYOND in 2022.
After improving Walnut's demos and helping your team work smoothly together to provide the best buying experience, the end of 2022 was all about helping go-to-market teams make the sales process even more efficient for everyone involved.
Read more about Walnut Beyond Demos.
Advanced insights
Take the guesswork out of tracking your Walnut demos by gathering meaningful data on your visitor's engagement to uncover which demos perform best.
Demo log
Always wanted to know who's checking you out when you're not in the room? Now you can easily track the way users use your Walnut demo.
Demo engagement score
Get actionable insights and learn how to make your demos convert better.
Analyze your buyers' demo flow
Focus on each buyer's needs by seeing which areas of the demo pique their interest and which leads them to churn.
CRM integrations
Integrate Walnut into your CRM (like Salesforce or Hubspot) and stay on top of your opportunities by tracking all your information in one place.
What's coming in 2023?
Ok, we promised to give you a sneak peek, so we will.
But only because you asked nicely.
Here are a few things to look forward to:
We will be rolling out a new and simplified user experience of our editor, with even more editing capabilities. This way you can customize more of your demo, faster.
We'll also enhance your teamwork and add new admin and team capabilities to make your processes efficient and more integrations to streamline Walnut to your day-to-day workflows.
Want to stay on top of all our product news?‍
Still not using interactive product demo software for your interactive product demos? Awkward! Click the 'Get Started' button now.