It's the product that sales pros didn't even know they'd been dreaming about.
You probably heard about the viral launch of our #WeAreProspects campaign, which was shared by millions of prospects and SaaS sellers around the world. It focused on the painful gap between SaaS buyers' needs and the current sales processes.
Our core mission is to close that gap.
That's why we are so excited to announce our latest release, Walnut Beyond Demos, which helps go-to-market teams make the sales process even more efficient for everyone involved.
Why B2B sales needs to get smarter
At the moment, a big reason why SaaS prospects are suffering is because sales pros have it really rough—and it seems to only be getting worse.
Companies are laying off reps in record-high numbers, leaving the remaining team to hit even higher quotas with less help. Sales managers are struggling to scale their teams with limited resources while management needs to prove their value by increasing their revenue.
That's why, in an effort to solve this problem for both SaaS companies and their sales teams and thereby improve the buying experience for prospects, we set out to do some market research. Because, at the end of the day, happier prospects will lead to more sales.
We found a few key holes in the revenue stream that companies are looking to plug. One of the main ones is the current blind spots that exist among sellers.
Most go-to-market teams don't have a full grasp of what's going on in the minds of their buyers when they aren't talking to them one-on-one. They lack the ability to truly know how their prospects perceive their product's value and they are unable to properly communicate with them about specific elements within the product. Likewise, they can't really see what happens with their buyers behind the scenes.
The result is not just a bad demo, but an overly faulty sales process, which is frustrating for prospects, leads to lost deals, and opens a space for competition to swoop in.
What is Walnut Beyond Demos?
Walnut Beyond Demos solves this predicament by giving sales teams access to a part of the sales process that they never were privy to before.
Now, sales pros can gain never-before-seen data that'll help them better connect to the bigger picture and predict their buyer's intent and where they are in the process. It provides them with a completely new way to analyze prospects' behavior and respond to their needs.
By fully comprehending where prospects are at and communicating clearly and efficiently, sellers can streamline their sales cycle and simplify the buying process. They can also avoid investing in areas that are not relevant and focus their energy on each prospect's specific needs. This saves tons of time, helps close more deals, and creates a more efficient and holistic sales cycle.
This sounds like magic. But what does the product actually include?
Basically, we built a way to gain access into the minds of prospects to better understand their desires and concerns. Using these insights across your sales funnel, you'll be able to build a more customer-centric sales strategy and create a sales experience that'll convert.
Here are all the ways you'll benefit from incorporating Walnut Beyond Demos:
1. Let prospects communicate directly in your demos
A crucial part of empowering prospects is by giving them a voice.
Now you can let your prospects or demo users communicate with you about specific areas of your product by commenting wherever they want throughout the interactive product demo. Sort of like a Google Doc comment, but way cooler and on a demo. 
This'll ensure effective communication and make sure reps are engaging with the right contacts, at the right time, on the relevant content.
Whoever is viewing your demo can easily spark a conversation, voice questions or concerns, or express their excitement about specific features and flows. That way, sales teams can better respond to prospect needs, nail down the aspects prospects love, and communicate clearly with their buyers.
It can also aid buyer communication among their own team by giving context to any questions or considerations they may have.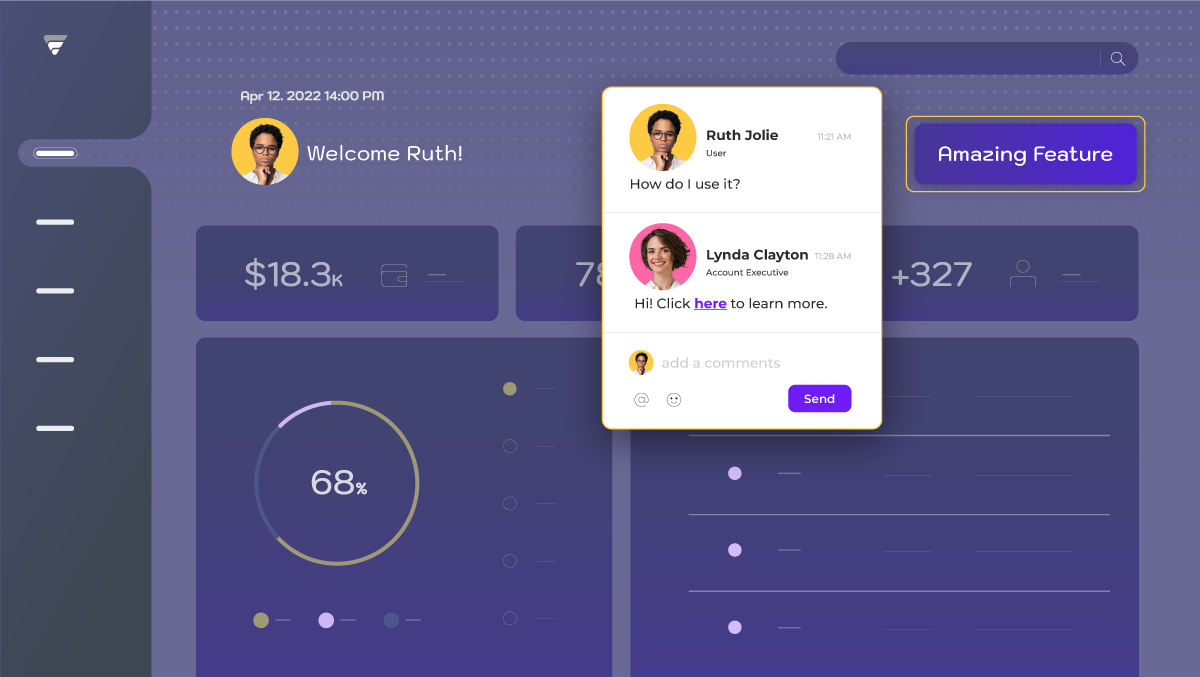 2. Get an automatic engagement score to know what's working
Ever wondered what the world would be like if you could know whether your demo had a high likelihood of success?
Well, now you pretty much can.
With our demo scoring algorithm, you'll know the quality of each of the demos you created based on our superpower, which gives us the ability to gauge successful demos. Each demo will receive a score automatically, so you can know which ones to focus on, which ones need improvements, and which ones should be trashed.
This will help you better understand your product's value, save time by avoiding sending demos that don't convert, and ultimately close more deals.
It'll also prevent prospects from having to sit through any more bad demos.
3. Analyze your buyers' demo flow
How do your prospects move through your demo? What is the most common flow through your product? Which areas get people interested and which make them drop out? Where do you need to pick up from on your next call?
Until now, nobody really knew the answer to these questions. Sure, you can gauge the demo's overall success on whether the prospect ghosted after the meeting or not. But were you able to conclusively track which specific phases or flows of your product demonstration were more engaging vs. which bored or confused your prospect?
No, you weren't. But now you can.
Walnut Beyond Demos gives sales teams a visual flow of how their prospects click through their demos by tracking the steps before and after arriving on a particular screen. It combines all your demo interactions in one place, across visitors and sessions.
This will help you quickly understand your demos' flows and engagement to indicate which areas of the demo are working well and which might require further attention.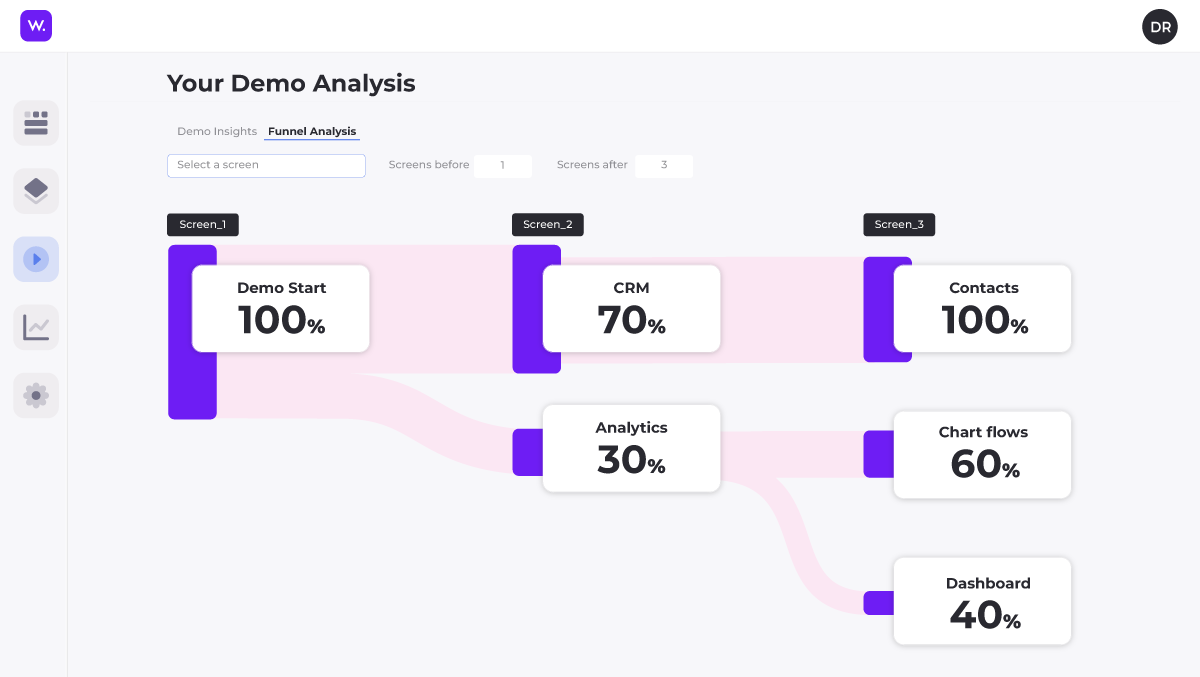 4. Consolidate your data to sell efficiently
You may be looking at all this and say to yourself, "Sounds like a lot of crucial information, but how can I keep track of it all while managing my deals in my CRM?"
Fear not, sales legend.
Our integrations with CRM leaders like Hubspot and Salesforce allow you to integrate all of this engagement data directly into your workflow. This will make it super easy and practical to enrich your sales process with these key insights and allow AEs to follow up with extremely precise info about their prospects' intent.
This will also help your team better manage their deals and stay on top of their opportunities by giving you all the demo-related information in one place.
But this is just a start. Even more integrations are on their way.
Moving beyond demos to impact the full process
At the end of the day, knowledge is power. So in order to empower sales pros to significantly improve their deals, our product demo software provides them with unprecedented levels of knowledge about the needs and behaviors of their buyers. 
Our never-before-tracked insights into your buyers' behavior combined with direct, on-demo communication opens a window to buyers' minds that has never been viewable before. The new suite of products lets sales organizations boost efficiency and optimize their full cycle based on real intent. This will lead to shortened sales processes, sharper communication, and increased revenue.
And, as an added bonus, prospects will enjoy a completely upgraded buying experience that is entirely focused on their needs, which just happens to be Walnut's number one mission in life.
As for us? Our team will keep working our asses off to revolutionize selling and buying to improve the state of SaaS sales. Because we're just getting started.
Learn more about Walnut Beyond Demos today.