There's a common belief in sales, that the best salespeople are "lone wolves"—out on the hunt on their own and feasting on closed deals.
Well, we'd hate to be THAT guy, but the imagery made us wonder: Isn't a wolf pack significantly more impressive?
We don't have to tell you that there is strength in numbers and we also probably didn't have to tell it to you with a wolf analogy. But it's true. Perhaps even especially true when it comes to sales.
A team of salespeople working alone can lead to inconsistent messaging across the sales process. It can also limit the overall effectiveness of the team by creating isolated silos that'll create missed opportunities for growth and success.
It's time to have your sales team learn from each other and work together, and we have just the solution for you. We are excited to announce that we are releasing a new version of our platform to help all your stellar sellers join forces to take their selling skills to unprecedented levels.
Why we launched Walnut for teams
Our mission at Walnut is to help B2B sellers create more customer-centric sales experiences. Seriously, if we had to list our priorities from top to bottom, this would be our number 1.
This means we want your sales team to get to the point quickly when talking to their customers, provide real value from the start, and optimize the whole sales process to move faster. That's why we created our codeless platform: to enable your team to create customized and interactive product demos intuitively and easily. 
This way, everyone wins. Buyers enjoy tailor-made product experiences that focus on the specific value for their needs while your sales team can scale personalization and convert better with a structured and standardized demo process.
What you need to know about Walnut for teams
Our latest release will help your sellers do all of this even more efficiently.
With Walnut for teams, we focused on helping your sales team smoothly scale their sales experience personalization. With tools that help the entire sales team work together more efficiently and learn from one other, we hope that both buyers and sellers enjoy an even better and more fluid sales experience.
Here are some of the things you can do with Walnut for teams:
Automatically personalize stories for each prospect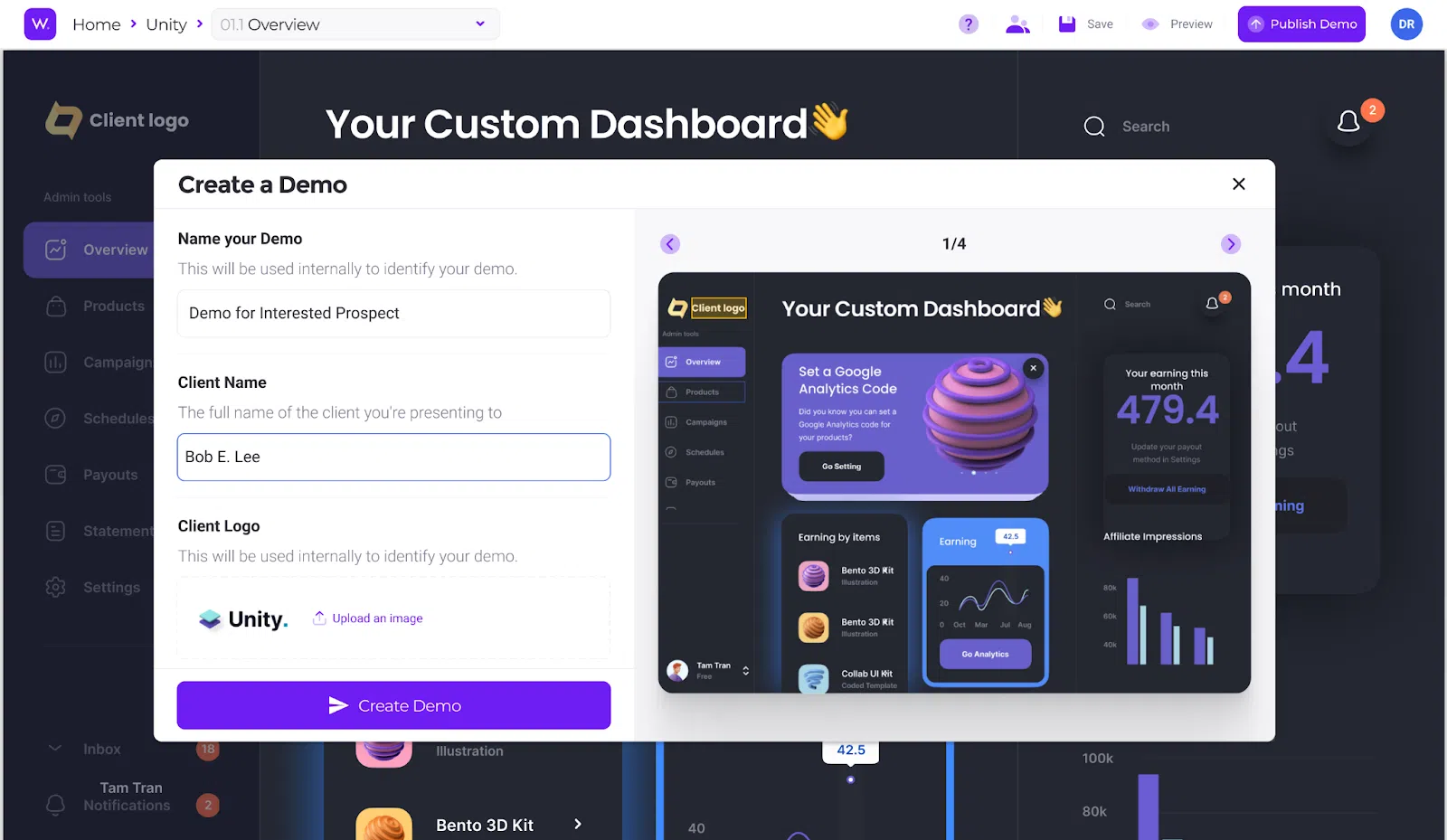 Say hello to our little friend: Our brand new Demo Customization Wizard. We promise it'll be your best friend soon, too.
This new feature lets sales reps personalize each product demo in seconds.
When your demo creator builds your team's templates, they can include multiple image and text "Variables" that can later be defined by the sales rep. So before the rep publishes the demo for a specific prospect, they simply need to enter the prospect's info into a form.
The result? Completely personalized demos in just a few clicks.
You can learn more about how this feature works here.
Enter into a new era of demo analytics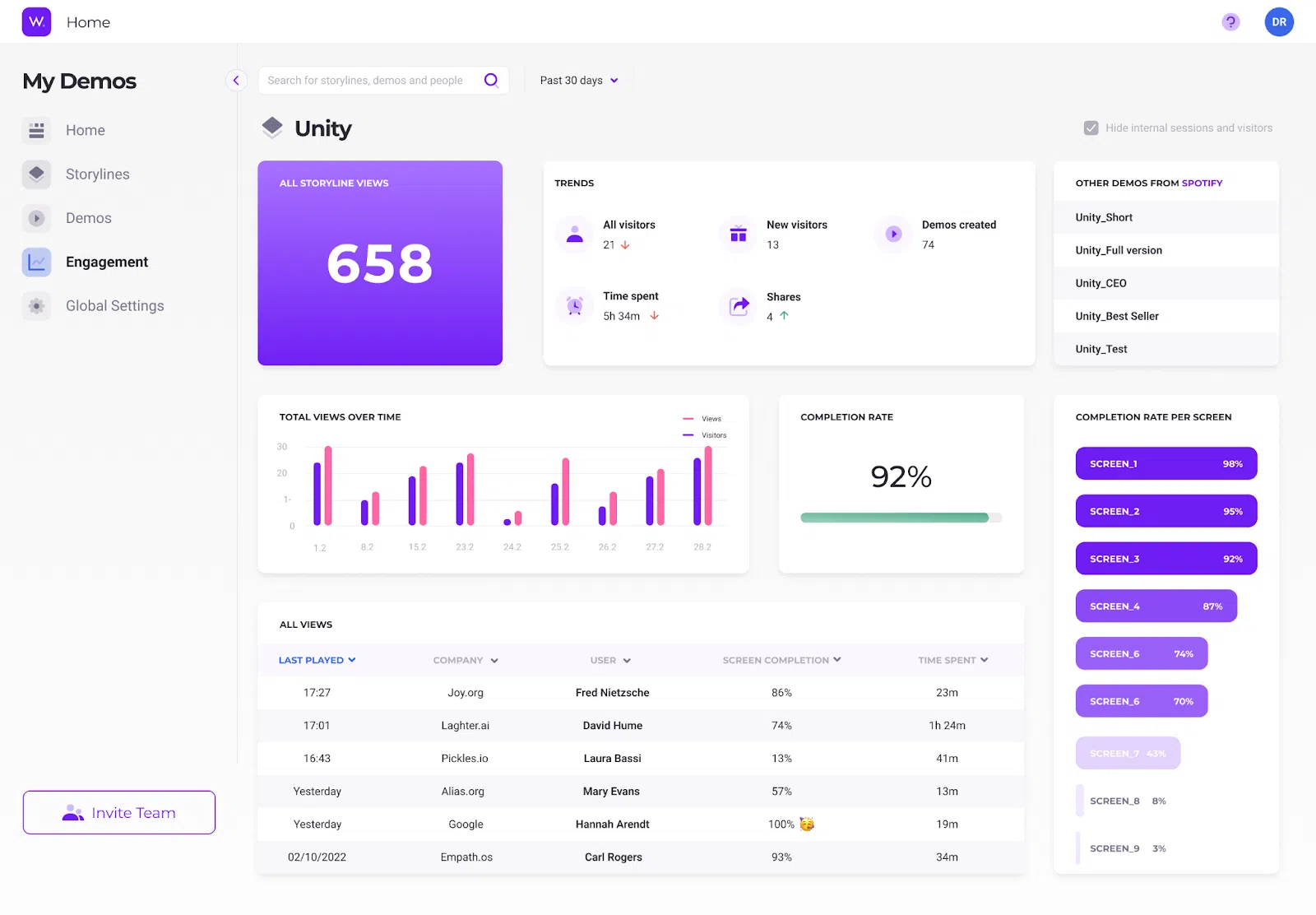 Customer-centric selling is all about understanding your prospects, what they are looking for, and how you can provide an even better sales experience.
That's why with Walnut for teams we are souping up our analytics to provide your sales team with a more robust dashboard of insights. Besides all the usual numbers and stats, your sales team will now be backed by relevant metrics that can help them optimize their demos to book their next meeting and close more sales.
With our latest release, your whole sales team will be able to learn more about how your demos performed over time and across industries. They'll also gain actionable tips on how to optimize their demo stories and smooth out their flow. They'll even be able to track their teammates' performances so they can better learn from each other about what works the best.
This way, each demo that is shared will help your entire sales team optimize their next one.
Build and easily manage your stacked demo library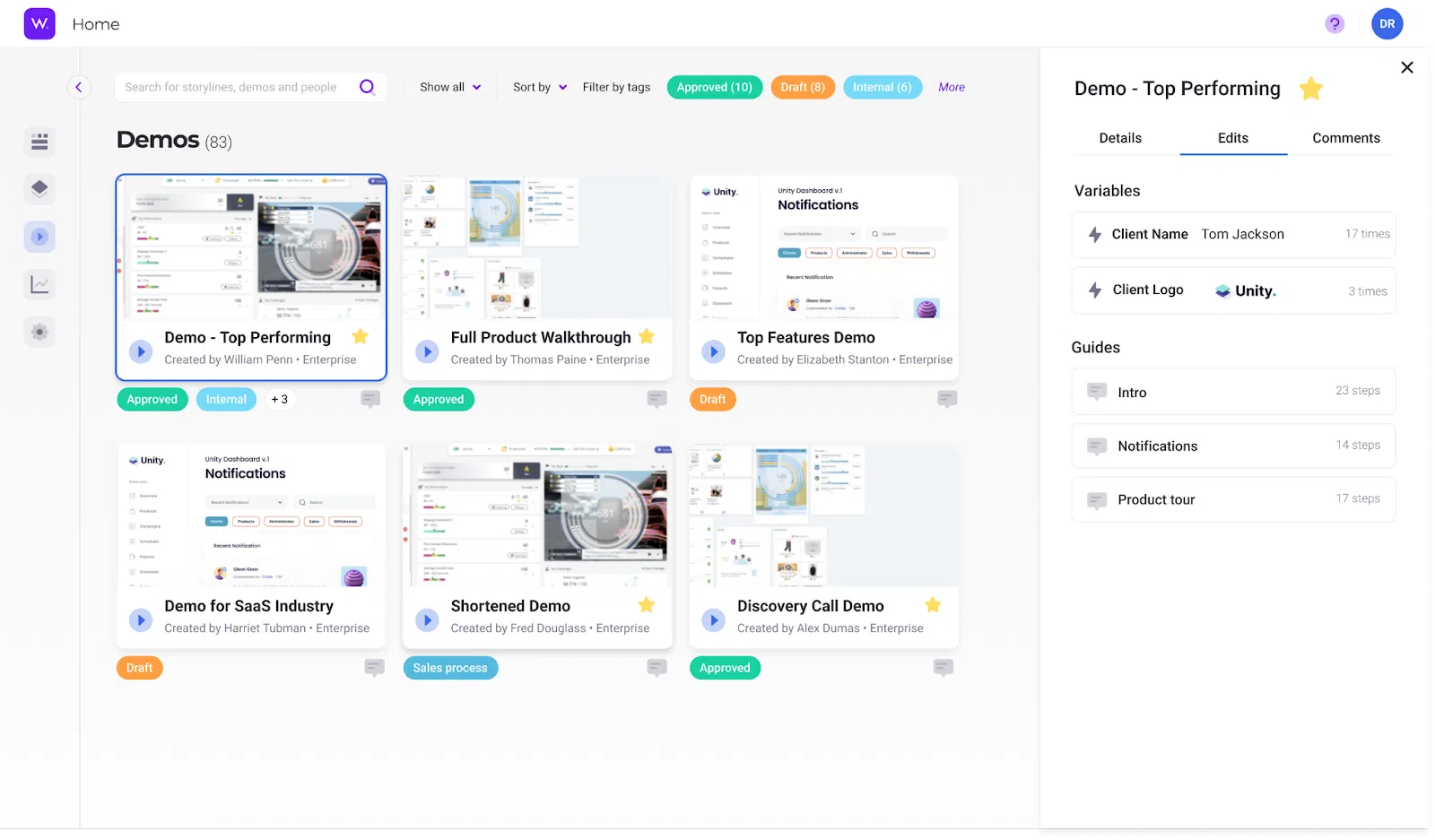 Being customer-centric doesn't have to come at the expense of your seller's workload. We know they have quotas to hit and their time is limited.
That's why with Walnut for teams you can now build a thorough Demo Library with walkthroughs that speak to each market segment, each stage in the sales funnel, and even each prospect. This way, sellers can easily scale their personalized selling.
Once you create your catalog of demos, label and categorize each one by its intended customer industry or by the specific product features it showcases. That will allow your reps to be able to quickly locate, personalize and share the perfect demo for the specific prospect and the exact right moment.
Because we believe that building, personalizing, sharing, and tracking your demos should be quick, painless, and efficient.
If you haven't yet, book a meeting with us now by clicking that big purple "Get Started" button on the top of the screen.