As a SaaS company, you already know that your sales process looks vastly different (and is more complicated) than that of other B2B or B2C companies. It's important to map this process to help identify where you need to optimize sales performance.
What is a B2B SaaS sales process flowchart?
Your sales process is the journey a potential customer takes from when they first learn about your business until when they become a paying customer. Your B2B SaaS Sales Process Flowchart is a graphical representation of the different stages of the sales process. Your sales and marketing teams will analyze your B2B SaaS sales process flowchart to determine how to improve conversion rates.
For example, you have 100 qualified leads at the beginning of your sales journey, and 50 agree to book a demo. Only five of them sign with your company. The most significant drop-offs occur at the demo stage. You should test new methods of pitching and demoing your solution to improve overall conversion.
Once you've mapped your sales process, you can start improving it.
The benefits of a sales process flowchart
The sales process flowchart helps you achieve your sales goals by identifying weaknesses in your sales flow that you can improve. Test different pitches, demos, or qualification procedures to see which tactic results in the most conversions. You can use your flowchart to:
Provide sales staff with a proven system that they can follow to close sales like they would with a road map.
Create certainty for both sales staff and clients on the following steps to follow during the sales processes.
Break the sales strategy into stages to make it easier to identify problems and make adjustments in the sales process.
Control and optimize the process and the conversation.
Make sales projections against targets based on when customers are likely to sign.
When used correctly, your sales process flowchart will ensure your sales team always knows what to say and do next during the sale.
Creating a sales process flowchart
Your sales process flowchart contains every step of the SaaS sales process, including prospecting, discovery, scheduling a demo, demos, handling objections, closing sales, and customer onboarding. Each step in the flowchart should contain a list of actions that your sales staff must execute during that specific phase of the process.
You can create your flowchart in your CRM software (if you use a tool like Salesforce). Alternatively, draft it in Lucidchart or Photoshop and share it in your training materials. Don't just leave it on your intranet or as a poster on a wall. Make sure your teams follow the procedure and report back on its effectiveness.
Here is what your basic flowchart will look like, using the steps detailed below:
Prospecting
Prospecting is the first step in the sales process and involves identifying leads. Prospecting can encompass marketing tactics, cold calling or emailing, or following up on inbound leads via your website.
During the prospecting phase, your staff will:
Identify the decision-makers to pitch to during their outbound sales.
Qualify leads to see if your solution is a good fit for their company, budget, and goals.
Generate a list of companies to research and pitch to.
If your lead is qualified (e.g., they have shown interest in what your business offers), you can proceed with the discovery call.
In the flowchart, it will resemble this.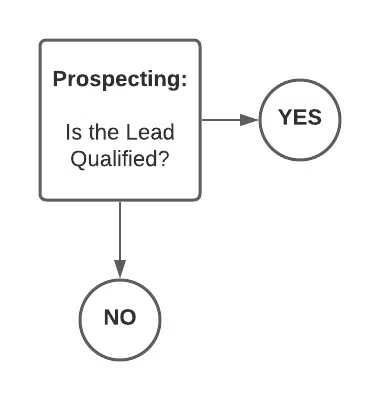 Discovery
Every salesperson needs to know their product, but they also need to understand their prospect's business. Discovery is the process of researching a prospect's pain points before demo-ing the product.
During this phase, you'll include steps like:
Make sales discovery phone calls to gather more information.
Connect with prospects on LinkedIn (or other platforms) and review their latest activity and posts to gather insight about their latest projects.
Identify the decision-makers in the company.
Review the company's website and press releases for more information.
Learn about their pain points and ideal outcomes.
Your sales team will use the information gathered during the discovery process to personalize the demo showcased when meeting with the client in real life or online.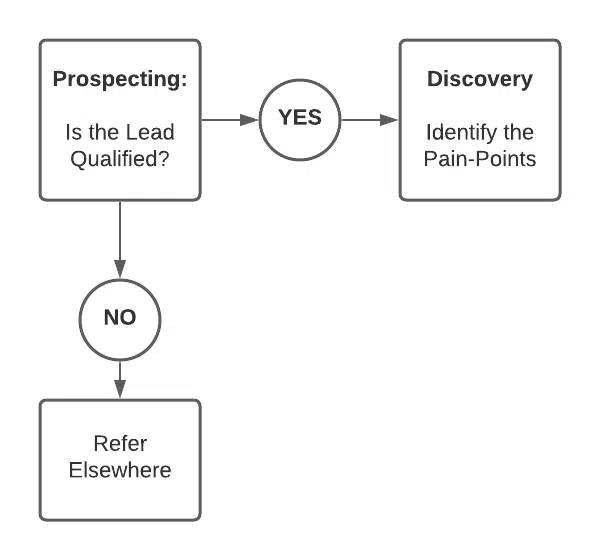 Scheduling a demo
Once you know more about the prospect, you have to schedule a demo to close the sale. Scheduling is either done telephonically or by sending a demo invitation email.
Your demo invitation should be personalized and use best-practice templates and subject lines.
You should also stipulate the number of follow-ups sales staff should make if the prospect doesn't respond to the first call or email. Your sales team must always set reminders to follow up a few days after prospects request a demo. After several follow-ups, if the prospect doesn't agree to a demo, keep nurturing your leads with your marketing activities, e.g., newsletters, invitations to webinars and events, and social media remarketing.
In the flowchart, the next phase will look like this: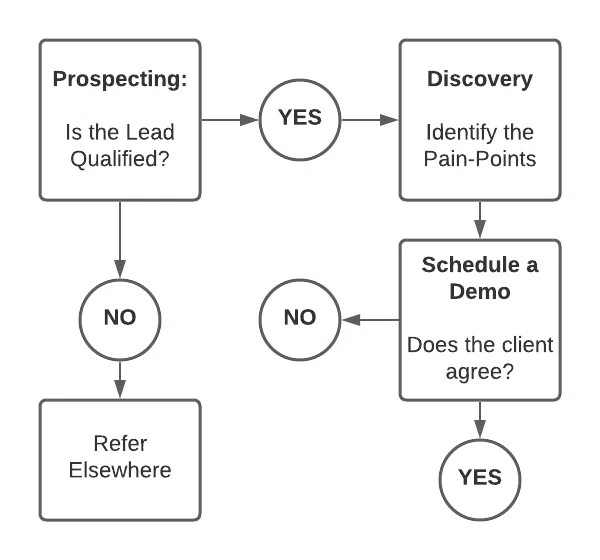 If the client doesn't agree to a demo right away, take action to follow up in a week.
Demoing the product
Your demo is the most critical part of the sales process. Your sales staff must carefully follow the checklist for a successful demo to ensure they do it justice.
Your demo creates visual support and enhances your sales presentation. Many clients have to see your product in action before fully grasping its potential and the value it offers.
Your demo also provides tangible proof supporting what you've said about your product online or in your sales collateral.
In general, your demo has to:
Be as personalized as possible to the clients' needs.
Be failure-proofed so that your tech doesn't let you down.
Demonstrate how your features solve specific pain points that clients have.
Tell a compelling story.
Walnut enables you to create interactive and personalized demos, and guided walkthroughs for your clients. Feel free to sign up and give it a try before scheduling your next demo appointment!
Represent your demo phase in the flowchart like this: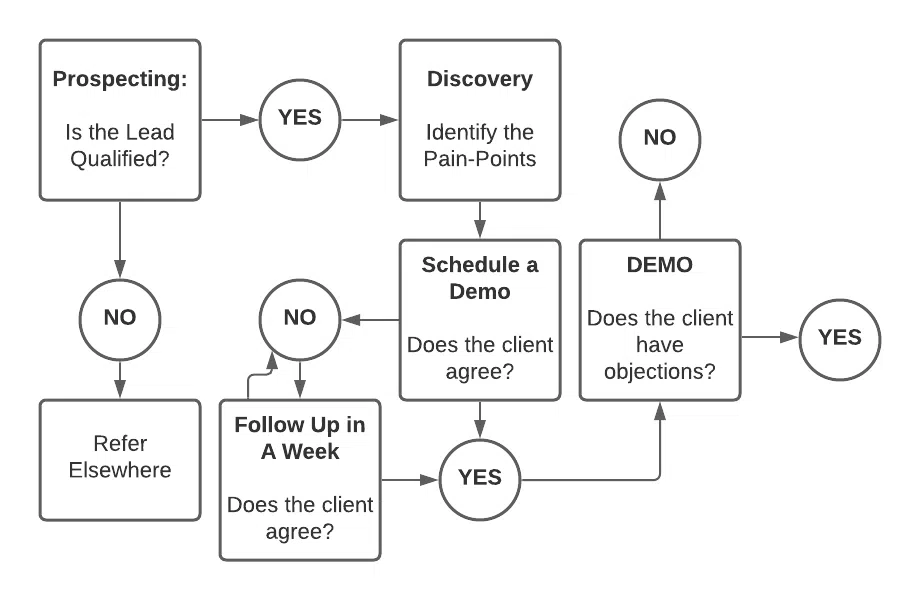 If the client doesn't have objections following the demo, move to close the deal. If they have a few concerns, you move to the next phase of removing objections.
Handling objections
Some clients are ready to sign on the dotted line immediately after a demo, but others may have concerns. A common question you will encounter is, "What will it cost?"
It would help if you prepared your sales staff to answer questions about costs upfront. The best way to counter money concerns is to ask them what their pain points are costing them (in terms of money and time spent). If applicable, explain how much money your software solution can save or make for them and how much the alternatives cost.
Then reiterate the value you offer.
Other objections you may encounter include:
Concerns about downtime and integration of your solution.
Time constraints – how long will it take to implement?
Specific features that the company wants that aren't available in your solution.
When sales staff encounter objections, they should:
Listen to the objection and repeat it back to the customer to make sure they understand it correctly.
Validate their concerns to show that you care about the issue they've raised.
Counter with possible workarounds, payment plans, customizations in your software packages that solve the problems. If not, emphasize the benefits that compensate for those concerns.
In the flowchart, you will add the following steps: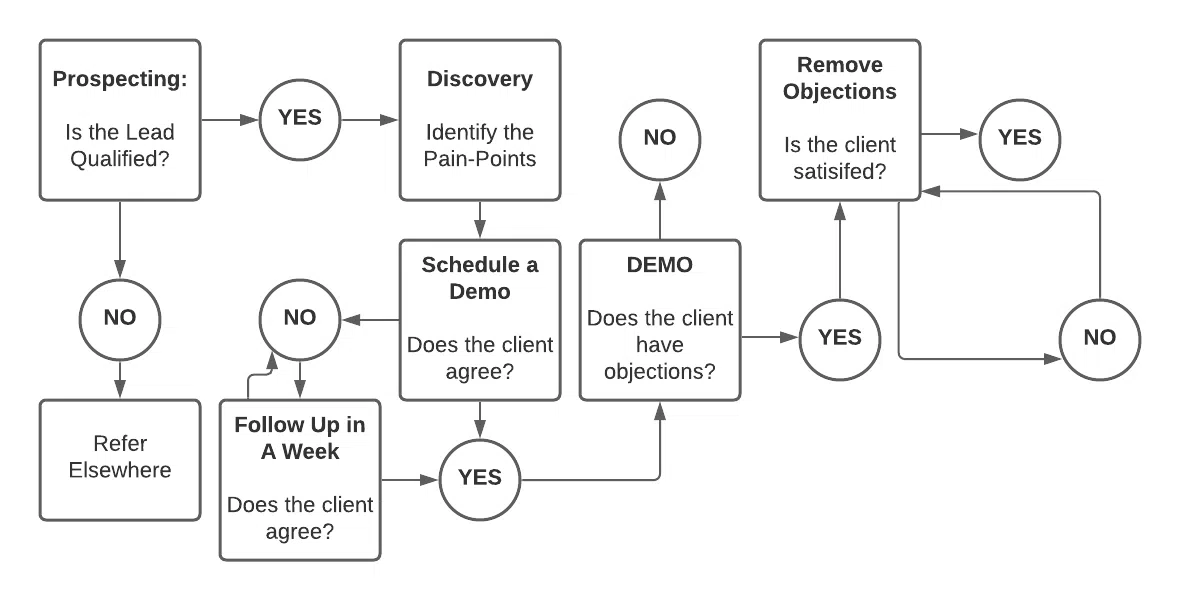 Closing the deal
After the demo, if you've followed all the steps, closing should be easy. During this step, sales reps have to push the prospect to take action. Reps sometimes do this by sending a demo follow-up email.
Good closers for B2B sales include:
"So, can we help you solve (a problem)?"
"Can we start with the ten-seat package and look at upgrading later?"
"When would be a convenient time for you to start testing this solution?"
If they answer in the affirmative, discuss terms, payment methods, and packages. This step requires trust to ensure that the sales team has sufficiently addressed all objections and queries before moving to close.
If the client disagrees, add additional resources. Pull in other team members, negotiate where possible and address any objections they may still have.
If the client isn't ready to close:
If your client still isn't ready to close the deal, it's time to handle objections. If the client is worried about downtime, bring in a sales engineer or solutions engineer from your development team to explain the integration process. If they are concerned about the cost, try to broker a lower price with your financial director, CEO, or relevant decision-maker. If any prospective customers have asked for a new feature, maybe you speak to the dev team about adding it.
Sometimes, as painful as it sounds, you should just go and contact other decision makers in the same organization. As told us Lou Wolf, VP Sales of ZoomInfo: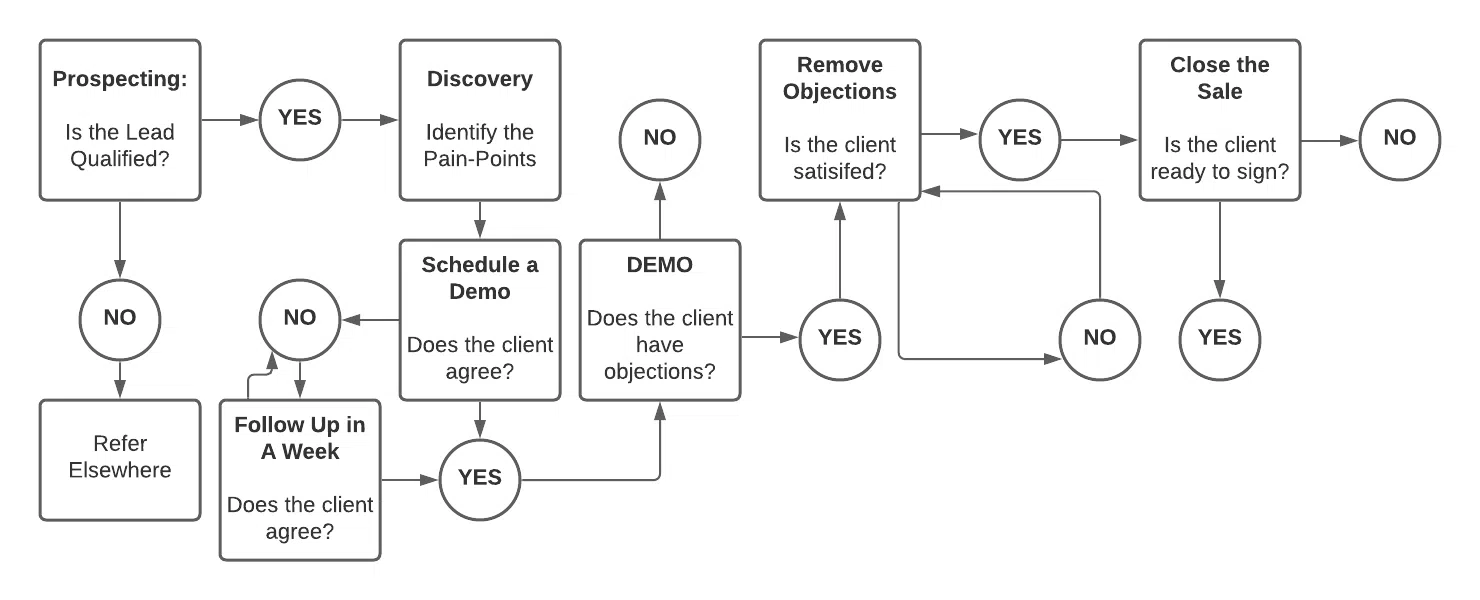 Onboarding
While closing a lead to a customer may seem like the most challenging sales process step part of the journey, it's important to remember to onboard your customers correctly after the sale has closed. You have to follow the customer onboarding best practices and help your customers find success to prevent churn. During this phase, you will:
Help the customer's team understand your product.
Ensure they don't encounter technical issues.
Finalize contracts and conduct training.
Create product tours and tutorials to help clients navigate the software.
Schedule regular check-ins to make sure your client is satisfied with your solution
If necessary, create an after-sales process flowchart that covers upselling and renewals for clients after onboarding.
Once you've closed the sale, you can move onto the onboarding phase!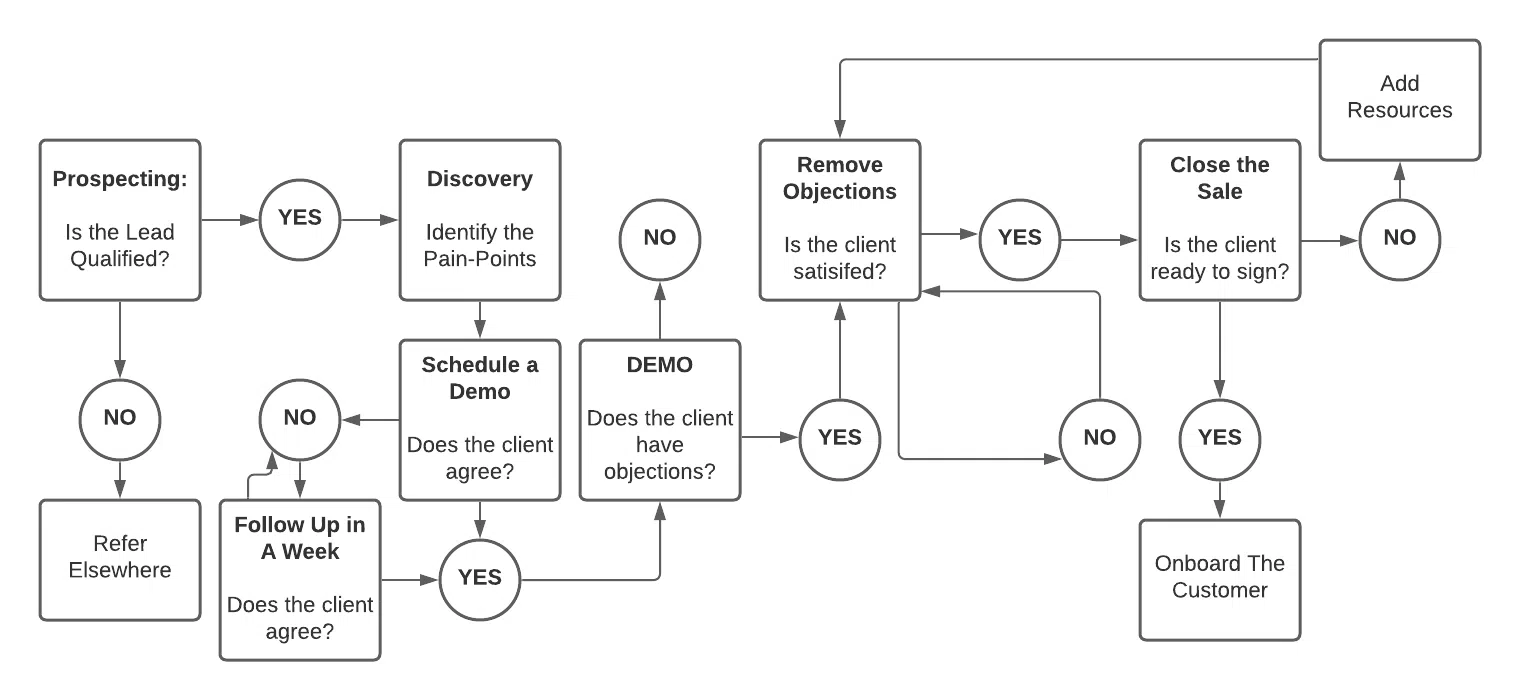 Setting your sales staff up for success
Keep modifying and adding steps to your flowchart as you progress with your sales. Ensure that your staff has all the tools they need to succeed, including the best possible demo.
Walnut can help you create customized and interactive demos and product tours for each prospect. There is no coding required, so you can easily duplicate and edit your demos for each vertical and use-case, while collecting insights on your clients' usage. Get started with interactive product demo software today.