You know what they say: "You got to keep your eyes on the prize."
If you work in marketing, we know that you're already spending hard-earned cash on paid traffic and putting your hearts and souls into creating SEO-optimized content to recruit traffic to your page. But the main prize you should be eyeing is providing large numbers of highly qualified leads to your sales team for them to work their magic.
In order to do turn that traffic into cold hard cash, you need a high-converting landing page that gets visitors to see your product demo and fall in love with your product. To do this, you must design every element of the landing page to encourage the user to take action. The page design, copy, buttons, and call to action must be thought out and tested.
Every visitor to the landing page is a chance for your business to generate a lead, book a demo, and ultimately make a sale.
What to know about SaaS product demos
Before we get carried away, let's get a few things clear from the outset. Here are some of the most common questions you are most likely asking yourselves at this point.
What is a sales demo?
A sales demo gives prospective customers a chance to experience your SaaS product and learn how it can help them solve any pain points that they're experiencing.
While sales demos were often utilized as a phase in the sales process, with a platform like Walnut, sales professionals can send personalized interactive sales demos to the prospects for them to try on their own or schedule a live demo where they can go through it together.
Demonstrating how your product solves the prospect's pain points is the primary objective of a demo, and it's your opportunity as a business salesperson to convince and convert.
What is a landing page?
A landing page is a web page, but unlike your other website pages, it's used for a specific goal—to get your visitors to take a specific action. An effective landing page will compel a user to provide their information in return for the value you are offering.
What is a 'Request a Demo' landing page?
As the name suggests, the 'Request a Demo' landing page's core aim is to generate demo requests. It lets you obtain the information which you can utilize to nurture leads by sending an interactive product demo or by booking a demo call. It will contain a form for prospects to fill out with their basic information.
It usually looks something like this: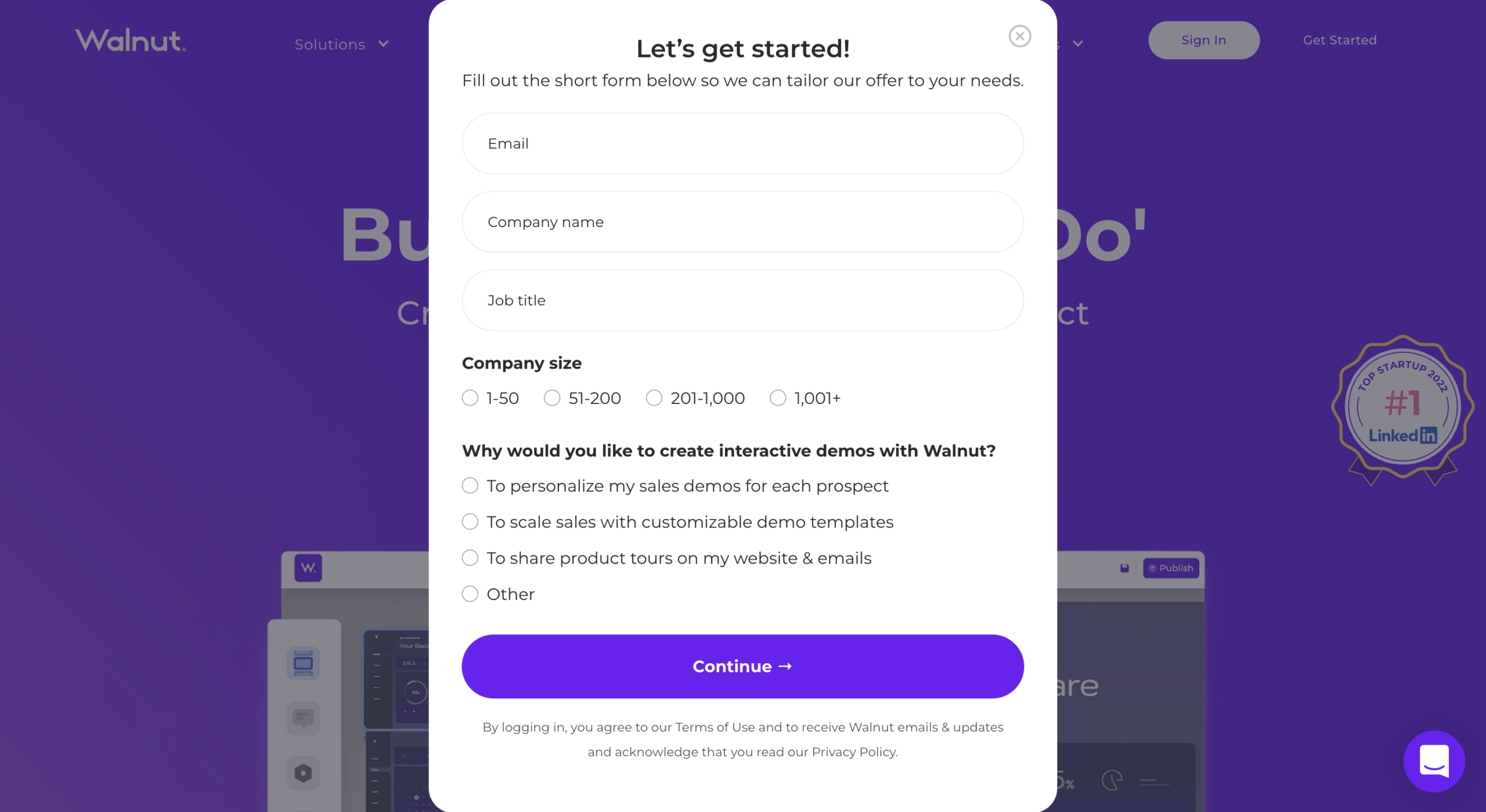 Why is a 'Request a Demo' page important for SaaS?
We thought you'd never ask. But in another much realer sense, we very much knew that you would.
The 'Request a Demo' landing page is a crucial part of your lead generation strategy, helping you grab the email addresses of hot leads who have shown interest in your product.
Ideally, your company should use a platform like Walnut to create interactive product demos that you can embed right onto your website. This way your site visitors can get to understand your product immediately and understand whether or not they are interested before they waste your time. You can require them to enter their email address in order to view the demo on your 'Book a Demo' landing page, or you can even include it right on your homepage.
But nonetheless, encouraging site visitors to be in touch with you to receive an even more personalized demo or more information is extremely beneficial. Retaining the lead's details can help your team draft a demo request email template and demo follow-up email.
When done correctly, 'Book a Demo' landing pages are compelling and a vital element of your lead-generation toolkit. A well-optimized landing page will be the difference between a full calendar and, well, *crickets*.
Here are some of the benefits of a 'Request a Demo' landing page:
They help you to generate a list of qualified leads.
The design and content of the page give a sneak peek into how a prospect can benefit from your SaaS product or any other type of service you offer, encouraging site visitors to sign up for demos to learn more.
'Request a Demo' encourages prospects to move forward in their decision-making journey.
5 'Request A Demo' examples to take notes from
All businesses need a 'Request a Demo' page, but it is vital to design it impressively. Here are five examples to get the creative juices flowing.
1. Contractbook
Contractbook lets businesses collaborate on contract automations and create, track, eSign, and organize contracts in a single workflow.
Why do we love this Contractbook landing page?
Your visitors want a demo? Show them one now. Contractbook saves buyers and sellers time by letting the visitor see an overview of product for themselves.
While you can click through this demo yourself, you can also request a more personalized demo on the bottom of the page.
The form is one question: Add your email address.
What could improve this page?
It could be clearer what the visitor stands to gain from requesting a demo.
2. Hootsuite
Hootsuite is an all-in-one social media management platform that curates social content, schedules posts, manages team members, and measures social return on investment (ROI).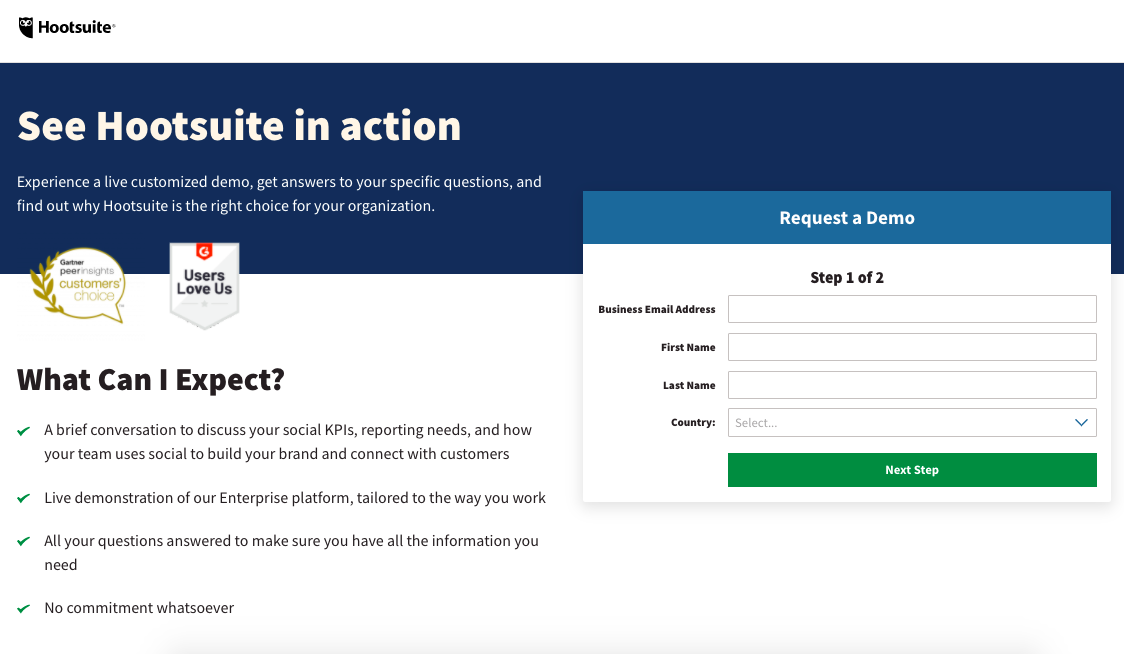 Why do we love this Hootsuite landing page?
The form is above the fold, with minimal fields for the customer to input.
The headline "See Hootsuite in action" grabs your attention.
There are examples of the company's credibility.
What could improve this page?
A short explainer video could give visitors more information.
More eye-catching design could make the page more engaging.
3. SharpSpring
SharpSpring is a revenue growth marketing platform, helping small and medium enterprises (SMEs) to generate leads, improve conversion rates, and increase higher returns on marketing investment.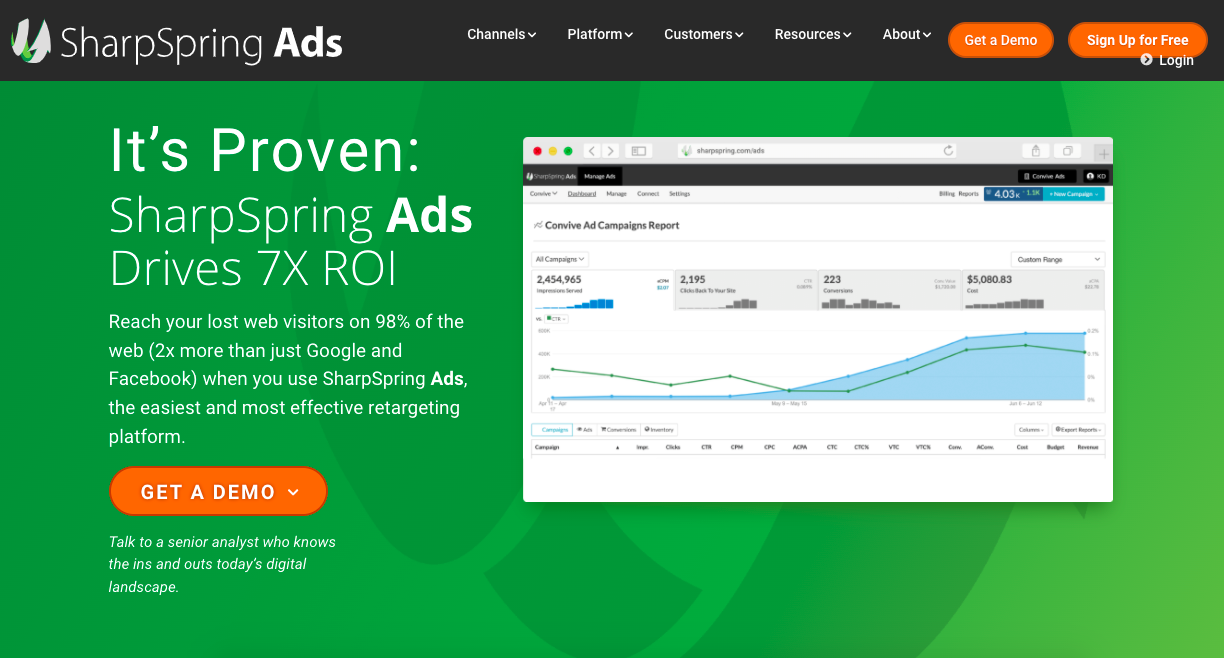 Why do we love this Sharpspring landing page?
It has a convincing and compelling headline with social proof — "It's proven: Sharspring Ads drives 7X ROI."
The image at the top of the page backs up the statistics and adds to the social proof.
Bold use of green as the backdrop evokes a calm, safe, and fresh feeling.
What could improve this page?
The CTA takes you to the bottom of the page where you're required to fill in a lot of information. The form can be shortened.
The paragraph copy "Reach your lost web visitors on 98% of the web. . ." is compelling, but it is a bit too long if the reader wants a quick scan of the page.
4. Keap
Keap is an all-in-one sales and marketing automation platform that includes a customer relationship management (CRM) tool, marketing automation builder, and sales pipeline automation.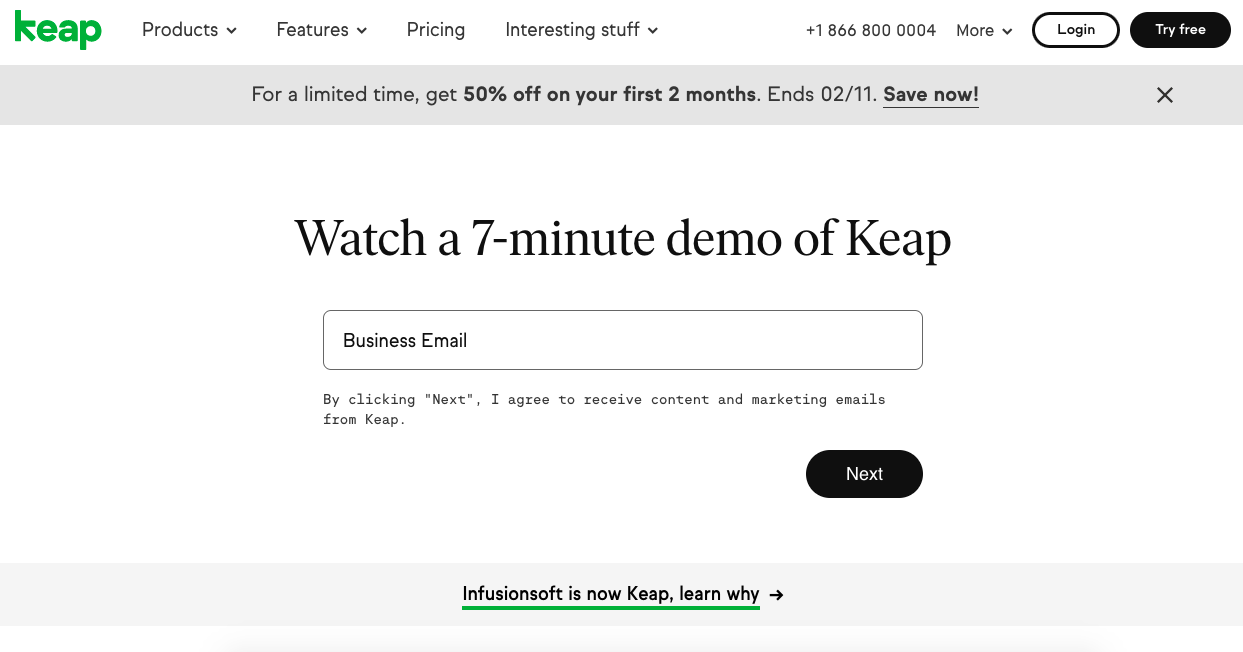 Why do we love this Keap landing page?
The page is simple with limited distractions. It's clear what action the user should take.
The headline explains what the user should do and how much time this will involve.
A time-based discount banner above the form sign-up field adds reason to act.
What could improve this page?
The page may be too no-nonsense. A little more design and content could help remind visitors why they should follow through.
The header and footer are busy, with plenty of options for the lead to exit the page.
5. Zoom
Unless you've lived under a rock during the pandemic, you know about Zoom. It's a video and chat communication tool for business and personal use.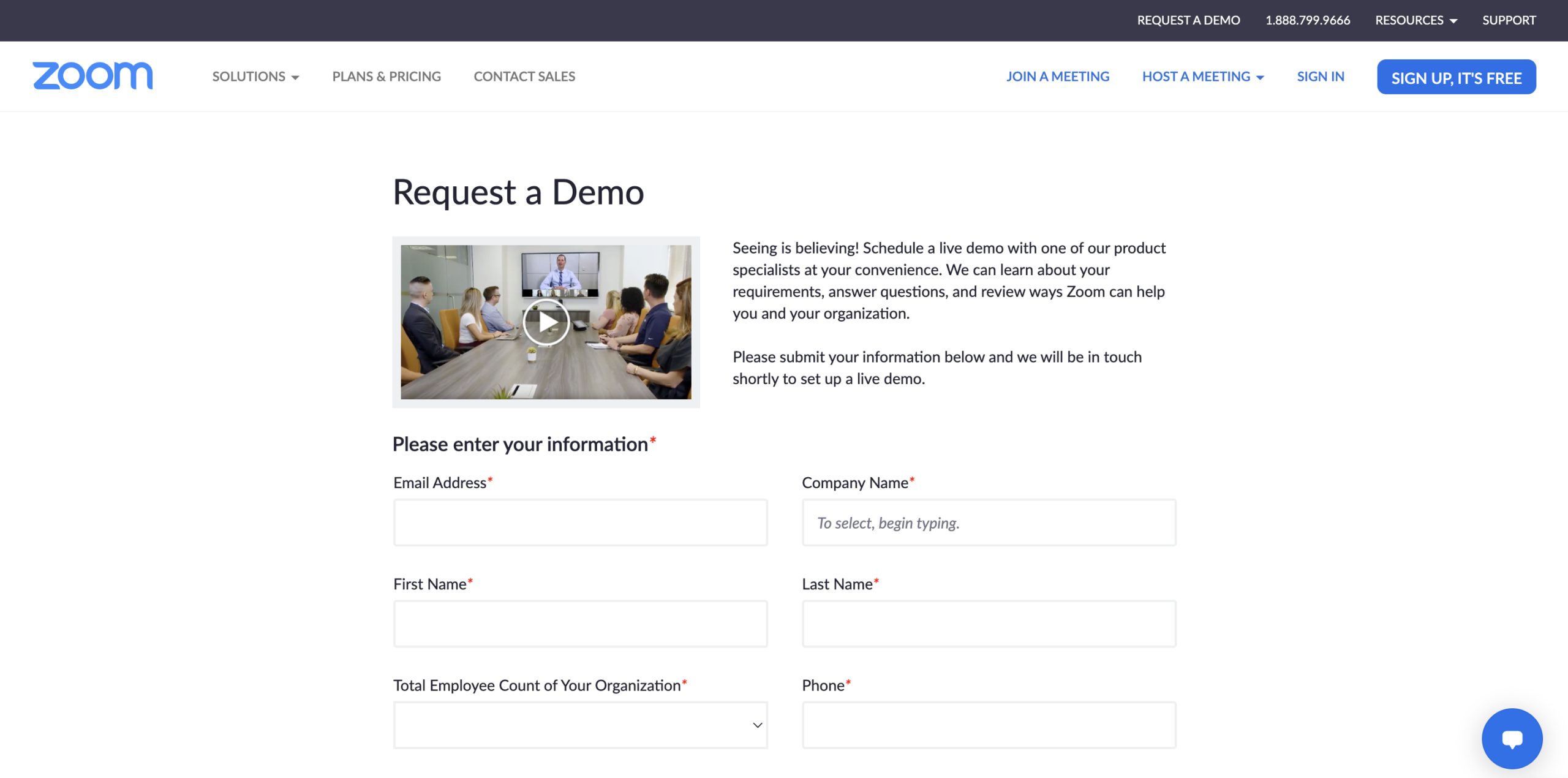 Why do we love this Zoom landing page?
It offers easy-to-follow design with a simple layout.
A video is included that explains the product's benefits.
The clean color palette has minimal distractions.
What could improve this page?
A shorter form could increase the conversion rate.
The copy is long and hard to scan.
Optimizing demo landing pages for higher conversion rates
Because the sole aim of a 'Request a Demo' landing page is to book demo appointments, it's extremely helpful to utilize A/B testing to improve your conversion rates.
It's not enough to set and forget your landing page. Instead, use your statistical data to make slight changes incrementally and test to see how the page performs.
Here are some areas you should be A/B testing to improve your request a demo page:
Sales copy
"The pen is mightier than the sword," wrote English author Edward Bulwer-Lytton. And who can argue with that? The written word holds incredible power. That's why you need to use it carefully in your landing pages.
Make sure your copy is perfect. Keep it short, easy-to-read, and to the point. Give your site visitors a compelling reason why they should click through by clearly explaining how your offering benefits them.
Call to action
You need to tell the user the action you want them to take. The call-to-action copy should be bold but straightforward, and it should also be consistent throughout the page.
Make it extremely clear what will happen when the visitor clicks the link so that they aren't surprised and bounce. If you're directing them to book a meeting, make the CTA something like "Book a Meeting". If you're requesting their email address so that they can receive a personalized and interactive software demo in their inbox, direct them to "Request a Personalized Demo".
‍Design and images
Now, we know we said that the pen is mightier than the sword, but when it comes to conversion rates in landing pages, design might just be the mightiest of them all.
Your images and page layout significantly impact conversion rates. You need to ensure you include social proof, compelling photos, even an explainer above the fold. However, all the design elements should not distract the user from the action they need to take.
Colors
Consider your color palette carefully. The colors impact the visitor's impression of your brand and whether or not you can persuade them to take the desired action.
Revolutionize your 'Request a Demo' page—and your demos too
If you've used our examples and tips above, you're well on the way to having a high-converting landing page for your business.
We are so proud of you. *wipes away tear*
We're just guessing, but you're probably already converting at above-average rates, and your calendar is full. It's now time for the in-depth product demo to take center stage.
This is where you really need Walnut.
Walnut lets you codelessly build interactive and personalized demos so that your SaaS company can impress prospects from the minute the demo is launched. Our intuitive platform makes it super easy for anyone to create a dedicated demo that talks specifically to the audience and answer the lead's pain points.
Like we mentioned earlier, these demos can be used on live sales calls or embedded on your website (behind your 'Request a Demo' lead gen form) or in marketing collateral. But the best bit is that the built-in analytics allow you to understand how visitors interact with your demo and what can be improved.
So what are you waiting for? Book a meeting with us now by clicking that "Get Started" button on the top of the screen.