Yes, we move fast. Our developers have more coffee in their blood than George Clooney. The reason? Passionate people do what they have to do to achieve their mission. Revolutionizing the B2B sales experience is an ambitious goal, but we are on the right path.
To be the first customer-centric sales platform, we need to show that we're putting our own clients first. That's why we're constantly collecting feedback on our solution and making sure every request is answered as quickly – and professionally – as possible.
Enough talk, let's see what's new:
Engagement: Analyze your demos' performance
Demos were always a blind spot for sales professionals. What features did the prospect use most? What flows are the most intuitive for them? Did they share the demo internally? You see where we're going.
We're excited to announce the launch of our Engagement feature! From now on, you'll be able to track the performance of your storylines – and of the demos that you've created based on them. Just as a reminder, the storyline is a "Demo template" that you can use to create different demos.
You'll be able to collect insights such as:
Number of sessions
Unique visitors
Average screen completion
Time spent on your demos
Simply go to the "Engagement" tab of your storyline to see your demos' insights.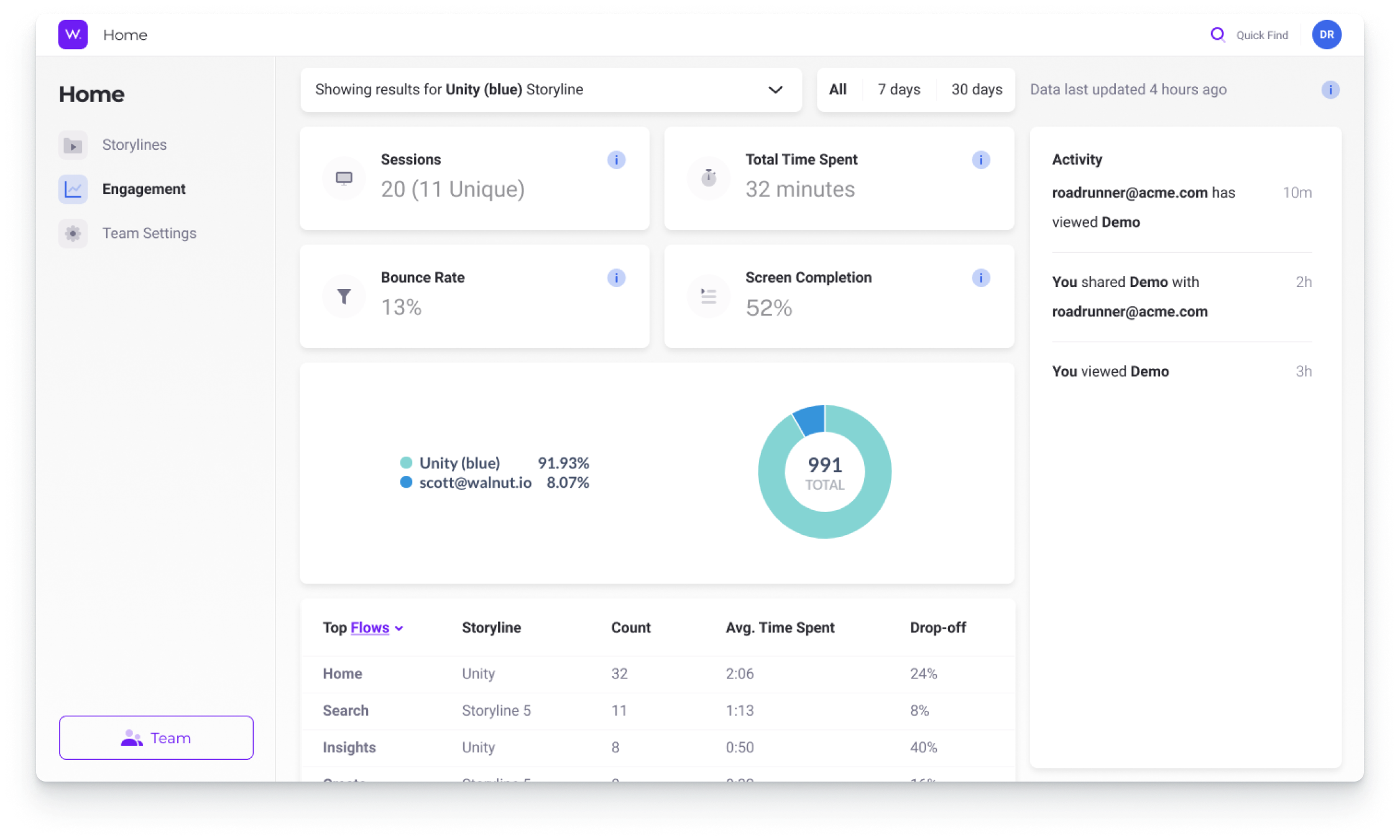 Modal Guide: Create perfect walkthroughs & tours
You already love our Guide feature that allows you to add annotations to your demos. So say welcome to our new addi(c)tion: Modal Guides. This feature allows you to add "pop-up" annotations to your demos. This means instead of a regular Guide, you can now create a centered annotation, not linked to a specific feature or element. The rest of the screen is automatically dimmed so you're guaranteed to draw the viewers' attention to your text or instruction.
Why is this great news? Basically, Modal Guides enable you to create new interactive screens for different purposes: a welcome message at the very beginning of your demos, a thank you message at the end, steps in between different actions, congratulations notes, you name it.
With some creative thinking, you can build with this feature the perfect story, invent a gamification system ("wow, you've reached level 2" kind of message), and make your demos much more appealing and digestible for your customers.
To use this feature, simply:
Go to the Walnut Editor
Add a Guide/annotation to your demo
In "Edit Step" click the dropdown arrow where it says "Point"
Choose "Modal"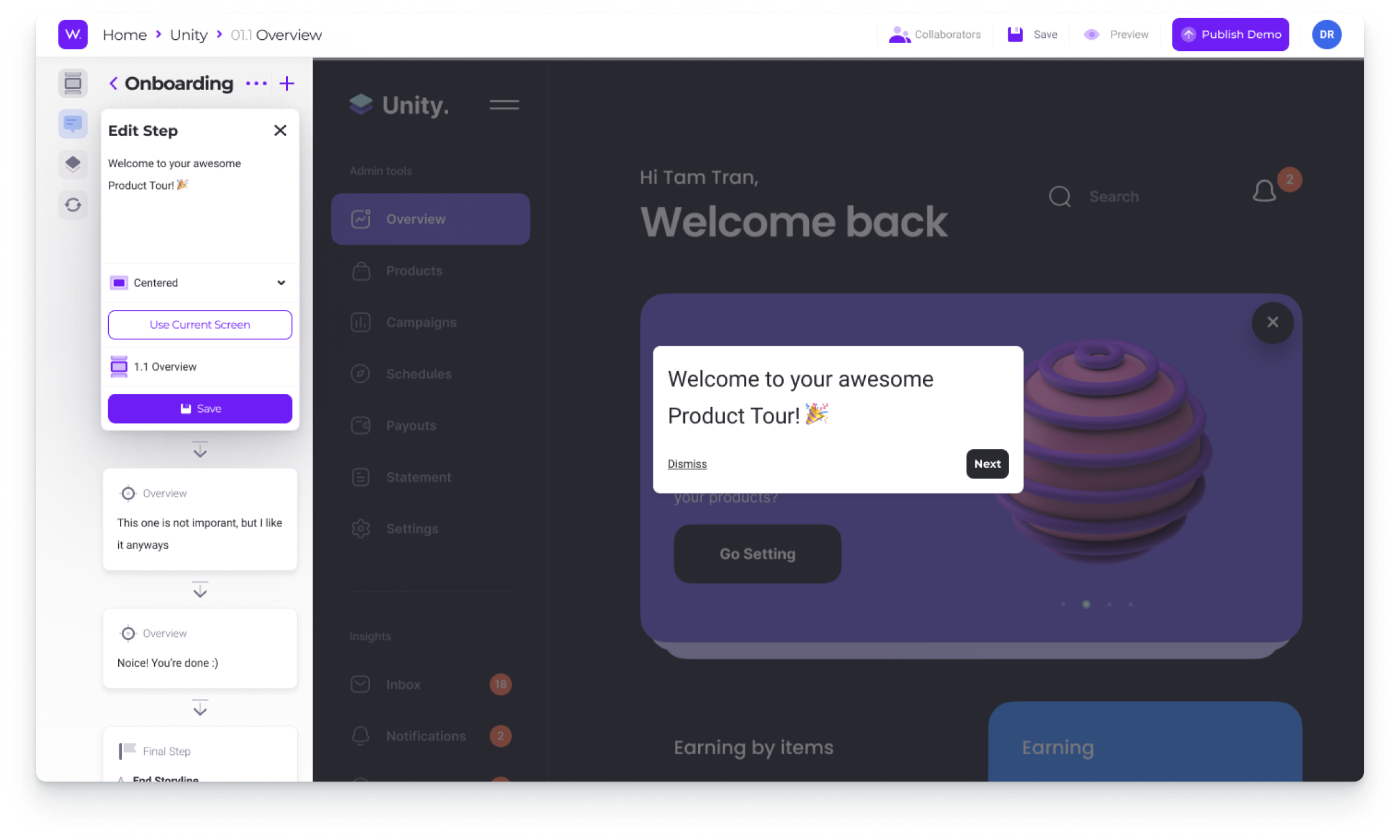 Storyline Settings: Get more control over your demos' look
Now, this is when things get really awesome. We just developed a feature that lets you customize your demos even more. Our new Storyline Settings feature gives you more control over how your demos look, from the color of the loading spinner to the complete customization of your annotations.
Here's a list of everything you can edit with this new feature:
Spinner color (when your demo is loading)
Hotspot color (the indication that shows which elements are clickable)
Guides background color
Guides font color
Guides font size
Guides glow color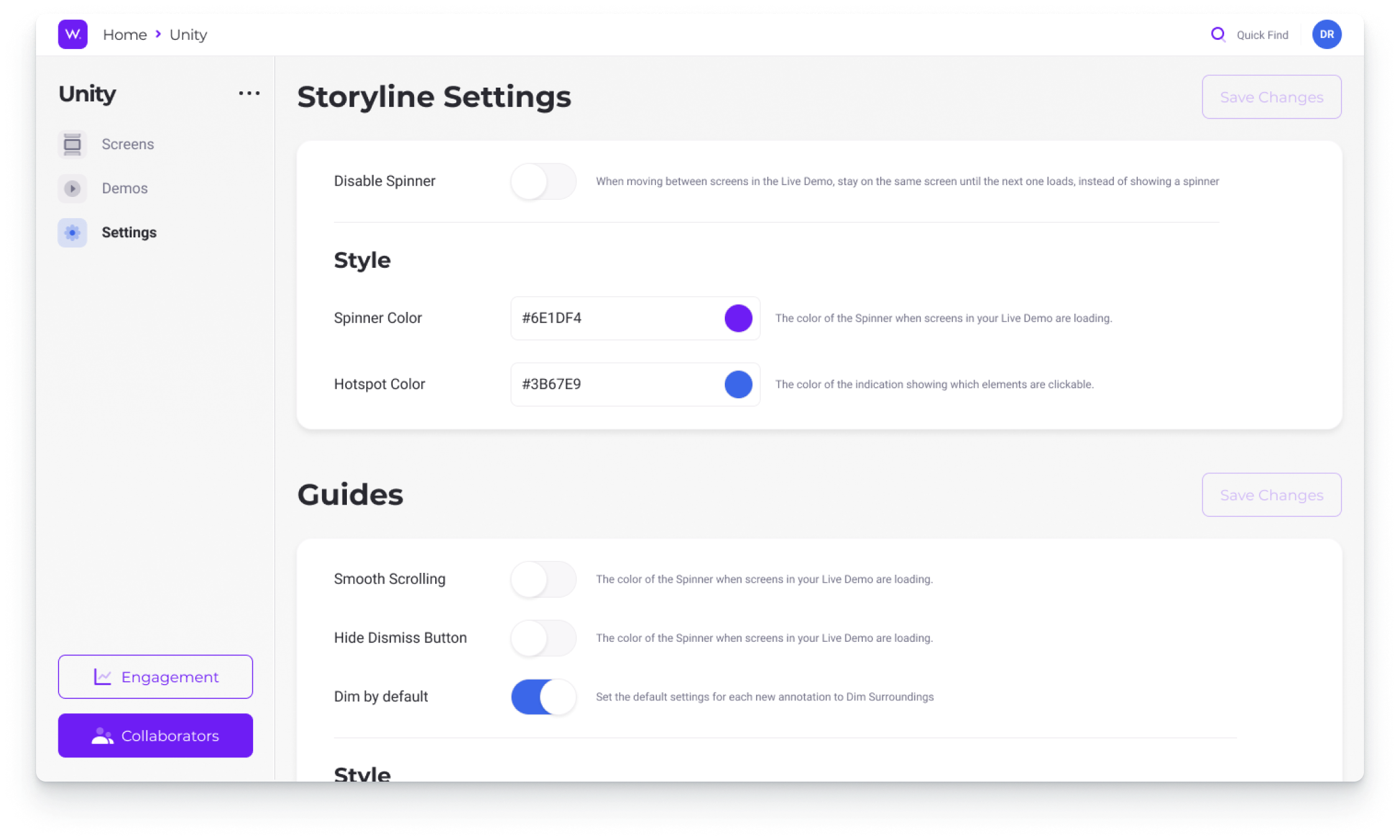 ‍
Multiple Guides: Never lose a user
That's right, we've made tons of improvements to our Guide feature. As you know, this tool lets you guide your prospect/user from the beginning to the end of your demo by following your walkthrough. But what about the smartasses that decide to go off-road and check features you didn't include in your product tour? Glad you asked! Our Multiple Guides feature enables you to create different Guides for different features, so your prospect will always find their way through your product. Game-changer indeed.
How to add multiple Guides to your demo:
Open the Walnut Editor
Click on the message icon (on the vertical menu on the left)
Press the Plus icon on the top, to the right of the word "Guide"
Add annotations to create a second guide
Save!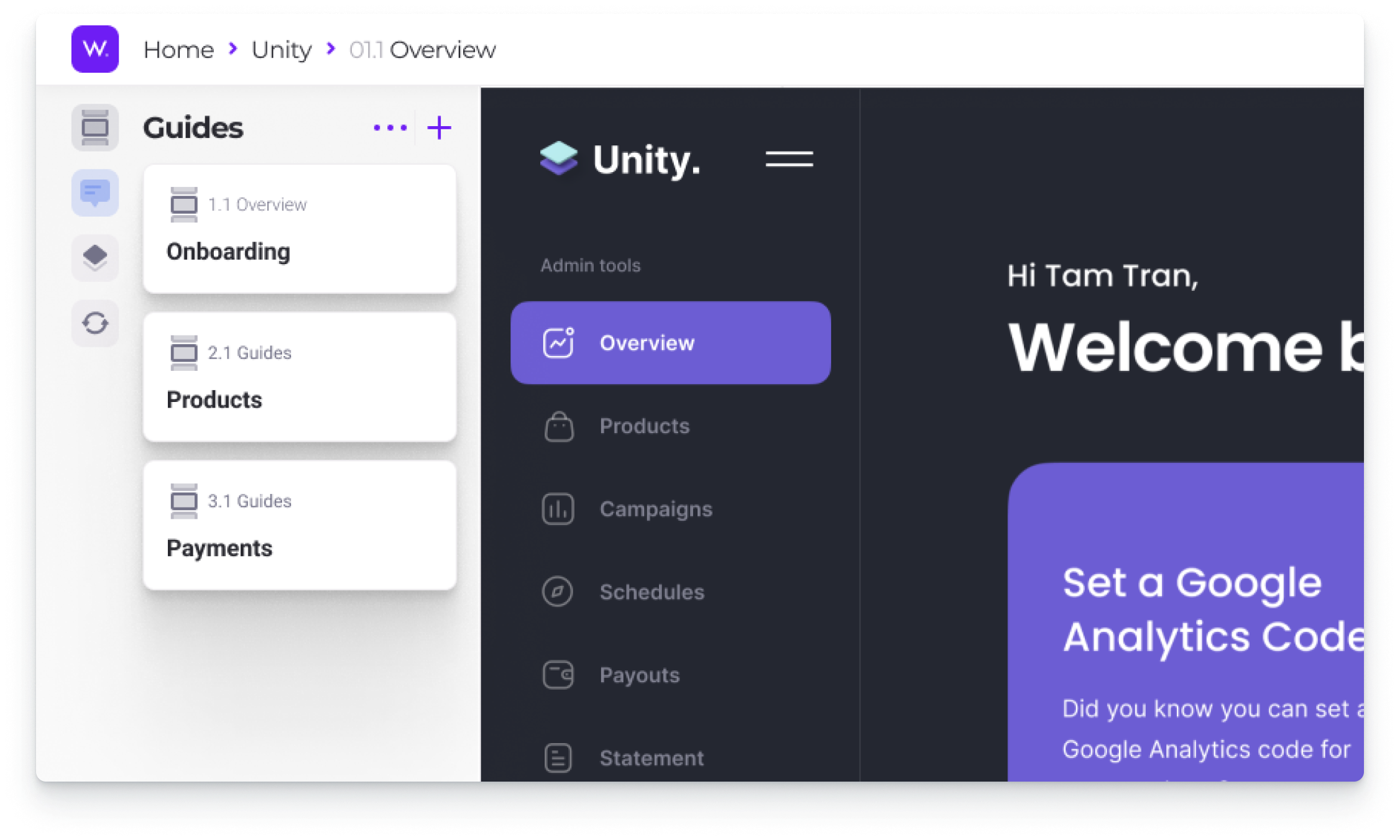 Dynamic Tokens: Update elements automatically
No, Token isn't a misspelling of the name of the guy who invented the Hobbits. Dynamic tokens let you define elements that can be automatically updated according to specific criteria. For example, instead of changing the dates of your demo manually, you can decide to show the current date, automatically. This allows you to add a level of personalization to your demo while saving manual work.
How to bind a dynamic token to an element:
Open the Walnut Editor
In the Editing tool, select the three dots
Select Bind token
Choose your token
Click Apply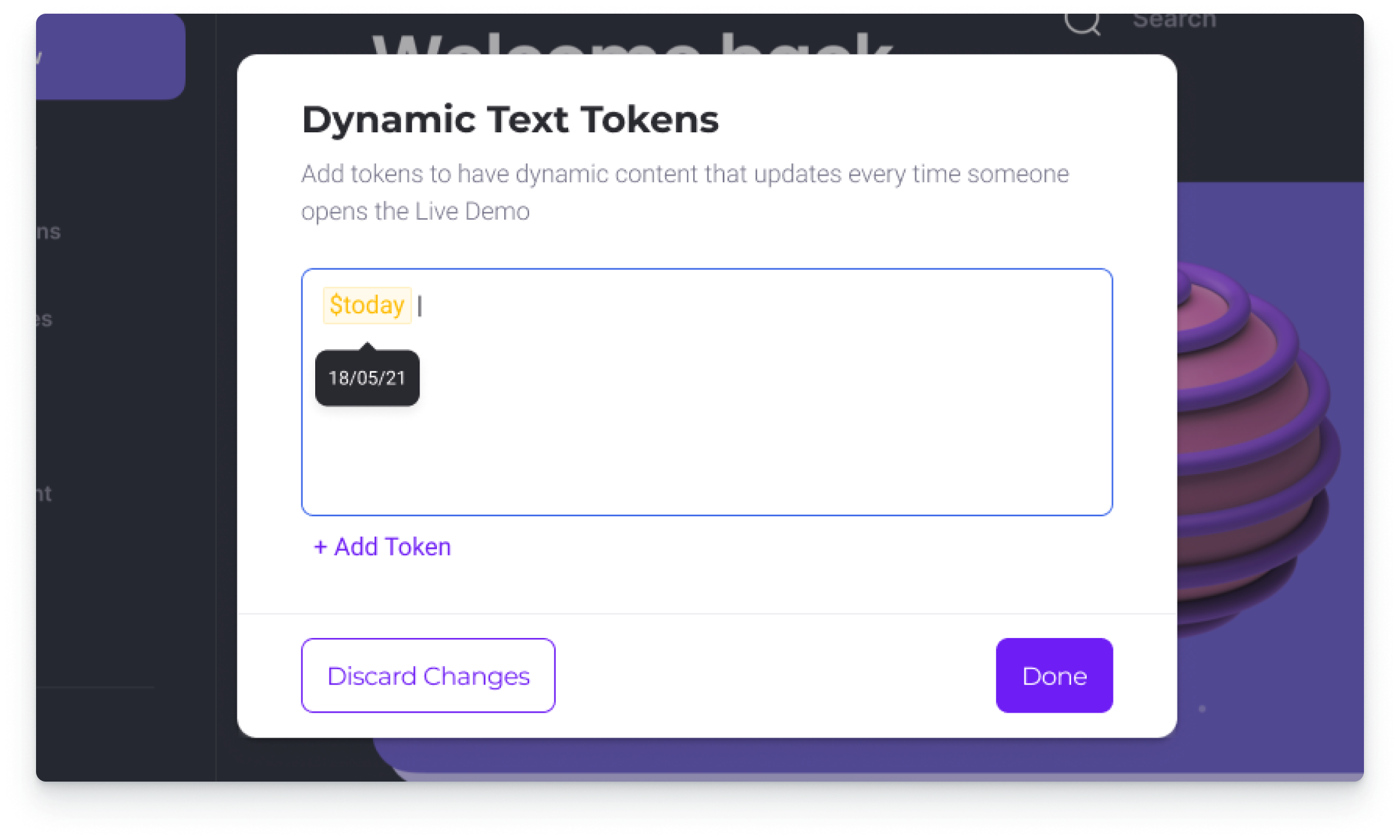 Permissions: Manage your demo creation safely
When you manage a big team, one of the most efficient ways to ensure your demo creation process goes smoothly is to provide/restrict permissions. You don't want just any team member to start capturing screens and creating a bunch of random storylines – it's a risky path. That's why we just launched our Permissions feature.
You now get more granular control over who's allowed to do what within your Walnut account. Our first Permissions version lets you decide who in your team can capture screens and add new storylines. Rest assured, we'll keep articulating this important feature as we move forward.
New Sign-In option: Okta
Many enterprises work with Okta to sign in, authorize and manage users. We've recently integrated with Okta, so now you can log in and add new members using the platform. A small step for us, a giant leap for our enterprise clients.