Often lost in between the top-of-funnel and the bottom-of-funnel marketing, lies the part of the sales process that "really ties the room together".
While your marketing campaigns bring in fresh leads and your sales team closes deals, in the middle lies the work of truly selling your product to your prospects. At this stage you need to get them from the state of mere interest to the point of being ready to close.
But wait.
What exactly is mid-funnel marketing?
We thought you'd never ask.
The process of selling your SaaS product requires a few steps, known as the SaaS sales funnel. Here's the gist of what it contains:
At the top of the sales funnel, you'll need to attract awareness for your product and bring in leads. This can be done through social media, content marketing, cold calls, ads, and more. The people who express interest in your product and engage with your brand are then referred to as leads.
At the bottom of your sales funnel, you're negotiating and closing deals with highly interested and ready-to-buy customers.
But how did the leads become ready to buy?
That's where middle-of-the-funnel (or MoFu, if you're on a nickname basis) marketing comes in. MoFu marketing refers to the prospect gauging and lead nurturing process that sales teams must do to help the right leads become ready to close deals.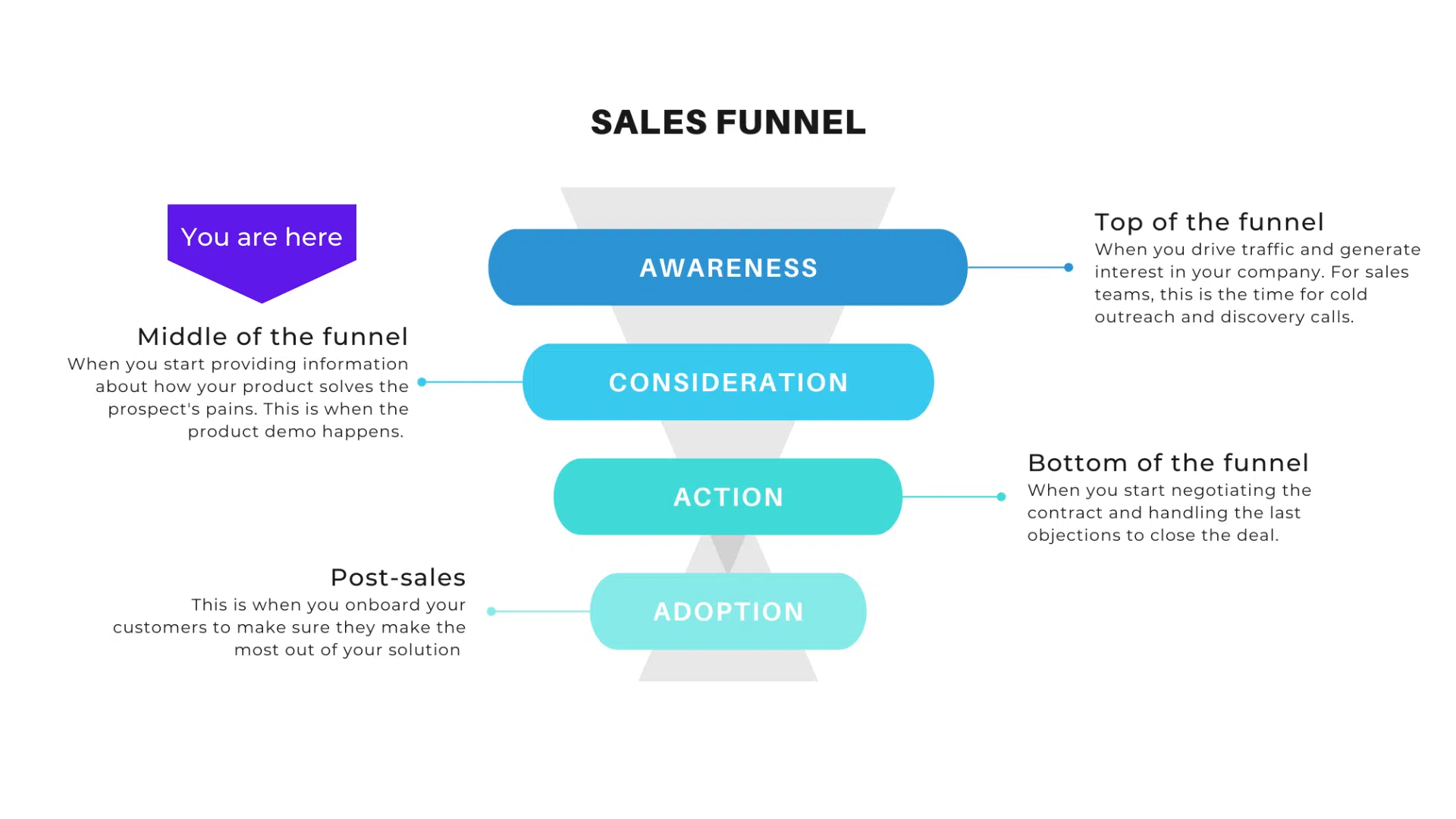 What's the goal of mid-funnel marketing?
The main goal of this stage of the funnel is to isolate the highest quality leads and to provide them with the information they need in order to feel ready to buy.
Remember that while you may know that your product is the best, your leads are likely shopping around before purchasing. At this stage, potential customers generally want to do research to make sure that your software will solve the specific pain points that they are experiencing and to make sure there aren't any other better options out there.
Therefore, in order to nurture your leads to the bottom of the funnel, you need to learn even more about them—who they are, what they need, and how you can help them. Then you need to provide them with the information that's relevant for them.
7 tools to nurture your leads through the middle of the funnel:
1. Demos

There's a reason softwares like Zoom, Wix, Spotify and DropBox are so successful. Besides for the great product they provide, these companies all use product-led growth strategies, allowing for customers to try the product out before spending money on it. They generally do this by using a free trial or freemium model.
But even if you don't offer that, by creating a professional interactive demo of your software you can give your leads the chance to try out your product before they buy.
Walnut's Sales Experience Platform lets you create customer-centric product demos that can alleviate your leads' concerns by showing them the specific features your software has that can solve their unique pain points. You can even send it to them in an email, without needing to go on a discovery call or book a meeting.
2. Case studies / testimonials
Your leads want to know that your product is effective and that other people or businesses have used it successfully. Showcase the customers who are happily using your product. Display their logos and testimonials on your site's homepage.
But don't stop there. Interview your customers and create case studies to show to future customers. Illustrate the various types of people and businesses your product can help and the specific tools these customers use to succeed. Not only does this breed brand trust, it also lets your leads see the scope of your software's capabilities.
3. Content
Use blog posts, white papers and videos to provide your leads with all sorts of middle-of-funnel content. Write short and organized blogs with a comments section to encourage a conversation; create fun and easily digestible videos that showcase your product in action or the pain points it solves; and craft in-depth white papers to provide detailed information about your product's many features.
With a large amount of content, you can target the many different types of leads that you'll encounter. This'll ensure that you'll be able to spread a wider net and that potential customers will find everything they need to know about your product to feel comfortable to buy.
Did you know that 70% of customers feel more comfortable with a company as a result of content marketing?
4. Emails

Email marketing is a great way to follow up with your leads and to gently guide them through the B2B sales funnel. Use friendly, personalized emails to schedule a demo, provide useful information or to encourage leads to fill out a survey.
Making sure those emails get opened is a delicate art. Check out these tips on how to write subject lines that get clicked.
5. Competitor comparison
In 2021, most shoppers aren't committing to the first option they encounter.
Set yourself apart from your competition by creating a breakdown of the market and your position within it. Promote the features and USPs you offer that your competitors don't so your leads know that you're the best option for them.
6. Social media
Your business' social media platforms are a great asset to your sales team. Publish easy-to-understand infographics about your industry. Design step-by-step slidedeck guides that explain how to use your product and its benefits. Create live video seminars where you walk through your software and display its many functions.
Likewise, getting your customers to leave you positive reviews on social media helps with building trust in your business.
7. Phone or Zoom call
Nothing can replace a human voice. In fact, as THNKS sales VP Mike DeCorso told us, "A lot of times, people are not buying the product – they're buying the person."
Create a strong relationship with your prospect by getting on the phone with them. But make sure you come prepared to your talk, knowing the lead's pain points and how you can solve them. Then let them talk while gently steering the conversation to the specific needs of the customer and the solutions you can provide.
3 common obstacles to avoid in the middle of the funnel:
In order to properly nurture your leads throughout the middle of the funnel, you must make sure you don't fall into some of the common pitfalls that befall SaaS businesses at this point.
1. Not enough or not the right leads.
The largest issue at this stage is with regards to making sure the marketing team is bringing in a good number of leads who actually have the potential to become customers. ‍
What to do: Make sure there is good communication between your marketing and sales teams to learn about the quality of leads and their conversion rates. Track your lead stats, including the percentage of MQLs (marketing qualified leads) who become SQLs (sales qualified leads) and the percentage of those who become customers. You should also track your average selling price and its trajectory over time. Actively work together to get those rates up.
2. Dropping the ball.
In the middle of the funnel, leads that were brought in by your marketing team get passed on to your sales team. Because of this handoff, things can sometimes fall through the cracks. If this handoff takes too long, you run the risk of customers losing interest or losing them to the competition.‍
What to do: Create a smooth easy-to-use system for passing leads from your marketing team to your sales team. Insist that your marketing team include important and relevant information along with each MQL assigned to the sales team.
3. No lead scoring implementation.
A sales team overloaded with leads needs to decipher which ones they should prioritize. Without the right information, SDRs can end up spending their valuable time chasing weaker leads while letting the priority ones slip through the cracks.
Analyze your middle-of-funnel metrics to pinpoint the most promising MQLs from the crowd. Utilize a marketing automation software to create an accurate lead scoring system that'll help your sales team prioritize the leads most likely to buy.‍
In conclusion, don't overlook your mid-funnel marketing.
Your mid-funnel marketing strategy is a crucial element to creating more sales. By getting to know your leads and carefully nurturing them you can make sure that more leads move from the top to the bottom of your funnel.
Get started on boosting your mid-funnel marketing now by creating an interactive product demo that'll help move your leads through your sales funnel.