Updated on July 14, 2022.
Want to make a bigger splash with your prospects?
Nah, we're just kidding. We obviously know that you do. Who doesn't want their prospects to enjoy buying from them?
Probably sociopaths. That's who.
But for everyone else, the most effective way to showcase your product's value in today's SaaS sales ecosystem is by offering quality product demos.
And you can trust us. Because we're obsessed with demos.
What are demos?
A product demonstration, or product demo, is a presentation where a team member (usually a sales rep) demonstrates the value and benefits of a product or software to a prospect.
Showcasing your product's value early should be an integral part of your sales process. Consider this: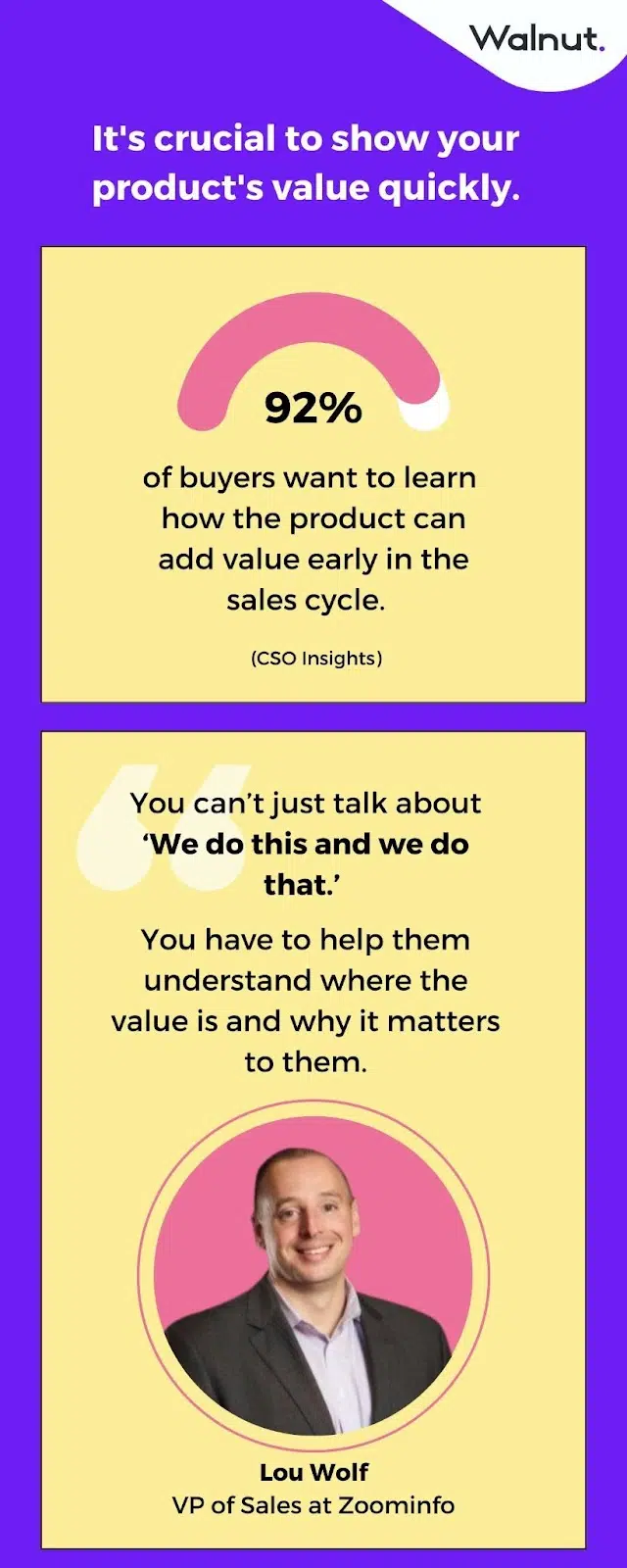 The focus on value shouldn't come to anyone as a big surprise. People who are interested in buying a new software want to see the product, learn how it works, and understand how it'll benefit them. They have pain points they are working to solve and need to see how your product can help solve them.
That's why the demo's main goal is to show how your product (and its features) solves your prospect pain points, and to position your solution as the most efficient tool to achieve this goal. Many reps also use demos as part of their buyer enablement strategy to help customers navigate the buyer journey.
But what's the best way to present your product so that customers learn its value and become ready to buy?
Great question, random person on the internet. It's a difficult thing to do—even for Boromir.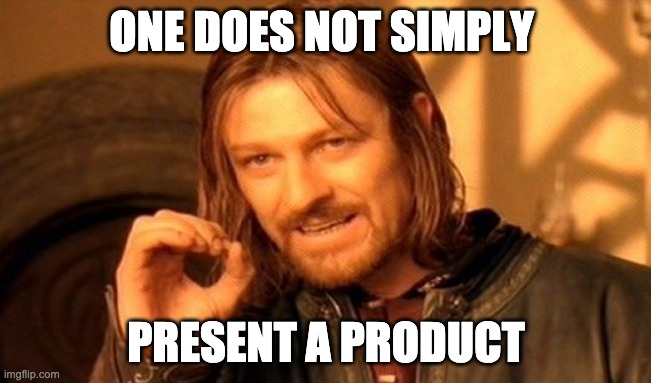 Sorry, we couldn't resist adding this sales meme.
Anyhow, let's go through these one by one and understand their pros and cons.
1. Interactive product demos
An interactive demo is a software demo that allows prospects to interact directly with it, giving them a demo experience that's closer to the experience they'll have when they use your product.
Interactive product demos often include built-in guides that direct prospects through the product demo so that they can enjoy the demo with or without the assistance of a sales rep. 
If you're using an interactive demo software like Walnut, these demos are also really easy to build, customize, and share so that you can send the perfect demo for each prospect regardless of where they are in the sales process.
For example, SDRs can send links to a mini interactive demo in their cold outreach or their request a demo email template while AEs can send or share more thorough sales demos in their demo follow-up emails when prospects are more serious.
And once you send your demo to your prospect, you can track how they engage with it, who they share it with, and which parts they enjoy the most. This will help you optimize your sales process as you move forward.
Pros of interactive product demos
Closer to actual experience: Prospects get the demo experience of clicking through your product.
Personalized: Reps can easily add the prospect's name and company to give the feel of how the product will look.
Focused: You can tailor your demo to meet the customers' specific pains.
Save time and money: No need for developers or production teams to create a high-quality demo.
Easy to create and customize: Quickly create interactive demos with an easy-to-use editor.
Scalable: Once you've created one demo "template", duplicate (and edit) your demos easily.
More engaging for prospects: Allows prospects to click through themselves and focus on what's interesting to them.
Shareable: Instead of leaving a demo leave-behind, send prospects the demo itself to share with colleagues.
Can be used throughout sales process: Give your buyers a chance to see the product ASAP.
Provides key data and analytics: Track key metrics to optimize your sales process.
Cons of interactive product demos
Requires product demo platform: While it'll save you time and money in the long run, you'll need to start using a demo platform to create interactive product demos.
2. Interactive product tours for marketing
A product tour for marketing is usually a short (or more in-depth) interactive walkthrough of your product that showcases it's value.
This method of marketing is called product-led growth and is a great way for SaaS companies to let top-of-the-funnel prospects fall in love with their product. You do this by giving them the chance to experience it for themselves directly on your website.
Marketing teams can embed an interactive tour on their website or in their marketing materials and use it to gather leads. This can help your prospects quickly understand your product's value without needing to first book a meeting.
Pros of product tours for marketing
Let prospects try before they buy: Buyers love to try products out for themselves to see if they enjoy using them.
Engaging: Allows prospects to click through themselves and focus on what's interesting to them.
Provides key data about your leads: Gather leads and track how they use your product.
Learn about your product: Track which features your prospects click on to understand what's resonating with your audience.
Cons of product tours for marketing
Requires product demo platform: While it'll save you time and money in the long run, you'll need to start using interactive product demo software to create product tours.
3. Pre-recorded sales demo video
A lot of sales professionals will use pre-recorded product demo videos during their call with prospects.
The goal of this kind of video is to demonstrate the product's value while showing it on the screen. In other words, it's kind of a product walkthrough that explains how some of the product features solve a prospect's pains and bring them value.
During these demos, the sales rep will explain the product's value verbally while illustrating how the software enables it.
The main issues with this type of demo is that it is unable to be customized for specific use cases and can't be personalized for each buyer. In addition, the prospect would usually expect to try the product and to see it live at some point in the process.
Pros of sales pre-recorded demos
Not super expensive: Doesn't require a full production and can be done in-house.
Focused: Zeros in on specific pains.
Failure-free: Since the demo isn't happening live, there are no risks of bugs and updates.
Cons of sales pre-recorded demos
Time-consuming: Needs to be re-created over and over again.
Not customized: Generally doesn't show only the relevant features that each prospect wants to see.
Not personalized: Rarely includes the prospect's brand assets.
Not interactive: The prospects don't see the product live and can't try it.
Not engaging: Prospects have to simply sit and watch. They can't request the presenter to focus on specific features.
4. Marketing product demo videos
A marketing product demo video is usually a short clip that features your product value.
The goal is to push the visitor to purchase a plan, start a free trial, or request a demo. They can be animated, text-based, or show real-life use of the product. They'll in general show the product value while explaining how it solves the specific pains of the target audience.
Since these videos address a wide audience (which is what marketing is about anyway), they'll usually have an entertaining aspect and will be easy to understand even for people who aren't familiar with the industry or technology.
This kind of video is great to attract the attention of the prospects, explain the value of the product, and create awareness.
However, while they're a great asset for top-of-the-funnel leads, they aren't the most efficient tool to close deals that require financial commitments. Advanced stages in the sales process require more advanced SaaS demos that the sales team will handle
Pros of marketing product demo videos
Easy to understand: While hard to do, engaging product videos can show your product in an entertaining way.
Re-usable and multifunctional: You can use them on the website, for user acquisition/lead generation purposes, email marketing, and more.
Benefit brand awareness: If done well, videos can help raise brand awareness.
Cons of marketing product demo videos
Expensive: They generally require full production, which can be very costly.
Not interactive: Videos need to be very captivating in order to engage an audience, and product videos rarely are.
Not precise enough: Most prospects would want to understand the product more in-depth and even try it.
5. Product presentations
A cheap and efficient way of presenting a product is by using a good old Powerpoint or Google Slides presentation.
This allows the sales rep to create templates for each vertical or use-case of prospects that they can edit by themselves. Demo presentations also allow a more readable and easy-to-digest format. They're meant to be scalable and straightforward.
Basically, presentations have a lot of good s(l)ides but there is one major downside: The prospect doesn't get to know the product—and this can feel not reliable.
In other words, the problem is that product demos should be about demonstrating a product/software not presenting it—a small nuance that means a lot. That said, they can be a great tool to use between the cold outreach stage and the live demo stage, but they can't replace the demo itself.
Pros of sales product demo presentations
Time-saving: Presentation tools are easy to use and to duplicate.
Resource-saving: Everyone can do it. They don't require the need for technical help.
Personalized: Each prospect can get a personal presentation featuring their brand.
Focused: Each prospect gets a tailored answer for his needs.
Cons of sales product demo presentations
Doesn't show the product in action: While you may show screenshots and even GIFs of specific features, it's not covering the full scope.
It's boring: When's the last time you sat through a slide deck presentation? Now imagine one that's about a SaaS product.
It doesn't do your product justice: Your product is rich and your UI may be amazing, but your prospect will never know.
6. Live product demos
Live product demos are one of the most standard ways to demonstrate a product/software.
Sales pros simply explain the value of their product's features while using it in real-time in front of the prospects—via a conference call tool that's part of their sales tech stack or face-to-face.
This kind of demo allows you to walk the prospect through your real interface, at your rhythm. In addition, it generates more trust to see a live product than a video or something else.
However, live demos are notorious for bugging. Software updates, internet connectivity issues, product bugs, and more can lead to some really awkward moments for the sales rep.
Likewise, it can pose security risks by opening up the potential for data leaks, privacy breaches, and other sharing of confidential information.
Pros of live product demos
Creates trust: The prospect sees the actual product in action.
Time-saving: You just have to show the product as is, no need to record or customize anything.
All encompassing: You can show all the features the prospect wants to see.
Cons of live product demos
Not personal enough: If you want to customize your product for each prospect you'll need to require help from the dev and design team which is time and resource-consuming.
Bugs and updates: Sh*t happens. If your product crashes in the middle of a demo, it's hard to recover from it.
Overwhelming: Rich software can be overwhelming for prospects looking to answer specific needs.
Security concerns: You may unintentionally leak customer information or share confidential data.
The best demo option in 2022
Based on everything we discussed here, it's no surprise that SaaS companies are flocking to product demo platforms like Walnut to supply them with highly converting product demos or product tours for marketing.
Not only can Walnut provide you with better demos for use throughout your B2B sales funnel, it is also leading the fight to optimize the otherwise painful B2B buying process.
Consider these stats:
So start making your prospects love buying from you by showing them what they need to see early on. This way, you'll meet your quotas quicker and they will buy your SaaS product quicker and be able to move on with their lives.
It's truly a win-win.
So to sum it up:
Cons of creating your interactive product demos with Walnut?
Couldn't find any. Maybe their marketing is a bit too humble.
FAQs about product demos
There are many ways to demonstrate your SaaS product.
But the best solution is to create a completely safe demo environment that prevents crashes and data leaks.
How do you present a product demo?
If you created your product demo with a demo platform like Walnut (wink, wink), you can simply send your prospect a link that they can use to walk through your product on their own. You can also schedule a demo call with your prospect and go through the demo together.
How do I create an interactive product demo?
One way to create an interactive product demo is by using a demo experience platform like Walnut. Our platform lets you create interactive product demos without the need to code.
Why are product demonstrations important?
A product demonstration is a key part of the sales process. This is where your prospects can experience the product for themselves and understand the pains this product solves.
What are you waiting for? Revolutionize your sales by clicking that big purple "Get Started" button on the top of the screen.