Do you have a high demo conversion rate but struggle to get enough leads? Or perhaps you have tons of leads for your SaaS offering, but you just aren't converting enough to deals? To generate more leads and, ultimately, boost your sales, you must improve the efficiency of your marketing and sales funnel.
An effective funnel not only helps you find out exactly where things are going wrong in the marketing and sales process, but it also gives your sales team a view of your prospect's journey, challenges, opportunities, and decision-making process for your B2B SaaS sales strategy.
What is a sales funnel for SaaS?
A sales funnel is a visual representation of the journey from when your potential customer learns about your business until they drop-off or (preferably) make a purchase. It's a combination of marketing and sales, charting the journey from attracting new prospects to closing a deal.
By creating a visual guide of the journey a prospect takes, your marketing and sales teams can understand when and how drop-offs happen and where additional follow-ups should occur in the process.
Sales funnel diagrams resemble an inverted pyramid representing the conversion rate between each of the stages. As users discontinue their journey or are disqualified, the funnel narrows.
Why SaaS companies need a B2B sales and marketing funnel
A sales funnel is a combination of marketing and sales. Marketing attracts new potential customers to your business, while sales convert leads to customers.
Without marketing, you would not attract your target customers, and they would not learn how your business solves their pain while the sales team nurtures leads through the sales process.
With studies showing that companies that nurture their leads generate 50% more sales at a 33% lower cost, it's hugely important. Creating a successful funnel will help you reach your leads at every point of their decision-making journey.
A sales funnel is a valuable tool to help you understand what's working and what's not. You can see where leads drop out of the funnel, when they engage with your company, pinpoint the best time to follow up and, eventually, convert to customers.
By understanding your sales funnel, you learn to address customers' needs and to send the right message at the right time. You can also create a system to scale your sales process, forecast revenue, and increase conversions.
SaaS sales funnel example and terminology
Here's an example of the stages of a B2B SaaS sales funnel, although the exact terminology can vary depending on your business model and target audience:
What are the stages of a sales funnel
The different stages of the funnel may have slightly different terms and structures depending on your business. However, a sales funnel has three parts: top, middle, and bottom.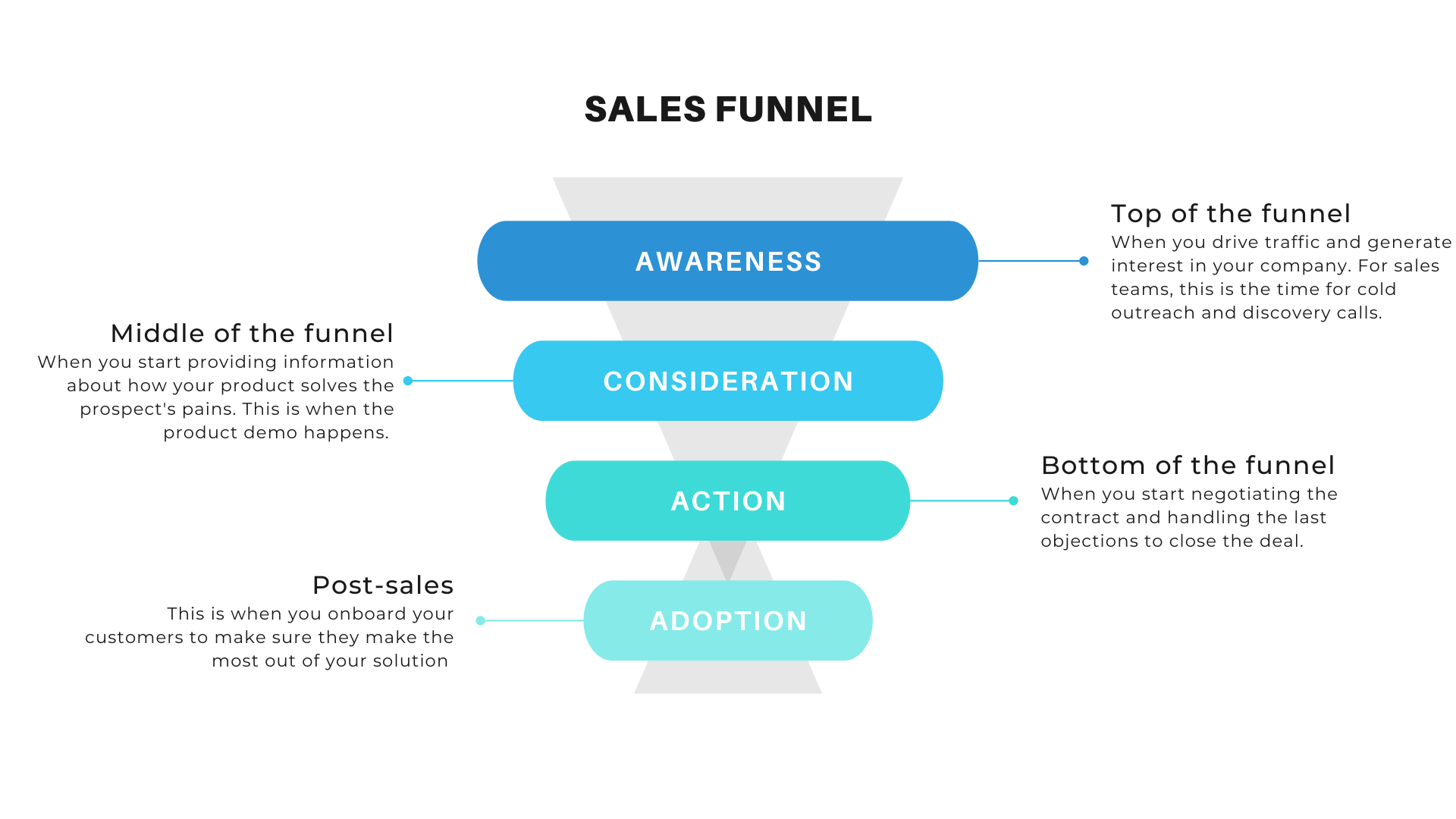 ‍
The top of the funnel: Awareness
When a potential customer starts their buying journey, they are trying to find a solution to a pain. They are still learning about the problem, as well as the best ways to resolve it. It's at this point that they will learn about your business.
In terms of top-of-the-funnel marketing, this is the time to drive traffic to your website (and blog) and to position yourself as an expert in the field. It is not the time for a hard sell. It's time to answer a customer's questions, educate them, and become a trusted source of information. Consider creating how-to guides, explainer videos, blog posts, and lead magnets.
On the sales side, potentially, a sales rep may contact them via a cold call or email, or perhaps, they've been researching online, came across your business, and got in contact.
The sales team can engage with leads that have sent inquiries through the website or social media. They may reach out and conduct a discovery call to find out more information about the prospect's needs.
When someone requests more information, they become a lead. At this point, the sales rep can ask questions and begin to qualify the lead as hot — or not — and the lead will move down, or out, the funnel accordingly. Depending on the actions the lead takes, in this stage, they may become marketing qualified leads.
Regardless of how this potential customer learns about your business, the critical point is that they are still very early in the process. They are asking questions about their problem and looking for a trustworthy source of information; they are not yet ready to buy.
The middle of the funnel: Consideration
In the middle of the funnel, you are now dealing with potential customers researching all available solutions to their problems. They know the problem they are trying to solve and the various options available to solve the pain, but they are unsure of the best resolution.
For example, a busy agency has decided to have a better system for internal communication. However, they don't know whether a messaging app like Slack or a full-blown project management tool like Monday is the best option.
In this stage of the funnel, the potential buyer will begin to ask questions related to the vendor. The lead is ready to select their preferred company, so your marketing needs to position your solution as the best answer to their pain. Examples of marketing content would include presentations, videos, and case studies.
Your sales team plays a pivotal role in bridging the gap between awareness and decision-making in the middle of the funnel. Sales reps will talk to the lead and ask questions to determine whether your offer is the right fit for their problem.
If the sales team sees buying intent, they should mark the lead as a sales qualified lead and push them towards a demo. Ensure that you follow the best practices when scheduling a demo to avoid no-shows and get that demo in the decision maker's diary.
In B2B SaaS sales, the product demo is usually the final phase before rejecting or accepting a proposal. Make sure your demo puts your best foot forward:
During the demo, you should be ready to handle your prospect's objections and any questions about the product.
The bottom of the funnel: Action
The bottom of the funnel is where the magic happens. Once you've completed a successful demo, your prospect is in the final stage of the funnel. They are ready to choose which solution they'll implement. Hopefully, you've used the right B2B closing technique, and you're their SaaS vendor of choice.
While the decision is likely to have already been made by this point, your marketing team can reinforce the choice by providing comprehensive pricing pages, comparison tables, customer testimonials, and reviews.
Unless you're a low-priced SaaS that can be easily bought online via a solid call to action, your sales team should be prepared to negotiate with the buyer at this point in the funnel. They may ask for some adjustments based on their requirements.
Are you willing to reduce your subscription fees if they agree to a longer contract term? Are you ready to speed up implementation if they commit to a specific contract length or higher tiered package?
Remember that negotiation is all about to give and take. Try to stay flexible and innovative during this stage to push them to sign on the dotted line.
Using your B2B sales funnel
Once you've built your sales funnel, start measuring your success and failure rates at each stage. Perhaps you've generated a lot of interest at the bottom of the funnel, but you can't compel any interested parties to commit to a demo. Maybe you've moved plenty of customers into the demo stage, but they simply won't sign.
Walnut can help you at every stage of the funnel:
Read more on SaaS sales funnel articles: