Marketing is hard. And we're not just saying that because we work in marketing.
Marketing is hard because the essence of marketing involves competing with pretty up the entire world to catch your ideal customer's attention and make them intrigued about your product in less time than their ever-decreasing attention span.
There, there. Stop crying. We know and we're here to help.
To help you spread awareness about your product and gather leads, we've gathered the best top-of-the-funnel marketing tactics for B2B SaaS companies.
What is the SaaS marketing funnel?
The marketing funnel is a framework that companies use to convert strangers into devoted clients. It represents the whole customer journey, from first learning about the company to completing a purchase.
The funnel has three stages:
The top of the funnel – Top-of-funnel marketing is where you spread awareness about your product and bring in marketing leads. We will cover this topic in this article.
The middle of the funnel – Mid-funnel marketing is when you nurture your leads and provide them with the information and attention they need to move closer to buying your product.
The bottom of the funnel – Lower-funnel marketing is the stage where your customer is close to sealing the deal. At this stage, you need to help build trust in your product and brand so that the customer feels comfortable closing.
So let's dive in and see how businesses optimize their top-of-the-funnel marketing strategies.
What is the top of the funnel (ToFu)?
The initial step of the buyer's journey is known as top-of-funnel marketing or ToFu. It describes tactics focused on raising product awareness and attracting prospects that might eventually become your customers.
Since the number of leads will decrease as they proceed down the funnel, marketers have to target this segment with everything they've got.
People interested in purchasing your goods or services will keep learning more about what you offer as you cultivate trust and brand exposure.
Top of the funnel goals
ToFu marketing aims to introduce your product to the customer and showcase its value. Therefore, your goal should be to find out and assess the kind of information your audience wants and how to get it to them.
Prospects usually know what their pain points are during this stage and actively look for solutions to them.
For B2B SaaS companies, the goals of the top of the funnel are to:
Inform your ideal audience that your product exists.
Educate users on their most pressing concerns.
Show them the product's value and how it addresses their pain points.
Present the product using easy-to-digest visuals, like software demo snippets.
Make a good first impression to move prospects down the funnel.
Create a customer-centric selling strategy.
Focus on always helping instead of always closing.
Anticipate what users want to see next.
The goal here is to arouse interest in the prospect and convince them to want to know more.
6 top of funnel marketing tactics for SaaS
How can you achieve the kind of brand awareness and lead generation it takes to make your marketing effective? Industry leaders leverage the following tactics to achieve a SaaS sales funnel.
1. Lead generation and lead magnets
The process of drawing potential customers to your business and piquing their interest via nurturing, with the ultimate objective of turning them into customers, is known as lead generation.
The change from a stranger to a consumer is far more organic when a stranger approaches you by expressing a genuine interest in your content and product.
To get those leads interested, we use lead magnets, which are free resources that promote your business, are delivered to the leads for free, and have a high perceived value. The leads are gathered by requiring users to leave some info about themselves in order to receive the content.
The content can include product demos, "how to" guides, checklists, cheat sheets, templates, scripts, toolkits, web apps, resource lists, webinars, eBooks, and more.
2. Content marketing for the top of the funnel stage
A business can produce several types of content to generate leads and boost brand awareness as part of its top-of-the-funnel sales pitch. They include:
Create webinars
Live or recorded webinars are effective lead-generating tools. Your prospective consumers give you their contact information in return for access to the webinar. The information can be used for marketing and targeting the same audience to nurture these top-of-the-funnel leads.
This is also a great way to provide prospects with more information about your product and address commonly encountered pain points.
Offer eBooks and industry research
Become an authority by producing research and high-level content that can be useful for professionals in your industry.
Many eBooks are advanced enough now that users can add bookmarks, highlight portions, and attach notes, among other things. It is a great way to share knowledge in an easy-to-read way so that your prospects know exactly what it is your product or service can do to meet their needs.
Embed interactive product tours
The most effective top-funnel marketing strategy you can use is your product demo, especially when done well.
With a tool like Walnut, you can now quickly and codelessly create customized and interactive product tours, which can be integrated into the awareness stage and product-led growth.
You can use these interactive product tours to guide buyers through your product and let them understand firsthand how it might be valuable to them. Embed them on your website or in your marketing materials to increase your leads.
You can also tailor each demo to the needs and concerns of the prospect in question, demonstrating to the clients that you comprehend their demands and exactly where they are coming from, care about their business, and have the necessary resources to alleviate their problems.
Publish educational blog posts
A blog is a fantastic tool for enlightening website visitors and motivating them to learn more. Blog posts like this are also a great way to get visitors to come back for more valuable insights and answers to their most pressing questions.
By utilizing SEO techniques that we'll discuss below, your blogs can rank higher on search engine results pages, making it likely that the audience looking for the topics you cover will find what you have to offer.
Design infographics
Visualizing information in infographics generally makes it easier to understand and retain. They are a unique technique to increase your brand's authority on a certain topic.
Infographics are really easy to share and can swiftly draw in a sizable following from your target audience. Don't forget to incorporate your branding (logo, theme, colors) into your infographics to boost their recognition.
Make meaningful and impactful social media posts
It makes sense to focus on creating a social media strategy as part of your ToFu efforts, considering that the majority of the top three objectives influencing social media B2B lead generation are raising awareness, establishing credibility, and educating audiences.
Successful B2B marketers also nurture subscriptions, audiences, or leads using content marketing via social media.
Every industry has social media platforms it prefers and where prospects are likely to go, including LinkedIn, Instagram, TikTok, Twitter, Reddit, and yes, even Facebook.
Good social media content will usually educate, entertain, or otherwise engage viewers.
Consider how you may improve the quality of life of your prospects. Give them information and resources that excite them, including toolkits, tutorials, advice, business news, trends, strategies, and so on.
Thought leadership is an important factor in how you communicate with your audience on social media. Many prospective customers claim that thought leadership proves useful when narrowing down SaaS choices. Business owners and purchasers also say that a company's thought leadership directly influences their choice to do business with them.
Leverage press releases
You establish credibility as an authority in your industry by distributing news releases in which you are cited. Doing this may increase your aptitude for thought leadership to the extent that prospects will actively try to find you to sample and even buy your goods or services.
Incorporate it into other marketing campaigns to raise brand awareness and lend credibility to your overall pitch.
Go on relevant podcasts, or start your own
Podcasting produces strong levels of engagement, devoted audiences, and ease of conversion into textual or visual media. Additionally, podcasts may complement other forms of content to strengthen your company's main content marketing plan.
For example, you can use a podcast to invite people to your webinar, where you will collect their contact information as part of your lead generation campaign.
Make highly engaging videos
More people watch videos today than they read written text (even with pictures)! A two-minute video is more likely to catch your attention than a 3,000-word essay.
Additionally, since Google favors videos, you could expand your audience and increase views by optimizing your videos for SEO. In addition, your video should focus on pain points and details the prospect finds not only relevant but also useful.
3. Influencer marketing
Influencers (including bloggers, vloggers, reviewers, streamers, etc.) can be a powerful tool when introducing your business to the target audience. Their narrating and presenting abilities make them the ideal presenters for anything from the preliminary product introduction to detailed lessons that aid buyers in comprehending technical features and perks.
Influencers can effortlessly incorporate brand messaging using their own language and voice, replacing the antiquated model of businesses depending on aggressive sales presentations and promotional material.
Influencers also give the message a personal touch since they frequently post images or stories about their own real-life interactions with your product or service.
4. Search engine optimization (SEO)
When you are a B2B SaaS company looking to optimize its B2B sales funnel, you must offer material tailored to the kinds of web searches made by prospects looking for what you have.
For that, you need search engine optimization, which includes many approaches and strategies but majorly revolves around the following tenets:
Implementing SEO keyword research
For your content to appear in the SERPs (search engine results pages) and attract people to your website, it is essential to provide answers to the most relevant and most searched questions. This entails putting commercial motives aside and concentrating on keyword phrases based on queries.
Answer the Public, Ubersuggest, Semrush, and Infinite Google Suggest are marketers' most popular keyword research tools. These tools help locate long-tail keywords that potential buyers use early in the purchase cycle.
You should also optimize your meta titles and descriptions to aid your SEO approach.
Every web page has two little bits of HTML code called page titles and meta descriptions. Think of them as blurbs on the front and back covers of a book, but for websites. They display the title of the web page and its description.
Prospects use them as a quick summary tool to determine whether a page found in a search engine's index includes what they are looking for. This means that carefully crafting this content to ignite interest in your prospects will result in:
Better click-through rates
Increased traffic
Increased conversions
For this, you can use tools that include Yoast SEO, SEOmofo, and Google's Keyword Planner.
Optimize your internal links
Internal linking refers to when a site connects to URLs within the same domain (linking content on your website to other content on your website).
Internal links make it easier for visitors and search engines to discover more content that you've created.
Each time you create a new post or page, make sure it links to other relevant pages on your site.
Invest in link building
The process of obtaining connections from other sites to your website is known as link building. These links are referred to as backlinks in SEO. Obtaining backlinks from authoritative websites may give your website more authority and improve your SERP rankings.
After you create compelling content but have a relatively young website that hasn't yet attained significant authority, getting connections from reputable websites is an excellent strategy to increase your website's authority in Google's eyes.
In a sense, backlinks are endorsements of your website, offering social proof to lend your business more credibility.
5. Email marketing
Using email marketing in a sales funnel can help you earn solid leads and offer value to prospects during every phase of the journey.
You can achieve this through:
Email segmentation
By using predetermined criteria, email subscribers are divided into smaller categories through segmentation.
Segmentation is typically used as a customization strategy to offer more pertinent email marketing to users based on their geography, interests, past purchases, and various other factors.
Personalized emails
A business can personalize emails based on the information subscribers freely supply when signing up for an email newsletter.
It is possible to use personalized emails in various ways, from mass emails with customized subject lines to action-inducing emails depending on user activity like account reactivation and even birthdays.
6. PPC and paid social media advertising
Internet marketers that use PPC, or pay-per-click, are charged a fee every time one of their advertisements is clicked. Simply put, you only pay for advertising when a user clicks on your ad. In essence, it's a way to 'purchase' website visitors in addition to generating them naturally using SEO.
Paid social media is a technique for presenting commercials or sponsored marketing content on well-known social media platforms to reach a specific audience.
Examples of sponsored social media include pay-per-click marketing, branded or influencer content, and adverts.
Paid social media advertising enables companies to develop novel methods of connecting with audiences that they could not otherwise access. You can reinforce the ideas and messages you've previously posted organically on social media through sponsored initiatives.
When it comes to paid social media campaigns versus paid search ads on Google, the key difference is that while PPC targets queries, paid social media campaigns target the audience. It really depends on the funnel design, the industry, and what works better for your top-of-the-funnel strategy.
What role do sales play at the top of the funnel stage?
When at the top of the funnel, prospects are usually in the awareness stage. For sales, this is a great time to ensure that the prospects do not lose interest.
Many businesses have used outbound sales approaches that include making discovery calls, cold outreach, preparing FAQs, and instilling confidence using well-constructed demos that clarify the product's value.
Top-of-funnel metrics to track
How do you know that what you did at the top of the funnel worked? Well, you track your sales metrics.
What specifically should you be watching? Well, since the goal is brand awareness and lead generation, you should track:
Impressions ‍
Impressions track how often an ad or post is shown to users on their screens. You want to hone in on a low-cost-per-thousand-impressions (CPM) and measure it against the clickthrough rate or cost-per-click to get insights.
Reach ‍
Reach is the total number of unique/new people who have seen your ad across your marketing platforms.
Website traffic ‍
Website traffic measures unique visitors who visit your site during a specified period.
Brand lift
Brand lift shows a positive change in how your audience sees your brand.
Bounce rate ‍
Bounce rate measures the percentage of people who looked at one page of your website and left without doing anything else. It measures how engaging or interactive you are on your website by counting who leaves immediately after arriving.
Average time on page ‍
To know if you are engaging enough, you can track the average time a user spends on one of your website pages. It helps you know as much about the people as it does your site's interactive and engaging features.
Optimize your top-of-funnel marketing to simplify your sales cycle
There are many issues with the current state of the B2B sales cycle, which leads otherwise interested buyers to shy away from closing the deal.
Consider these stats: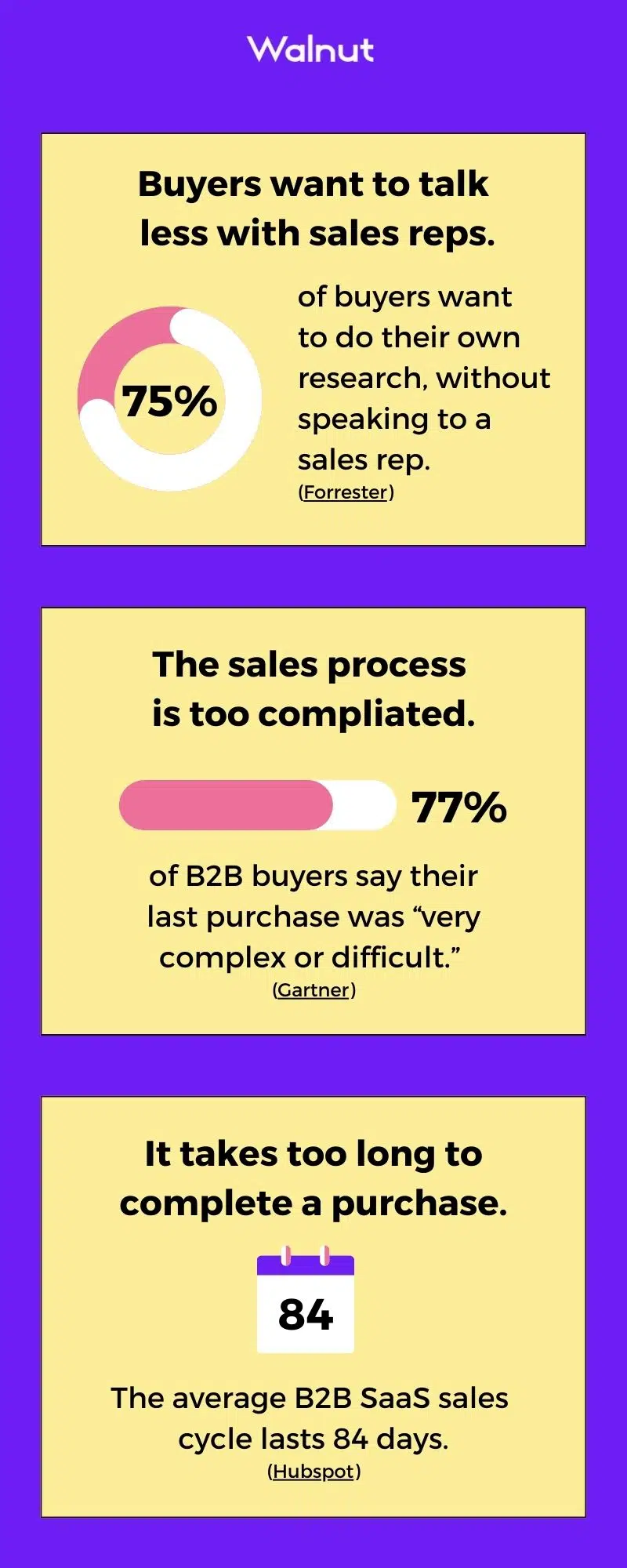 In order to simplify the process, it's important to give your interested prospects what they want, when they want it.
For most prospects in the era of product-led growth trends, this refers to getting a chance to see your product and understand it on their own as early as possible.
While they may enjoy your content and love your brand, they ultimately want to try your product for themselves before they commit a large amount of money to it. That's why it is so crucial to utilize a product demo platform like Walnut to create interactive demos of your product that you can utilize in your marketing. 
So what are you waiting for? Revolutionize your presales process by clicking that big purple "Get Started" button on the top of the screen.
‍