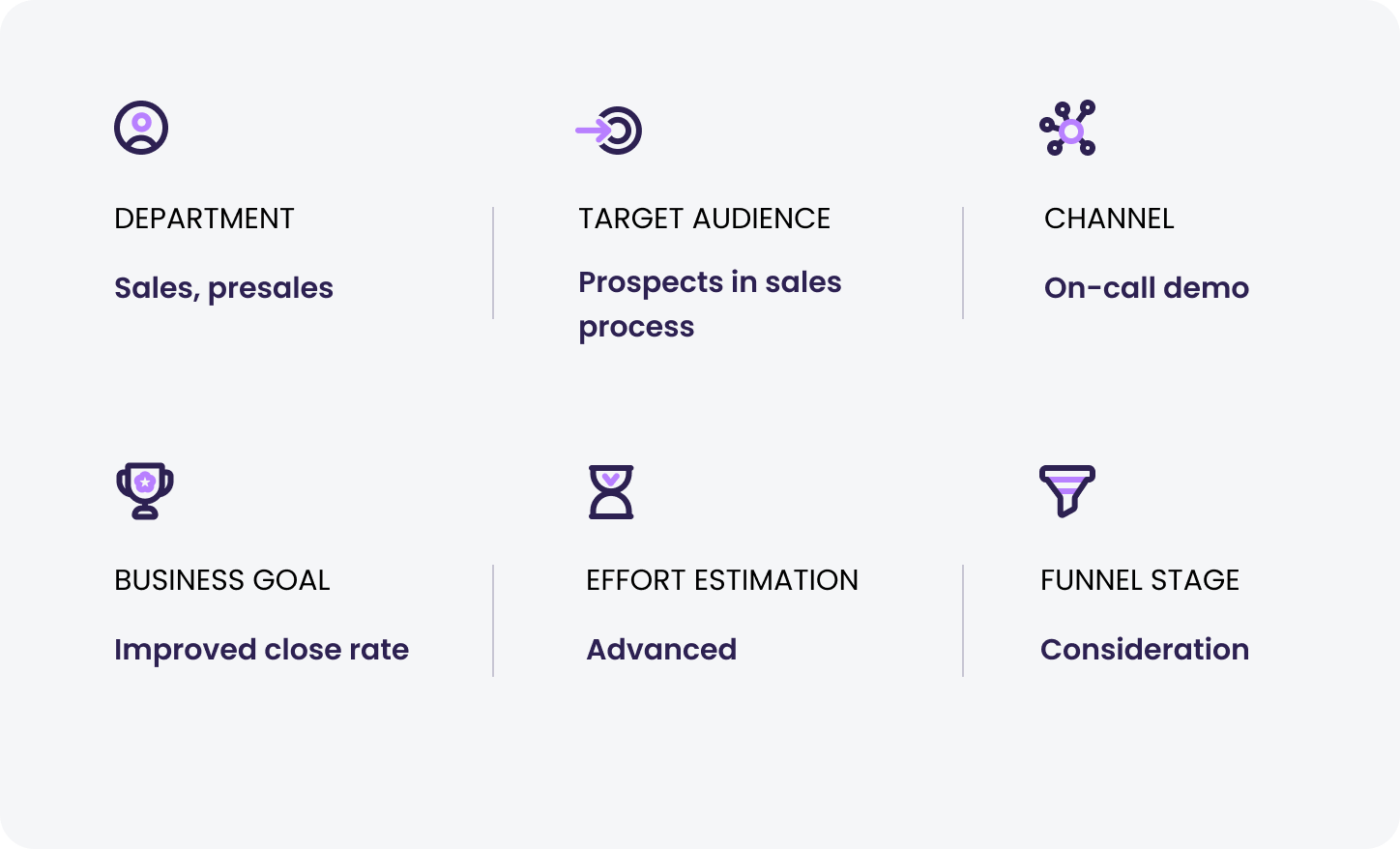 The old school demo – just automated, easily personalized, and scalable across the team. Good on-call demos won't just wow your prospects, but will also allow you to articulate your business case and connect your discovery findings to actionable ways your product solves pains for buyers.
Why use an on-call discovery demo?
Give real-world examples of how your product works to solve customer issues and deliver valuable business outcomes. Show your product in action and educate buyers. This will help people visualize what they will experience with the actual product once they buy it
How it solves your buyers' pains:
The prospect sees how they would use the solution & how the solution will solve their problems.
How it solves your team's pains:
Nail the discovery- Discovery is fundamental to all sales.
How to demonstrate your product on your next call with Walnut
Here's what you'll need to begin:
Set of core qualification questions you'd like to incorporate as part of your call.
Draft a clear product narrative that creates a walkthrough of your product.
Create a report in Salesforce to track the results.
Best practices for creating a qualification demo – with Walnut
Break your product down into smaller flows based on either personas, use cases, business pains, and industries. We don't recommend replicating your entire product.
Focus on main flows and skip generic parts of the product like sign up.
Help reps navigate on the fly between flows. You can have the first screen as a main starting point and connect it to the rest of mini demos you defined in step 1.
Choose a non-guided flow for this demo. You want to show an authentic flow of your product and focus on the conversation. Since it's a long on-call demo, we recommend capturing your product with Continuous Capturing that will automatically link everything you click on. You can use the Smart Objects feature to bulk link menus, bars, and repetitive elements.
Anonymize data with the Find and Replace feature and use Chart editing to manipulate data you present.
Make sure to set the context before jumping into the details.
Demonstrate a day in the life – Offer context, show the benefit, and explain how the team can do it on a high-level.
Plan breaking points for questions you'd like to incorporate into your pitch. For example, if a key part of your product is collaboration, you can show this part in the product and ask, "How many teammates are planning on using this?" You can use Presenter Notes to create a mental reminder for that.
Ideas of information you can collect using your demo:
The account and specific area of the organization
The prospect's role
Business processes and technical environment
One to three strategic objectives
Challenges and roadblocks
Implications if they don't solve these challenges
9. Customize the demo to make it relevant -Besides personalizing the narrative, you can grab buyers' attention by adding Variables to make it feel like they are already using the product.
Delivering your qualification demo
Once you finish creating and editing your product demo template, share it with the rest of the team.
Convert the template into a unique demo link associated with the relevant deal, so you can quickly enjoy rich analytics and insights.
Prove the product can solve their problems. Understand what the prospect is trying to achieve, and focus the entire demo on proving you understand those challenges — and how your product can solve them.
Ways to quickly incorporate this into your pitch:
"You said that your main objective is to _________."
"What blocks you from achieving this goal is _____________."
"If you don't fix these issues, you will ______________."
"My goal is for you to agree that our solution can solve your specific challenges and allow you to achieve your objectives."
4. Leave time for feedback – Confirm with the prospect that what you've just presented resonates.

5. We recommend investing 5-10 minutes before the call to connect your offline pre-call research with the Walnut demo you're about to present.
Tracking your sales demo success
Sense of urgency – Time from demo meeting to next call
Conversion correlation to closed won
Demo to closed won time
Listen back to your recorded call to reflect
Data points to track
Time on demo
Time spent on screen – Shows interest or areas that were stuck
Ready to improve on-call discovery? Get started with Walnut now!