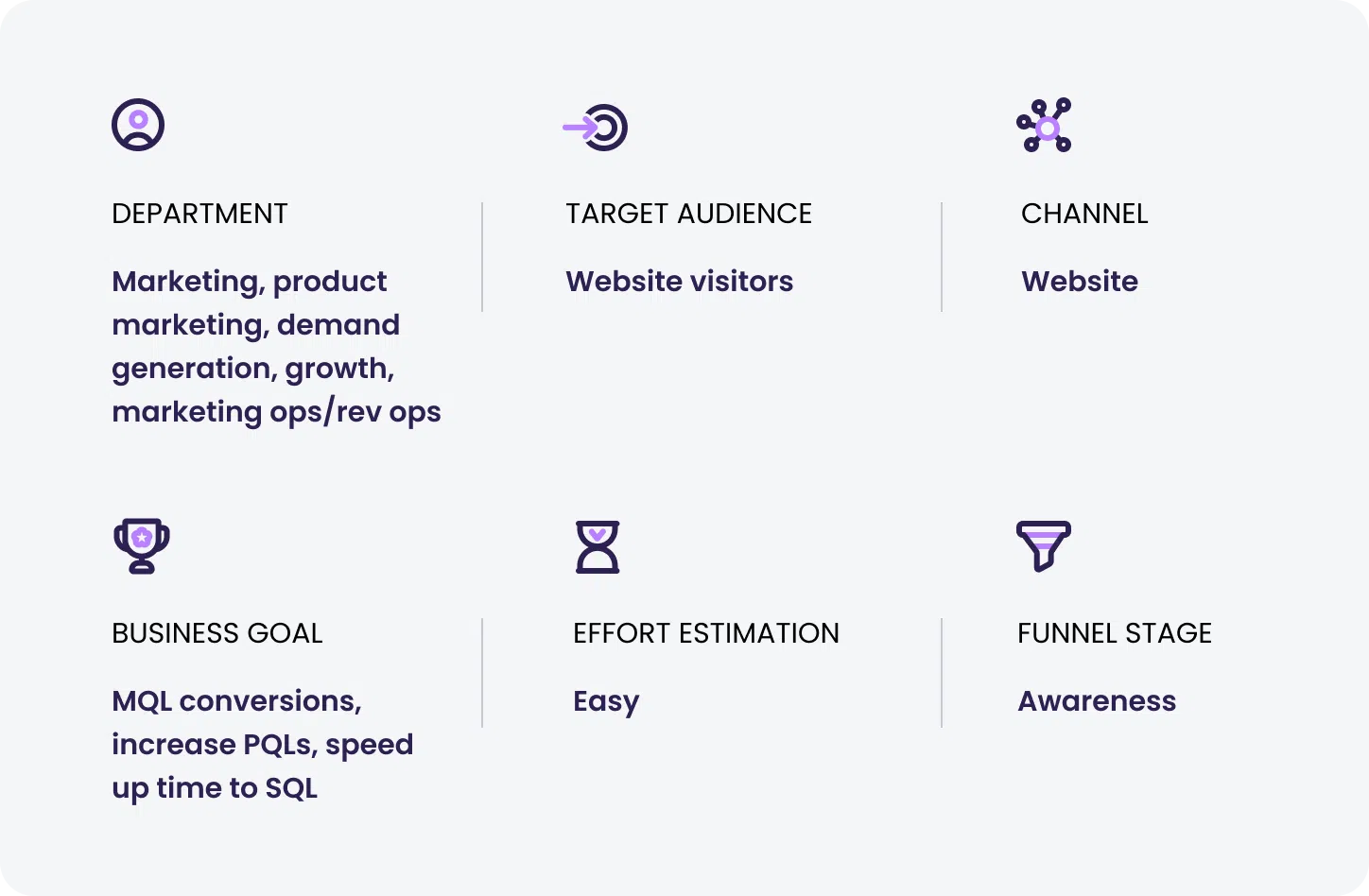 Help your website visitors quickly understand what your product is all about by embedding an interactive product tour directly on your website, landing pages, or blogs.
Generate high-quality leads by letting them experience your product from the outset, and understand their intent by tracking how they clicked through your demo.
Why embed a product tour on your site?
By embedding an interactive product tour on your website, buyers will get to experience your product's usability and value, which will impact and increase the chances of them converting into leads.
How it solves your buyers' pains:
Buyers are often blind to product value and are required to book a demo and wait patiently until they can see what your product can do for them. By providing the demo directly on your site, prospects can understand the value immediately.
How it solves your team's pains:
Your team wants to convert more high-quality website visitors into leads. Based on Walnut data, companies that let prospects try their product by themselves on their website increase meetings by around 25%.
How to embed a product tour on your website with Walnut
Here's what you'll need to begin:
1. Draft a clear product narrative that expertly showcases your product's unique value.
2. Create a report in your CRM to track the results of this campaign.
7 best practices for creating a product tour that converts
1. Focus on your product's USP
For on-site product tours, we recommend that it be no more than 5-6 screens that demonstrate your product's main flow. Skip generic parts like signing up, inviting colleagues, or any other parts that are not unique to your product.

2. Keep it short

Choose a guided path that includes a maximum of 10 steps in the guide, so the experience won't last longer than around 2 minutes.

3. Pick the right guide for your needs

Determine whether it makes more sense for your product to include a textual guide with an avatar that explains things, or whether you just want to include a "hotspot" guide that simply indicates to visitors where they should click next.

4. Add context
Use a "modal" guide type to add a welcome message as the first step and quickly explain the value the visitor can expect to gain from the product tour.
5. Include a clear call-to-action

Consider your main CTA, whether it's to "See more," "Book a demo with a rep," "Start now," or something else that makes sense for your business. You can add a floating button that will stay on the screen for the entire demo that links to your meeting calendar or directly to the product.

6. Focus on pains, not features

Use your embedded product tour to explain to your visitors how your product can make their lives better, not just how it works.

7. Set the screen's display view

Before publishing your demo, set its screen display as "fixed" in the template's settings so that your demo will look best for your viewers regardless of the size of the iframe it's embedded in.
Publishing and embedding your product tour
1. Once you finish creating and editing your product demo template, publish the demo, grab the HTML embed code, and simply add it to your website.

2. In the share panel, you can also choose to add an email collector screen that will appear on the first screen of your demo.
Tracking your product tour's success
1. Once your demo is live on the site, track your demo in our Insights sections to see who viewed it, for how long, and which parts were most interesting.

2. See collected leads in your CRM, using our CRM integration.

3. You can embed forms into the demo at any stage you'd like to collect leads on the spot. This can also help direct your SDRs where to focus on the call.
Demo data points to track with Walnut's analytics
1. Demo views per total website traffic
Understand how appealing your demo is by tracking the number of people who viewed your demo compared to your total website traffic. If you see the percentage is significantly lower, consider changing its positioning on the website or improving the way the first screen looks.

2. Demo average completion rate
Track the percentage of people who complete the demo. If you notice that there's a drop at some point, consider shortening the experience to increase conversion or determine if there's an issue with that specific step.

3. Conversion from demo to book a meeting
After all, conversions are what matter most. So, track how many people became leads from the demo.
Ready to engage and convert your website visitors? Get started with Walnut now!