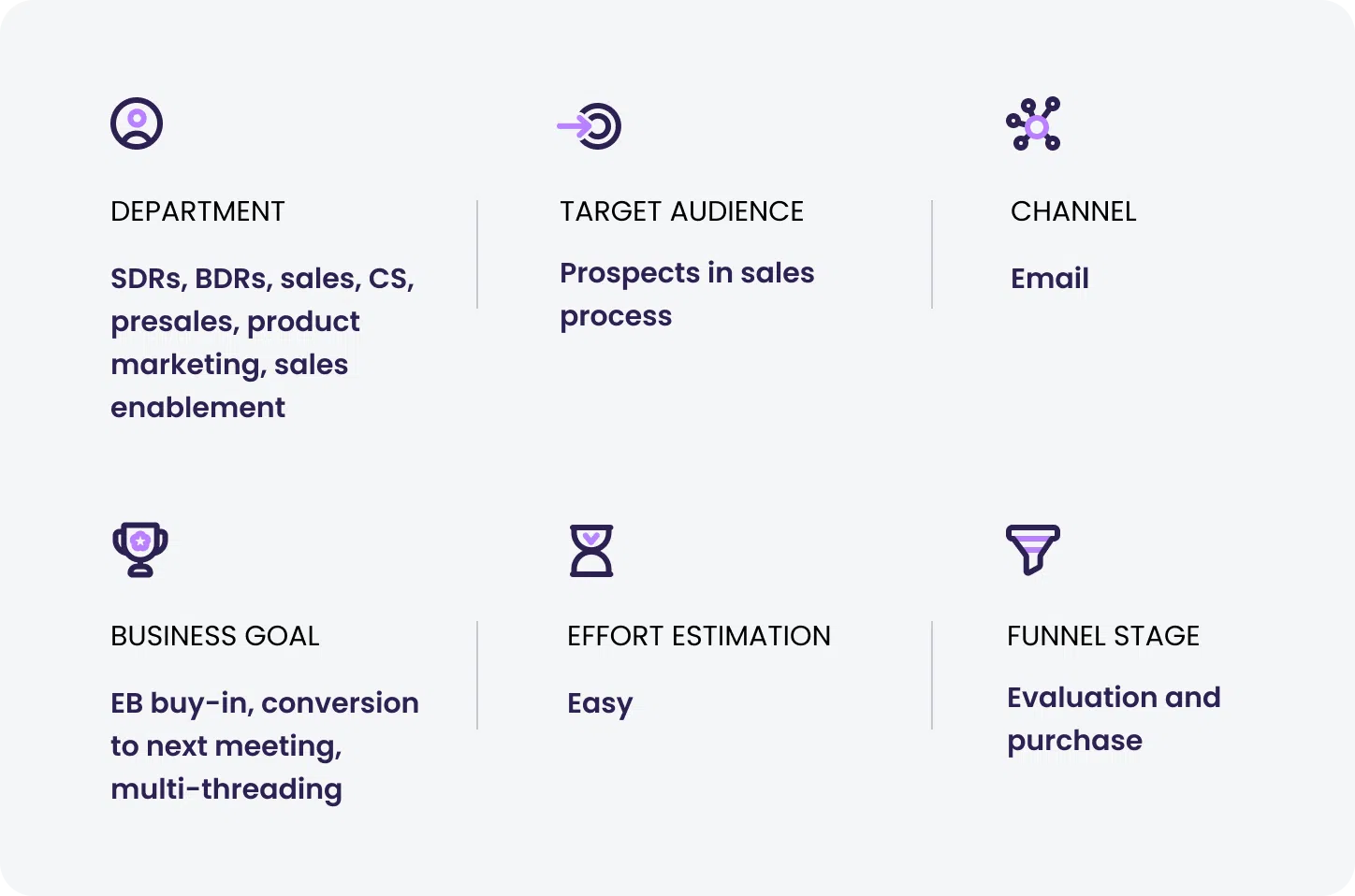 In the current market, it's not enough to just be in contact with multiple stakeholders. It's about finding a way for every stakeholder to be able to see the product whenever they want to. This includes the multiple stakeholders that are being targeted in the company and who are involved in the decision-making process. And that's exactly why you need to give your champion everything they need to sell your product internally.
Why use a leave-behind demo for champion enablement?
Because there are often multiple decision-makers involved in every deal, each one needs to be able to see a demo whenever it works for them.
By using a leave-behind demo for champion enablement, you can let the demo do the work for you when you're not there. Plus, it saves sellers the hassle of having to schedule a call with each individual stakeholder.
How it solves your buyers' pains:
It reduces friction by giving each stakeholder the ability to see the product whenever they want to.
How it solves your team's pains:
Sellers don't need to schedule a demo call with each individual decision-maker. It also allows them to let the demo work for them even when they aren't there.
How to enable your champion to sell your product internally using Walnut
Here's what you'll need to begin:
Identify who the champion is for a particular opportunity.
Draft a clear product narrative that creates a walkthrough of your product.
Create a report in Salesforce to track the results.
Best practices for creating a leave-behind demo with Walnut
Focus on main flows and skip generic parts of the product like sign up.
Anonymize data with the Find and Replace feature and use Chart editing to manipulate data you present.
Make sure to set the context before jumping into the details.
Demonstrate a day in the life – Offer context, show the benefit, and explain how the team can do it on a high-level.
Delivering your leave-behind demo
Grab the relevant template, create a new demo, and connect it to the contact in the CRM for better tracking. Make sure you create a unique link for your champion.
Give your prospects a voice – Enable the Comments feature to encourage prospects to let you know if they have any questions or objections.
Give your prospect clear guidance on what you'd like them to do with the demo and what the next steps are.
Tracking your sales demo success
Track your demo in our Insights section to see who viewed your demo and for how long.
Track comments to resolve questions or concerns.
Data points to track
Activity log in Demo Insights
Viewers in Demo Insights
Ready to empower your champions? Get started with Walnut now!