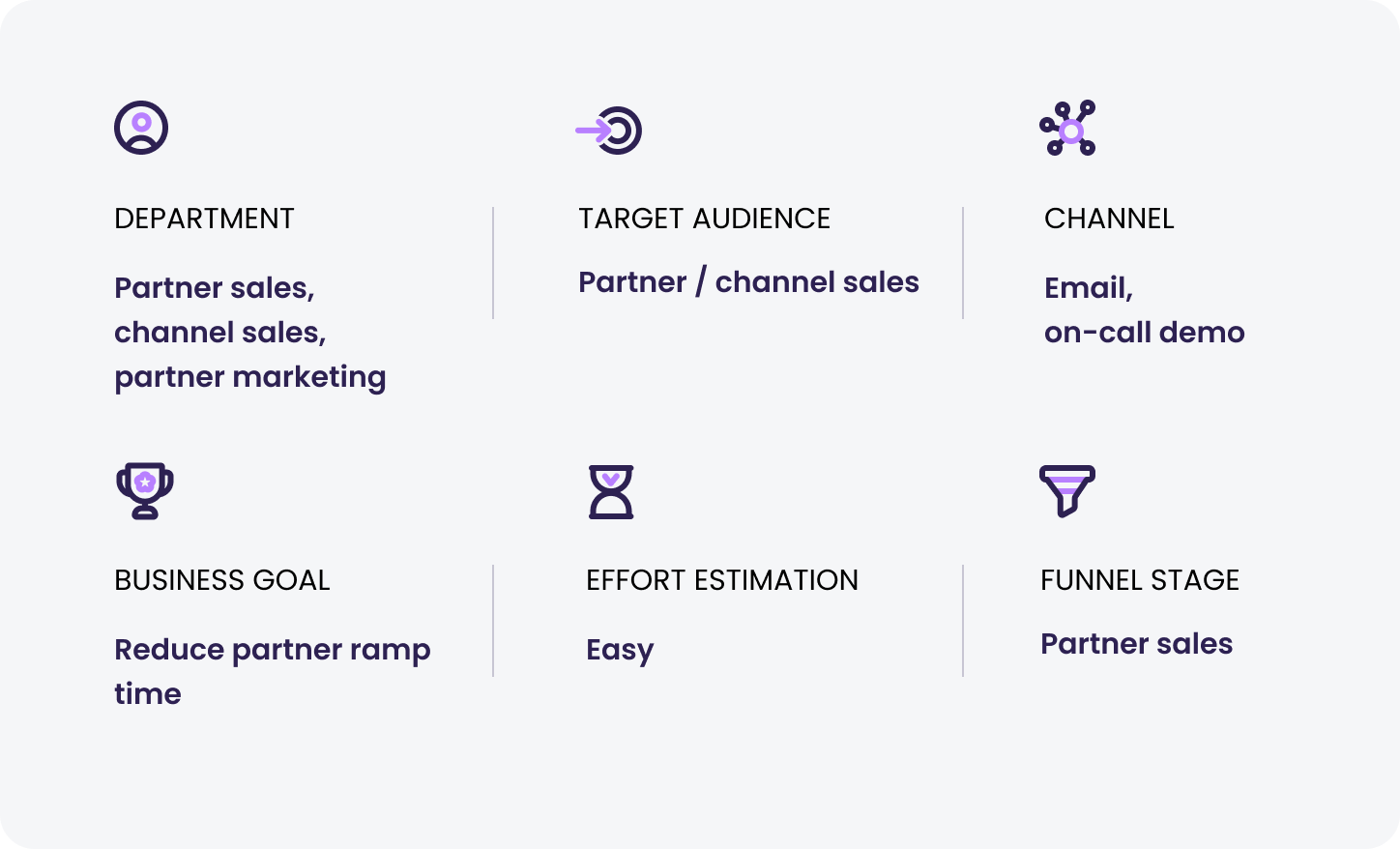 Skyrocket your channel sales with interactive product demos that sell your product perfectly and respect your brand.
Why enable your partners with interactive demos?
Gain full control over your partnership sales by providing partners with demos they can easily customize.
This ensures zero brand or reputation risk as you gain control over the way your brand is represented during the partnership sales process. Enabling partners allows you to collect valuable insights on the usage of your partners' product demos and see which demos perform best.
How it solves your partners' pains:
Demos alleviate partners' challenges by providing them with valuable tools and resources to succeed in promoting and selling your product.
How to enable your partners with Walnut
1. Create interactive demo templates— Deliver effective channel sales enablement by creating tailor-made and engaging demonstrations for every partner, guaranteeing that your product is presented exactly as you imagined it.
2. Control the way your demos look and feel— Personalize all elements of your product demonstrations, including color schemes, text, graphs, images, and more. Establish a consistent approach to selling your product that's aligned with your brand, pitch, and narrative.
3. Organize a demo library for your partners— Organize your demo library for partners according to use cases, industries, or performance metrics. Equip your partners with live demonstrations, product walkthroughs, sales materials, and all the resources necessary to effectively promote your software.
Track
1. Once your demo is live on the site, track your demo in our Insights section to see who viewed it, for how long, and which parts they found most interesting.

2. Gain insights into your partners' top-performing demos, track their conversion rates, and monitor key metrics critical to your success. Utilize data-driven insights to make informed decisions and strengthen your successful partnership sales efforts. 
Data points to track
Activity log in Demo Insights
Viewers in Demo Insights
Demo average completion rate
Ready to enable your partners with interactive demos? Get started with Walnut now!