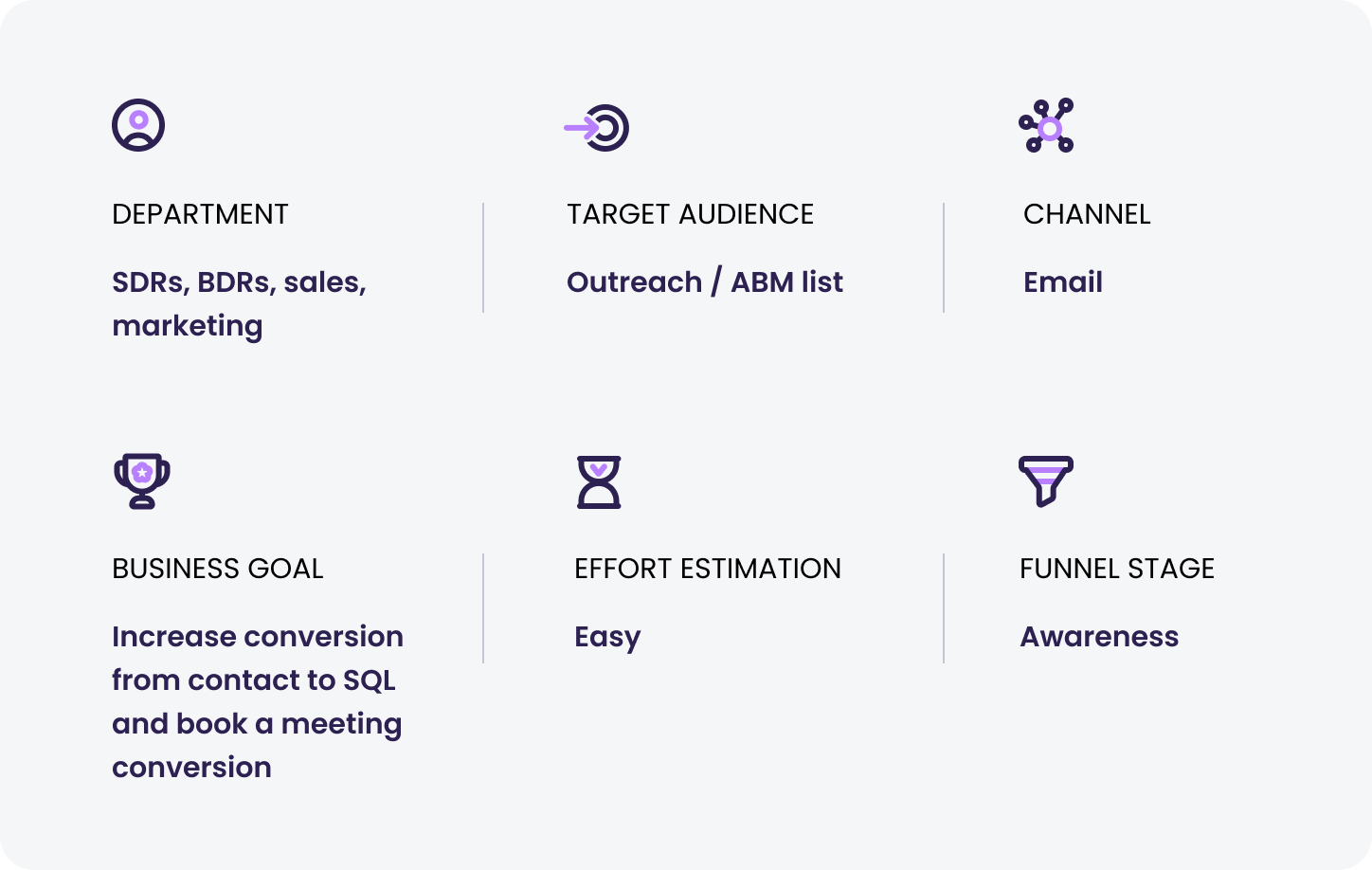 Collect more leads, boost your product awareness, and start a conversation with ideal prospects by including interactive demos in your mass outreach.
Why include interactive demos in your mass outreach?
By utilizing Walnut demos in their outreach efforts, BDRs can elevate their communication strategy, foster stronger connections, and drive better results throughout the sales process. Walnut demos provide an opportunity to present the most relevant information to prospects in an interactive manner. By addressing prospects' specific pain points and showcasing how your product can provide value, BDRs can expedite the decision-making process and drive conversions.
How it solves your team's pains:
By sending a personalized demo in your cold outreach, you significantly increase the chances of receiving a reply, as well as the chances of scheduling a discovery call. The goal of the call should be to get the prospect to book a meeting with you.
How to improve your mass outreach with Walnut
Create
Plan your narrative and goal – Create a generic overview of your product's high-level vision, the pain it solves, and how buyers can leverage it. Your goal here is to validate the buyer's needs.
Keep it short – Create a short demo, demonstrating the main "aha!" moment of your product. This should only take 1 minute to walk through, since this audience has a low intent and shorter attention span.
We recommend building a narrative that is less focused on "how to" and more focused on what the main things you can achieve using the product.
Add a welcome "modal" guide type that includes your avatar, name, and context for what this demo is.
Guide them – Since it's outreach, this audience knows less about who you are. Add a guide with text to your demo to help the potential prospect "hear your voice" when walking through your product.  We recommend a guide with no more than 10 steps.
Add quick access to book a meeting – Give buyers a link to your calendar so they can get in touch directly from the demo when their intent is the highest. You can do it using a 'floating button' with a link to book a demo.
Deliver / Distribute
Grab the relevant template, create a new demo, and connect it to the lead or contact in the CRM for better tracking. Make sure to create a unique link for your prospect.
Give your prospects a voice – Enable the Comments feature to encourage prospects to let you know what they found interesting in the demo to continue the conversation.
Let them see the product first – Include your demo in the first email of your cadence for buyers to experience your product right away. You can also add it to your email signature so they can always access it.
Track
Track your demo with our Demo Insights feature to see who viewed your demo, for how long, and which parts were most interesting.
Track comments to resolve questions.
Demo points to track
Activity log in Demo Insights
Viewers in Demo Insights
Your calendar link – We recommend generating a link with a unique UTM for Walnut to easily mark these needs in your scheduler tool.
What you'll need
Calendar link
Short outbound narrative
Email cadence set in your emailing tool
Ready to engage and convert your website visitors? Get started with Walnut now!