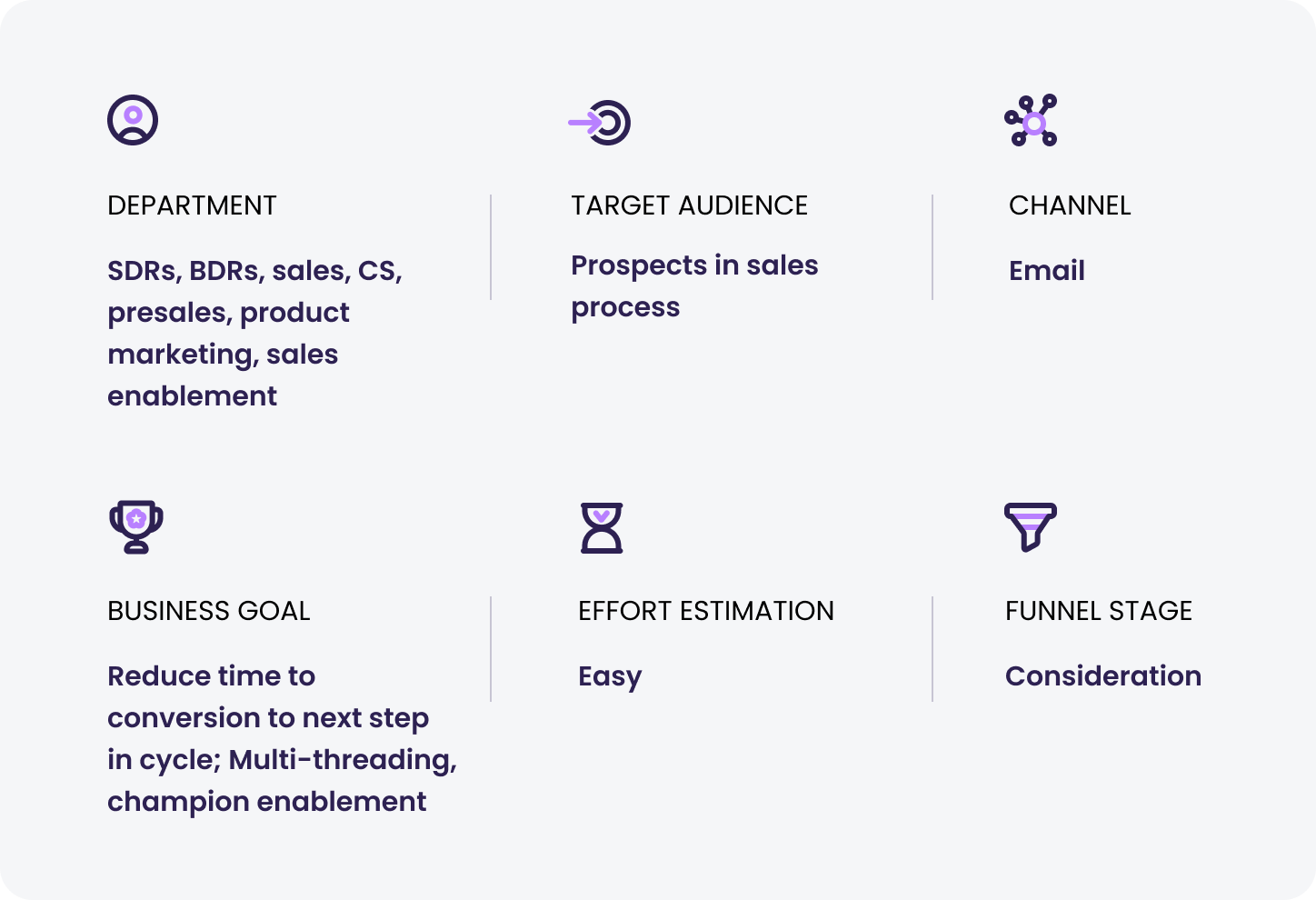 By utilizing Walnut demos in post-call emails, the sales team can elevate their communication strategy, reduce time to conversion to the next step in the cycle, and drive better results throughout the sales process.
Why send post-call demos?
Walnut demos provide an opportunity to present the most relevant information to prospects in an interactive manner. By showing how your product can address specific pain points that were discussed on the call, sales pros can expedite the decision-making process and drive conversions.
What pain will it solve?
How it solves your buyers' pains:
This helps buyers get answers to any questions or concerns they had during the call.
How it solves your team's pains:
This helps improve conversion to the next step in the sales process.
How to send a pre-meeting warm-up demo with Walnut
Create
Define the demo goal, which is to create a demo that can be sent after the call.
Keep the length of the demo to around 2-3 minutes. It should be tailored based on your conversation during the call. Skip generic areas like sign up, inviting people, etc. We recommend capturing no more than 5-6 screens.
Set context – Add a welcome "modal" guide type that includes your avatar, name, and context for what this demo is. We recommend building a narrative that is less focused on "how to" and more on the main pains that can be addressed by using the product.
Deliver / Distribute
Grab the relevant template, create a new demo, and connect it to the contact in the CRM for better tracking. Make sure you create a unique link for your prospect.
Give your prospects a voice – Enable the Comments feature to encourage prospects to let you know if they still have any questions or objections.
Attach a demo to your post-call email.
Give your prospect clear guidance on what you'd like them to do with the demo and what the next steps are.
Track
Track your demo in our Insights section to see who viewed your demo and for how long.
If prospects have already converted on the website and they've walked through an embedded Walnut demo, you can see which parts of the demo they spent the most time on and continue the conversation from there.
Track comments to resolve questions.
Data points to track
Activity log in Demo Insights
Viewers in Demo Insights
Ready to send a post-call demo? Get started with Walnut now!