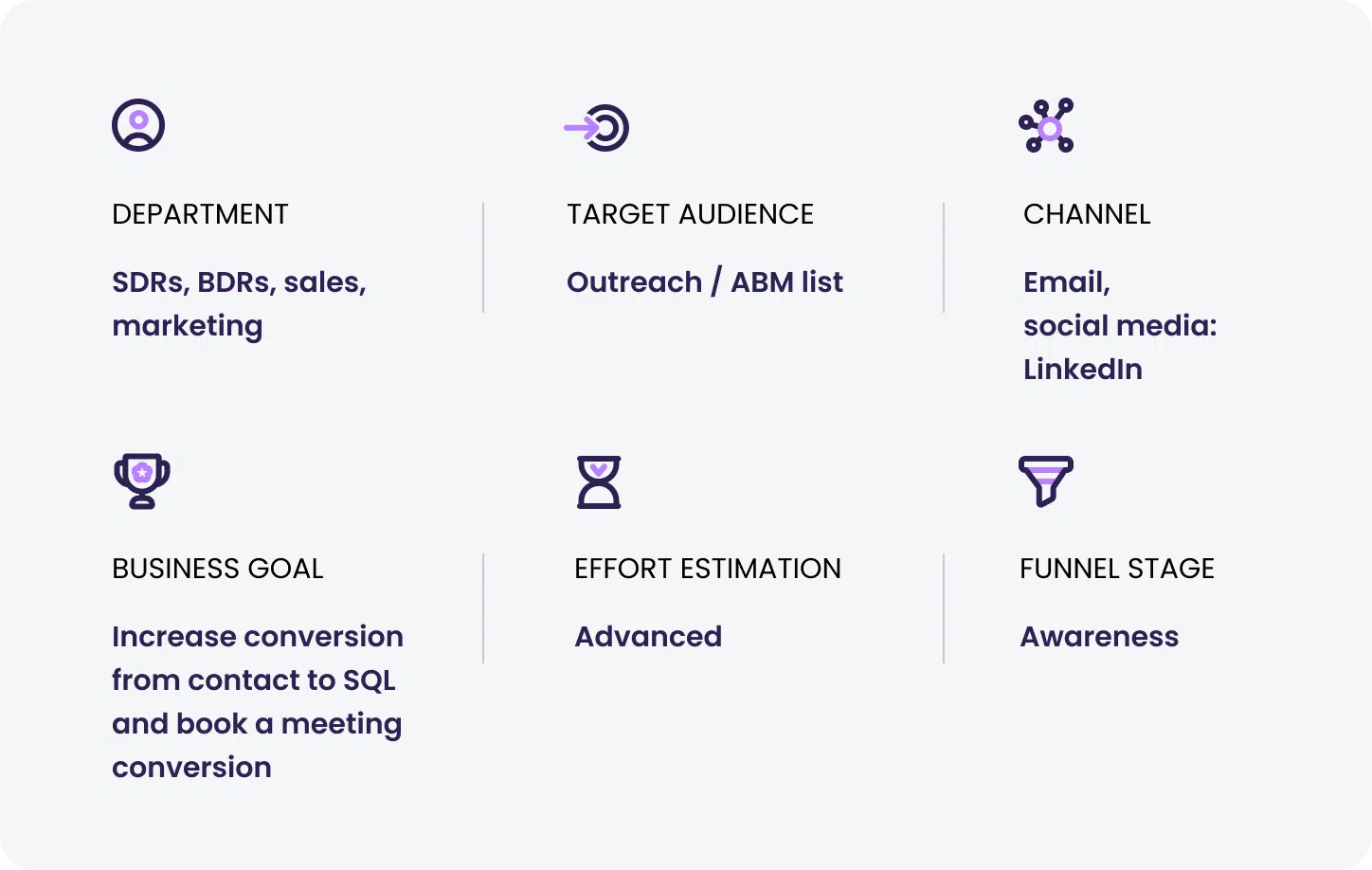 Get noticed and improve your reply rates, meetings booked, and SQL conversions by including interactive demos in your prospecting.
Why use interactive demos to personalize your outreach?
Generic, one-size-fits-all messages often go unnoticed or get lost in busy inboxes. By leveraging personalized Walnut demos, BDRs can significantly increase the likelihood of getting a positive response from prospects, leading to more meaningful conversations.
Engage prospects and customers in a more tailored and impactful manner. Walnut allows your BDRs to create personalized, interactive, and dynamic demos that resonate with the specific needs and pain points of individual prospects.
How it solves your team's pains:
Traditional outreach methods often struggle to capture prospects' attention in today's fast-paced digital environment. With Walnut demos, BDRs can create engaging, visual content that is more likely to hold prospects' interest and encourage them to explore further. Personalized outreach can help your team stand out from the competition.
How to personalize your outreach with Walnut
Create
Keep it short. Create a short demo, demonstrating the main "aha!" moment of your product. This should take only 1 minute to walk through, since this audience has a low intent and shorter attention span.
We recommend building a narrative that is less focused on "how to" and more focused on the main things you can achieve using the product.
Add a welcome "modal" guide type that includes your avatar, name, and context for what this demo is.
Guide them. Since it's outreach, your audience knows less about who you are. Add a guide with text to your demo to help prospects "hear your voice" when walking through your product. We recommend a guide with no more than 10 steps.
Define the parts of the demo that BDRs should personalize. Use the Variables feature to set elements that can be personalized with a click of a button and will make the prospect feel like it's all about them. This means more than just personalizing the prospect's name or company.
Add quick access to book a meeting. Give buyers a link to your calendar so they can get in touch directly from the demo when their intent is the highest. You can do it using a 'floating button' with a link to book a demo.
Use a casual tone and avoid using jargon to keep the conversation relaxed and effortless. Don't just feature drop. Explain how you can solve their unique problems with your product.
Deliver
Grab the relevant template, create a new demo, and connect it to the lead or contact in the CRM for better tracking. Make sure to create a unique link for your prospect.
Give your prospects a voice – Enable the Comments feature to encourage prospects to let you know what they found interesting in the demo to continue the conversation.
Personalize it – If your creator left you areas that should be personalized, customize it in a few minutes to grab your buyer's attention.
Let them see the product first – Include your demo in the first email of your cadence for buyers to experience your product right away. You can also add it to your email signature so they can always access it.
Track
Track your demo in our Insights to see who viewed your demo, for how long, and which parts were most interesting.
Track comments to resolve questions.
Demo points to track
Activity log in Demo Insights
Viewers in Demo Insights
Your calendar link – We recommend generating a link with a unique UTM for Walnut to easily mark these needs in your scheduler tool.
What you'll need
Calendar link
Short outbound narrative
Email cadence set in your emailing tool
Ready to engage and convert your website visitors? Get started with Walnut now!