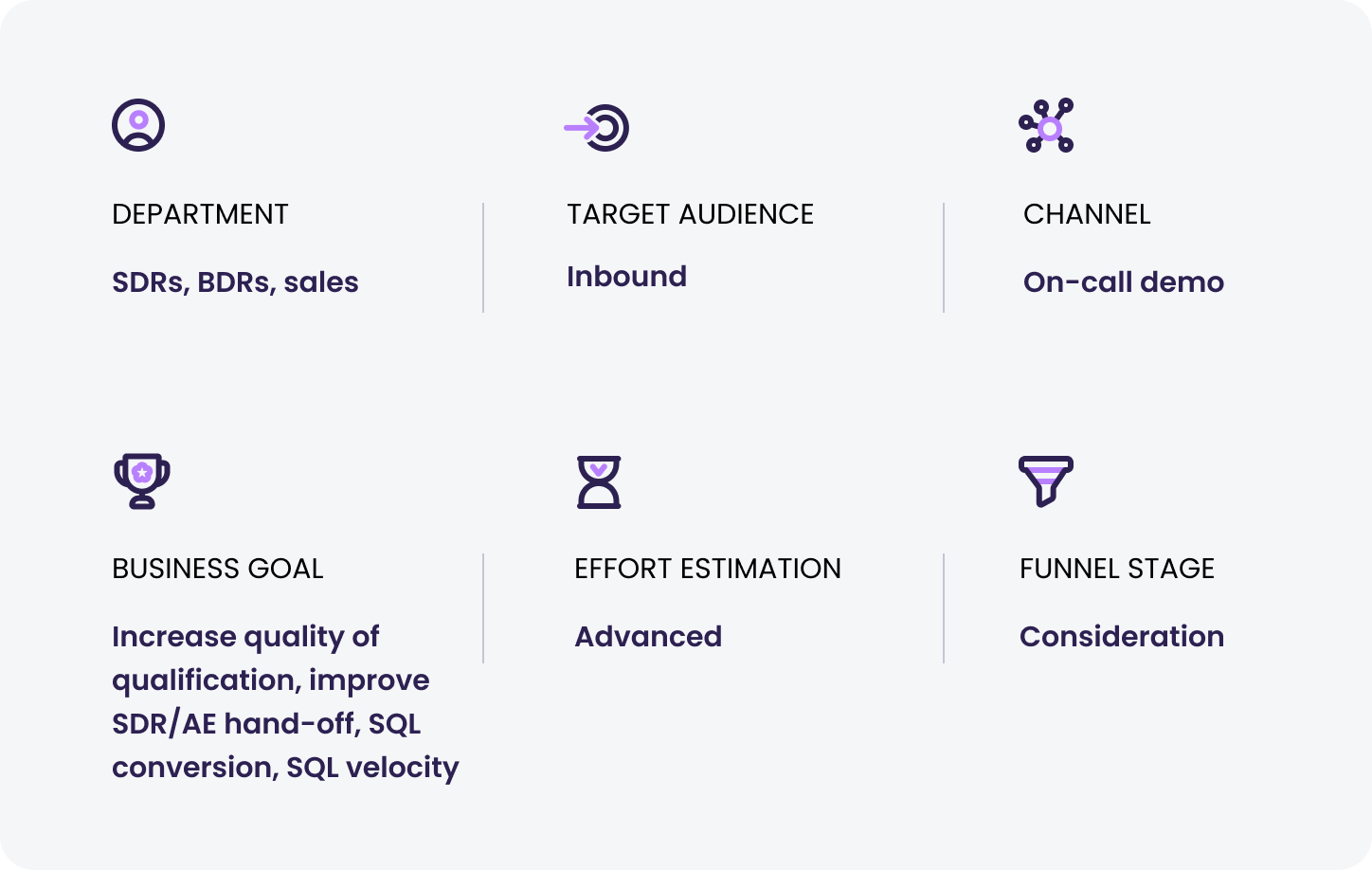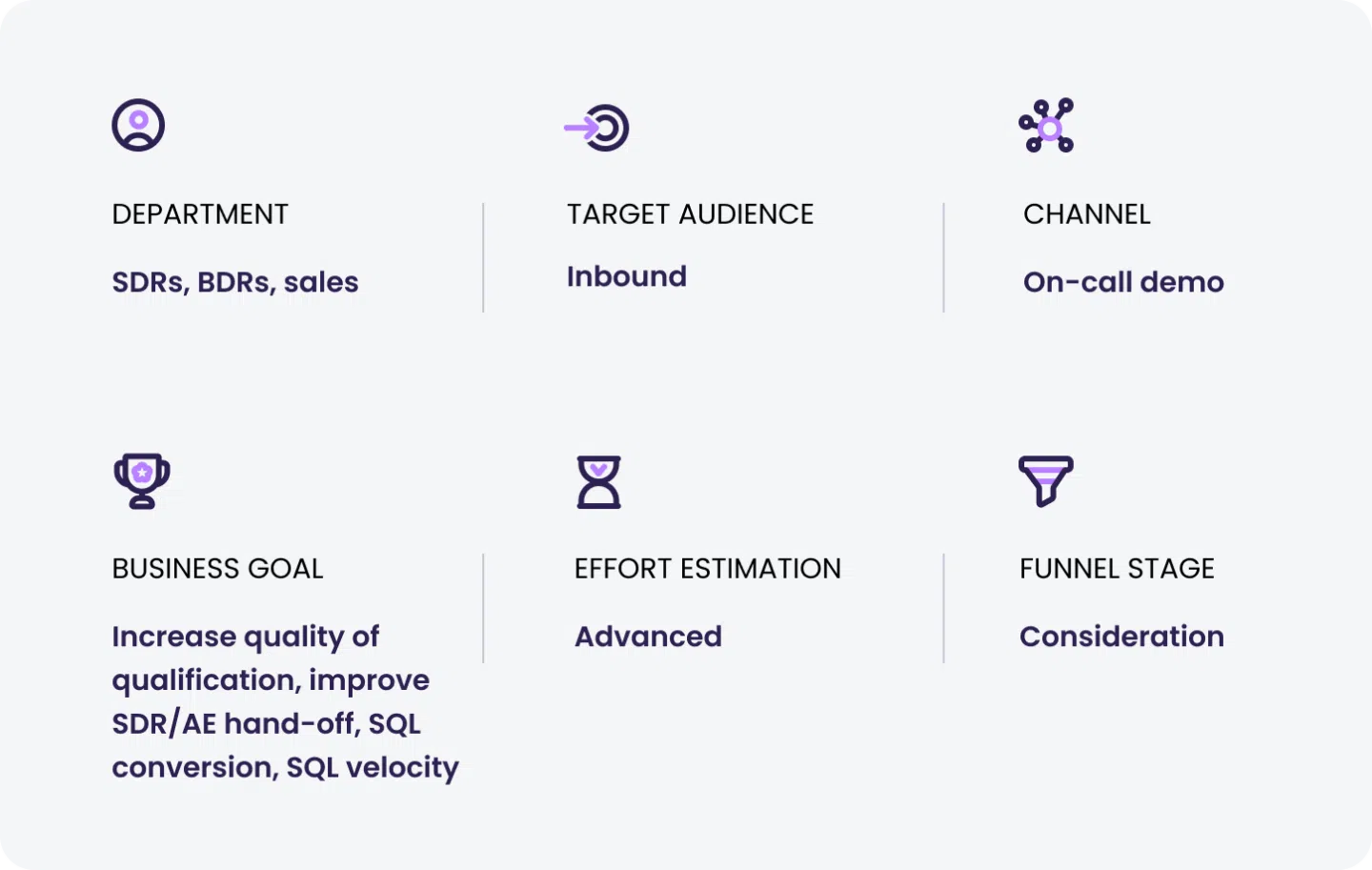 Good on-call qualification will help you turn potential buyers into valuable prospects. It'll also help your team reduce the time required to determine if you're talking to the right person, assess their fit and interest in what you're offering, and spot an initial business challenge you can build a business case for.
Why use a qualification demo on your first call?
Using the product to incorporate initial discovery questions will transform the conversation from cold investigation to an opportunity for both sides to validate the business fit.
How it solves your buyers' pains:
Buyers can quickly understand your product value and understand how and if they should incorporate it as part of their workflow right off the bat.
How it solves your team's pains:
Your team will be able to focus on high intent prospects.
How to use a qualification demo on your next qualification call with Walnut
Here's what you'll need to begin:
Set of core qualification questions you'd like to incorporate as part of your call.
Draft a clear product narrative that creates a walkthrough over your product.
Create a report in Salesforce to track the results.
Best practices for creating a qualification demo – with Walnut
Plan a narrative that provides a high-level overview of your product, without diving deep into features. Focus on what your product enables them to do, rather than how to do it.
Break your product into several short flows. The main flow should be the core product flow, but consider having mini-demos by persona, pain, or use case, that you can use, without stepping out of the demo.
Choose a non-guided flow for this demo. You want to show an authentic flow of your product and focus on the conversation.
Personalize it by adding Variables to make it feel like the prospect is already using the product.
Make the demo short – Our recent report uncovered that buyers' attention span during demos decreases after 6.5 minutes.
Plan breaking points for questions you'd like to incorporate into your pitch. For example, if a key part of your product is collaboration, you can show this part in the product and ask, "How many people are planning on using this on your team?" You can use Presenter Notes to get a reminder about that.
Focus on pains, not features. Use your embedded product tour to explain to your visitors how your product can make their lives better, not just how it works.
Delivering your qualification demo
Once you finish creating and editing your product demo template, share it with the rest of the team.
Convert the template into a unique demo link associated with the relevant deal, so the AE who comes after can follow up where you stopped.
We recommend investing 5-10 minutes before the cal to connect your offline pre-call research with the Walnut demo you're about to present.
Tracking your qualification demo's success
Once your demo is live on the site, track your demo in our Insights section to see who viewed it, for how long, and which parts were most interesting.
See collected leads in your CRM, using our CRM integration.
You can embed forms into the demo at any stage to collect leads on the spot. This can also help your SDRs understand what to focus on during the call.
Data points to track
Qualification rate
Conversion to next meeting
Ready to better qualify your leads? Get started with Walnut now!